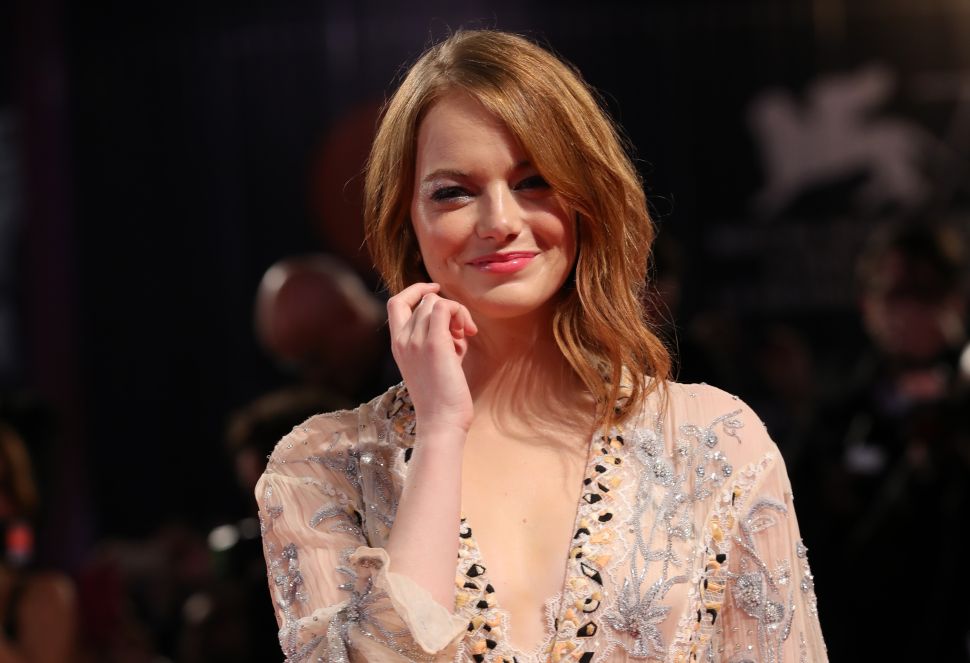 Emma Stone is now an Oscar-winning actress known for playing headstrong characters in The Help and La La Land, but in real life, her mental health struggles nearly derailed her career before it started. In fact, she had her first panic attack the summer before second grade.
Stone appeared with Dr. Harold Koplewicz, president of the mental health nonprofit Child Mind Institute, at Advertising Week in New York on Monday to raise awareness about the mental health issues faced by children. Stone recently recorded a video for Koplewicz's organization—she told kids struggling with anxiety and related issues that "you're so normal, it's crazy."
Indeed, about 17 million kids under the age of 18 struggle with a mental disorder—that's one in five children.
"We as a nation really have an obligation to start paying attention to these children," Koplewicz said.
Stone's background is a case study for the mental health issues he was talking about. Growing up in Phoenix, she had an intense "jail-yard stare" that unnerved other children.
But it was that initial panic attack which proved that something was wrong.
"I was at a friend's house and was convinced the house was on fire," Stone said. "There was nothing in me that wasn't convinced I was going to die."
These episodes continued for the next two years, with Stone making frequent visits to the nurse's office. Eventually, she entered therapy, which allowed her to talk about her fears away from other children.
"Eight-year-olds [like her classmates] aren't going to understand the feeling 'I can't leave the house because if I do, my mom will die,'" Stone said.
In an early burst of creativity, she wrote a story called I Am Bigger Than My Anxiety, which featured a little green monster. "It sits on my shoulder—when I listen to him, he gets bigger and bigger, but if I don't, it shrinks," Stone explained.
But the biggest turning point came when she started acting at a local youth theater as an 11-year-old. Suddenly, Stone had an outlet for all of her anxiety.
"The thing that haunts me to this day is useful in my job," she said.
After one semester of high school, Stone made her biggest leap. She created a PowerPoint called "Project Hollywood" (complete with early 2000s music and clip art) to convince her parents she should move to California and become an actress.
"If I didn't go to LA, I would die," Stone said.
The plan worked: she moved to Hollywood and began auditioning. It wasn't always easy—one of Stone's first gigs was on the VH1 reality show In Search of the New Partridge Family.
But eventually, she got a supporting role in Superbad. Her breakout came as a queen bee high school student in Easy A, which was ironic given she only had one semester of experience in that setting.
Still, "it's pretty clear what that experience feels like," Stone said. "People try on a lot of different personas."
Stone's personas have included a journalist in The Help, a struggling actress in La La Land and a pharmaceutical test subject in Maniac. Just as with her adolescent improv performances, Stone said her personal struggles make it easier to empathize with these characters of disparate backgrounds.
"My anxiety is invaluable in preparing for roles," she said. "I want to understand how people work—what their struggles are, what their secrets are."
Stone still keeps her own mental health issues at bay. She meditates and goes to a therapist, though she doesn't take medication. She also stays off social media because "that would send me into a spin."
Her anxiety is even present at moments of personal triumph. Stone said winning an Oscar for La La Land, while a huge honor, was "transient."
"Failure and achievement are two sides of the same coin," she said. "It's surreal and mind blowing, but you have to wake up the next day and go back to work."
Even Monday's discussion terrified Stone. She said "talking about anxiety on a big stage" was new to her.
"It's very scary but very healing to talk about it and own it," Stone said. "It's part of me, but it's not who I am."
Several of Stone's family members were in the audience, and she got help from them many times during the hour. "I'm terrified, let me look at my mom," Stone said. "I'll go home and worry about this."