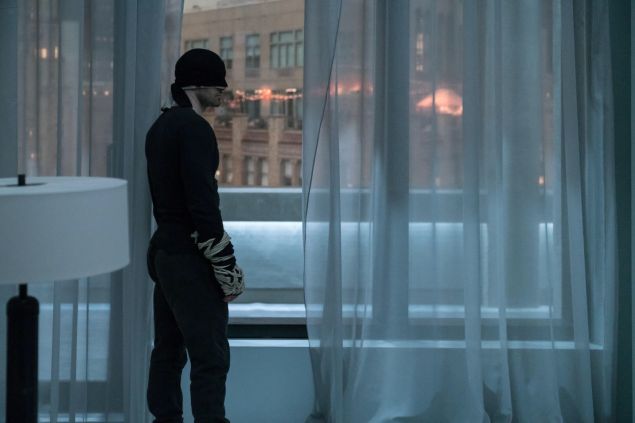 [Warning: This story contains spoilers for Season 3 of Marvel's Daredevil on Netflix.]
At the end of the big Netflix superhero team-up, The Defenders, Matt Murdock (Charlie Cox) was presumed dead by his friends after a large building collapsed on top of him. He awoke to find himself at the mercy of nuns, bandaged and barely able to move. But, given that we all knew a new season of Daredevil was slated to drop, it's not much of a surprise that Murdock is very much back in the vigilante game—albeit with some changes in costume along the way.
Observer caught up with costume designer Elisabeth Vastola over the phone while she was at work on another Marvel property, Season 3 of Jessica Jones. She shared details about why Matt switches back to his original all-black getup from Season 1, and what takes place to see another iconic character end up in the Daredevil suit.
Subscribe to Observer's Entertainment Newsletter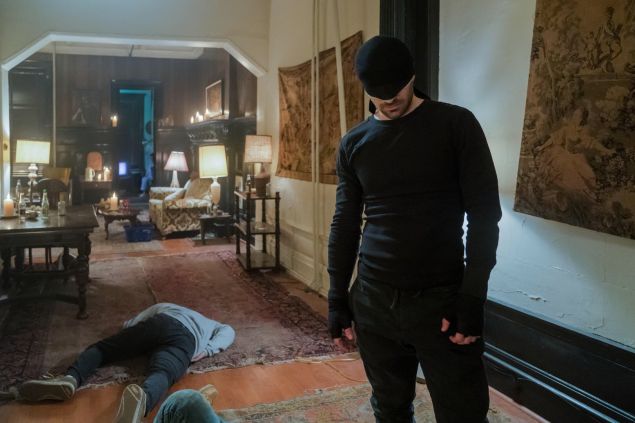 Matt survived the building collapse, but his suit did not. Rather than swinging by his apartment to pick up his vigilante-in-training attire from Season 1, when duty calls in Season 3, he makes it work with what's available at the convent, taking items from donation bins and laundry bags to Project Runway himself a new outfit.
Vastola explained, "It got back down to, 'What are the essentials he would need?' I really wanted to bring a sense of texture to it. I wanted it to be as DIY [as possible], while still feeling strong and imposing. Everything on his body is very distressed."
Another makeshift crime fighting element? His twisted choice of ropes as weapons. You can see them wound around his fists in the photo above, then bloodied and bedraggled after a fight in the final episode, below. "We took a lot of notes from Muay Thai hand wraps," Vastola said. "We also combined it with boxing wraps so it became this custom thing that works specifically for Matt and Daredevil. It is a much more violent way to wrap your hands."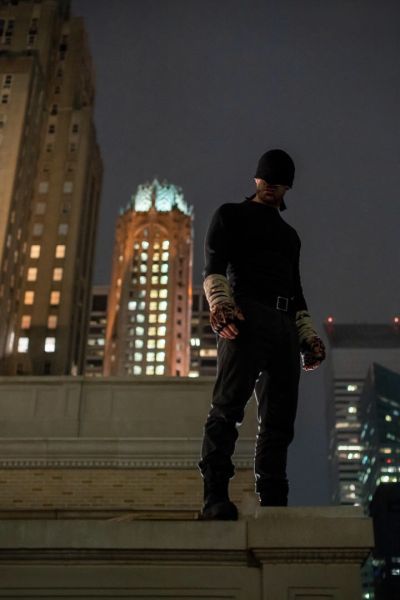 And if you thought Season 1 and 2 were gritty, just wait. Season 3 takes it to the next level, as those gory ropes show. Vastola wanted the rope wrapping process to look realistic; they are not magic gloves, they get effed-up. Actor Charlie Cox was even taught how to apply them quickly, giving them an even more realistic, DIY look.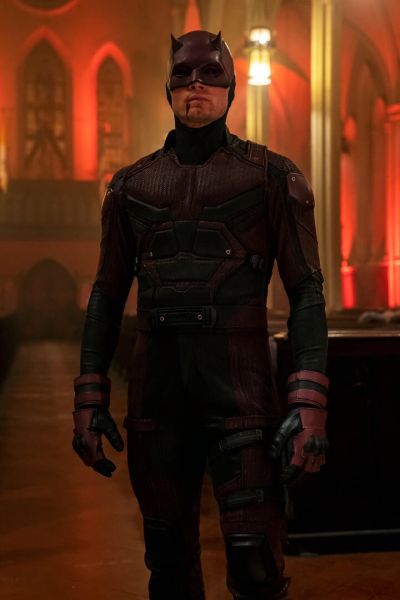 But Matt is not the only one suffering an identity crisis; new character Dex (Wilson Bethel), is on a similar path of self-discovery with returning character (fresh out of jail) Wilson Fisk as his less-than nurturing mentor. It has already been revealed that Dex will become Bullseye (played by Colin Farrell in the 2003 movie), but first, he is impersonating Daredevil as a way to turn the public against the former savior of Hell's Kitchen.
"It is not the same suit. It is an exact copy of it," said Vastola "It is made for Dex to pose as Daredevil."
So whether or not Matt returns to red in Season 3, we at least know he's back in fighting spirit, with not one, but two villains threatening his city and reputation.
Daredevil Season 3 is available on Netflix from today (Friday, October 19).