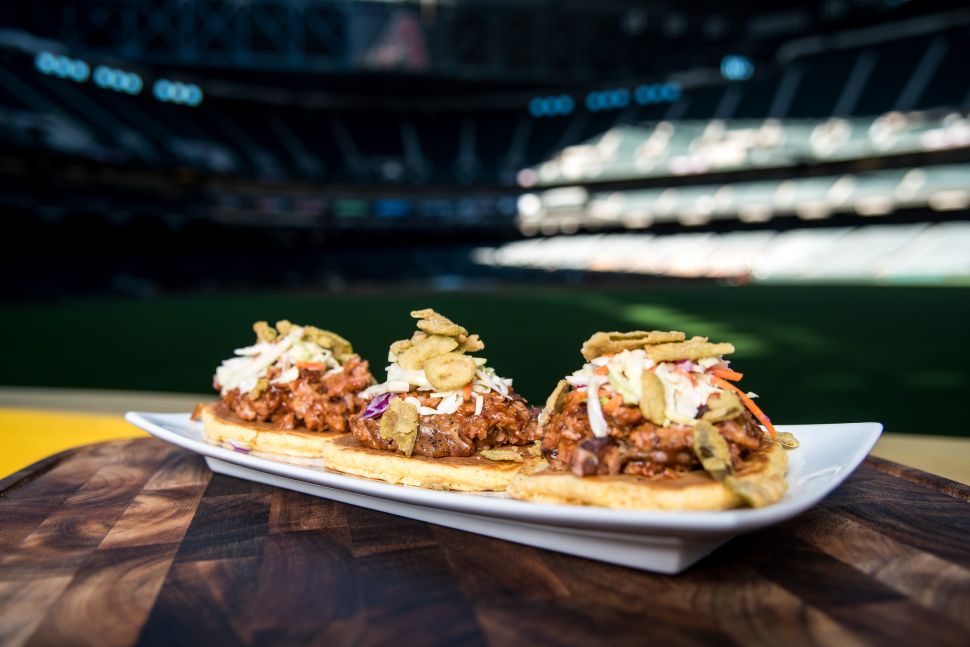 What is it about a swimming pool that lowers our expectations for the food served by its side? The wafts of chlorine? The damp lounge chair cushions, nylon, porous, often some horrid shade of orange? It's enough to quell an appetite, to be OK with stale chips and freezing salsa served in melamine bowls, to swill rosé from a plastic tumbler with a centimeter-thick lip. Those limp hot dogs being served by the shallow end will surely taste divine after your dip, after three more tumblers of Whispering Angel, some of which you'll inevitably slosh into the pool, as if pouring one out for any hope of having a decent meal this afternoon.
That was my experience with poolside food until a recent Friday, when I found myself at the Hotel Figueroa in downtown Los Angeles. By the coffin-shaped pool, I commandeered a plate of yellowtail crudo studded with piquant pink peppercorns and ate more than my fair share of a bowl of fried baby kale doused with fragrant dill. Half of my party tore into a whole Dungeness crab doused with chili garlic sauce; lacking the dexterity or patience to deal with cracking claws, I pilfered forkfuls of the black garlic rice beneath it. It was the type of meal that I'd make a reservation for, that might demand not just a shirt and shoes but nice ones—and indeed, the same meal can be had at Veranda, the lantern-laden restaurant that overlooks the pool. When did the stuff served to the folks in quick-dry polyester become on par with what patrons wearing pants are eating?
"I was sitting by the pool and saying, 'I want roast chicken and roast fish with sides of chicken and broccoli and potatoes. I want to eat like I'm on a daybed in Positano,'" said Casey Lane, Veranda's chef, who based his menu around the food he saw surfer kids tearing into on the northern coast of Spain. "We definitely knew that we didn't want to throw out your basic poolside snacks."
Subscribe to Observer's Lifestyle Newsletter
Good food has invaded venues traditionally (and reasonably) thought of as bad. As Americans have become more obsessed with eating out—we spent a record $61.6 billion at restaurants in July—places that used to treat food as an afterthought have expanded their culinary range, eager to capture the attention (and dollars) of a generation often more apt to Instagram its plate than to finish it.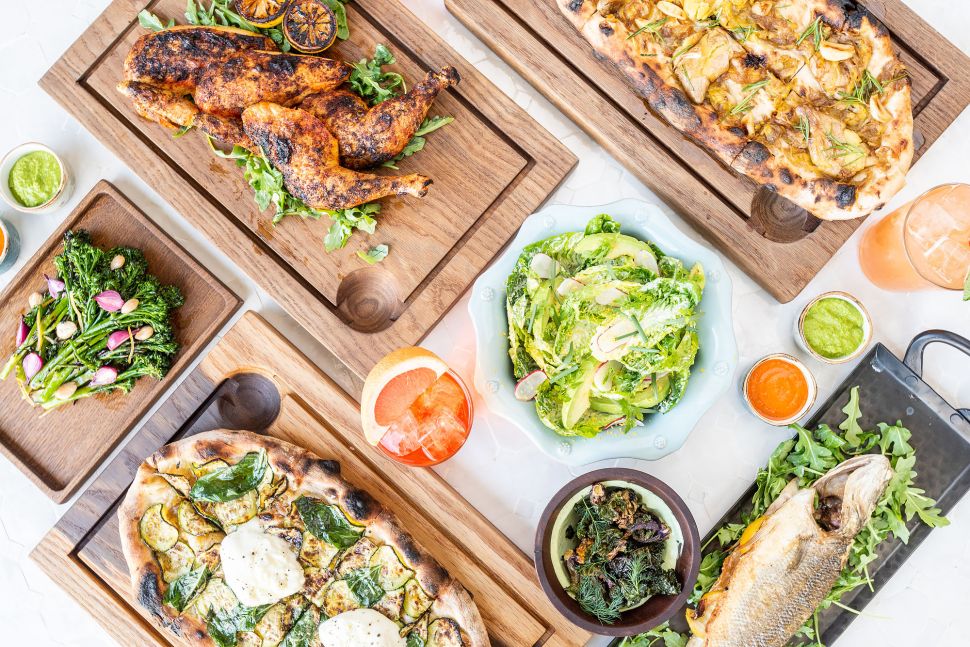 Take stadiums, where fancified versions of American classics proliferate like so many peanut shells. The dining options at New York's Citi Field ape some fantastically hip block of the East Village: chicken sandwiches by David Chang, compost cookies by Christina Tosi, Neapolitan pizza by Danny Meyer. On a recent Sunday, a buffet at Dodger Stadium featured a salad of little gem lettuces and a hummus bar replete with roasted vegetables. Coors Field, in Denver, Colo., serves garlic-flecked rocky mountain oysters, a protein more commonly seen on Top Chef challenges than at double headers. And while all of these options might be more tasty and refined than what you'd expect in a place with fold-down seats, they also cost significantly more than the average hot dog and don't necessarily deliver the finesse of their namesake. (How does a Jean-Georges chicken sandwich at Madison Square Garden stack up against its counterpart in the glossy, politically maligned tower 30 blocks to the north? If you have an empty evening and $100 or so bucks to spare, let me know.)
A celebrity chef helps—Chris Santos, the Chopped judge, oversees the culinary offerings of the TAO Group, the nightlife conglomerate whose restaurant cum nightclub Beauty & Essex hand-makes its cavatelli on premise—but it's not essential. iPic's imagining of a movie theater that serves high-er end food ($17 spicy tuna on crispy rice) has proven so successful that, in February, the Florida-based company went public and announced plans to add four new theaters per year, in places as far flung as Saudi Arabia, to its current roster of 16. Alamo Drafthouse has popularized a more budget friendly version of iPic—crispy buffalo cauliflower with vegan ranch dipping sauce for $8 at one of its four theaters in Austin, Texas.
Even Amtrak has upped the ante. The Pacific Surfliner, which chugs up and down the Southern California coast, serves snack boxes that include asiago cheese dip and chocolate chip cookies whose ingredients are listed thusly: "Madagascar vanilla, whole egg, baking soda, salt and love." (The package continues to preach: "Our cookies are dedicated to everyone who is unwilling to compromise their ideals for dollars" and "'Whatever you do will be insignificant but it is very important that you do it because no one else will' -Mahatma Gandhi.")
The influx of foodie culture to more mainstream arenas (often literal ones in which people play sports) hasn't been without consequence. When high-end options abound, it's easy to overlook the tried and true in favor of what's trendy, what's impossibly healthy, what will get your friends double-tapping their likes.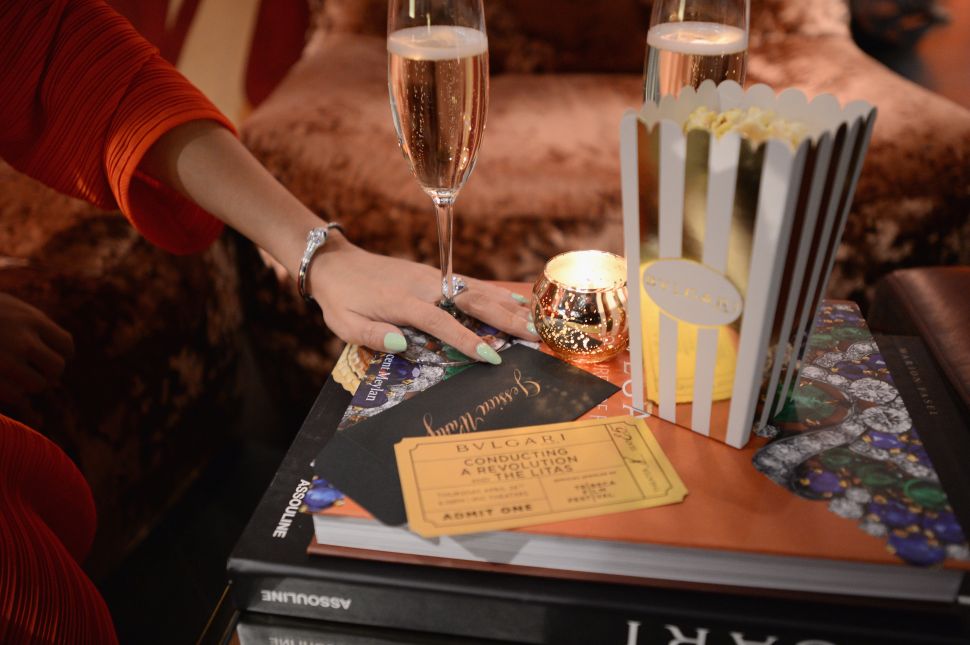 At Dodger Stadium, I opted for three servings of Caesar salad ($11), eschewed the iconic Dodger dog ($6), and regretted my choices later (there's only one place where you can get a real Dodger dog, after all). I ate too much at the club—man, that cavatelli—to actually go to the club. Ultimately, what the reality of good food in "bad" places forces us to do is prioritize. Do you want to experience the pool, the game, the movie, in all its "authentic" glory—and here is the caveat, because authentic means something different to everyone—or do you want to figure out how to get those last grains of rice out from underneath the crab because you'd rather be with that plate than in the water anyway?
If everything's good and special, so the law of diminishing returns goes, nothing's really good or special. Perhaps we shouldn't raise the bar, or our expectations, so high so as to shut out the "bad," un-elevated food that can set an experience apart, like that oozy cheese-laden ballpark nacho warmed by the sun and almost breaking under its weight.
So I'm adopting an attitude I overheard on a recent Amtrak trip from Los Angeles to Santa Barbara. Along with the snack box, the Pacific Surfliner serves wine, Woodbridge Chardonnay in plastic bottles, out of a cardboard box. "We just have to make do with what we got," a conductor said to a passenger, holding out a plastic cup. Even as the world spins ever faster towards fancy, the real things, the unadulterated pleasures, are still there. You just have to bypass the $18 organic fried chicken sandwich to get to them.