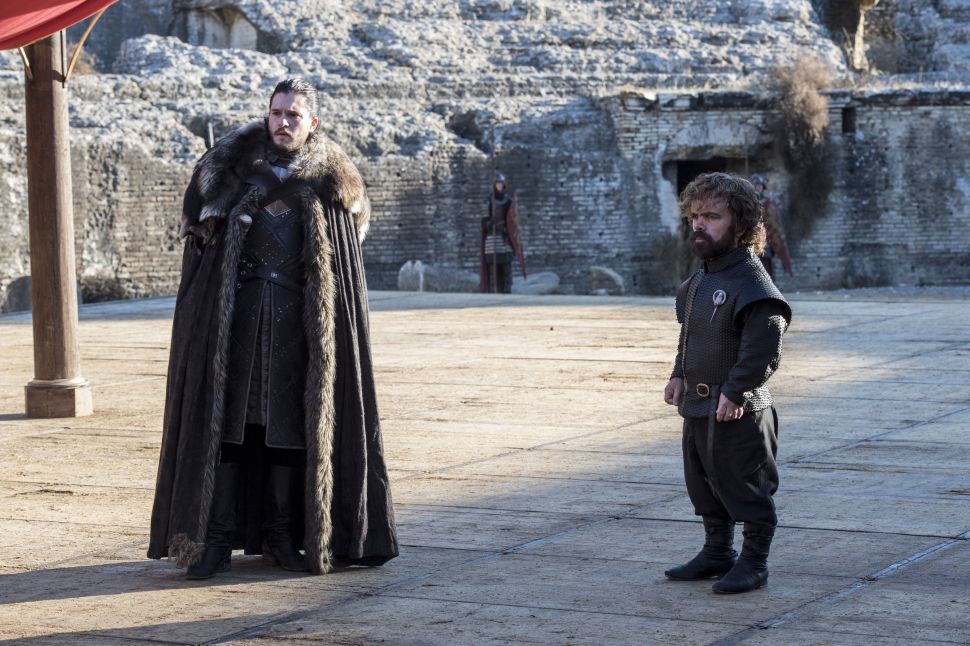 With the final season of Game of Thrones coming in 2019 (though, sadly, probably not until summer), fan speculation is at an all-time high—as are attempts to copy the show's blockbuster formula by other ambitious streamers. Though certain characters from the George R.R. Martin novels like Lady Stoneheart and Young Griff, who were left out in the cold by HBO, likely won't show up now, the eighth and final season will likely see the return of a few familiar characters and perhaps even an entire family. And now, we have confirmation that one particular fan favorite is set to make a comeback.
*Warning: Minor Spoiler Alert for Game of Thrones*
GoT's visual effects supervisor, Joe Bauer, revealed to the U.K. edition of HuffPost that Jon Snow's direwolf, Ghost, will return for the climactic action. Viewers haven't seen the beloved overgrown canine since Season 6's third episode, "Oathbreaker."
"Oh, you'll see him again. He has a fair amount of screen time in Season 8," Bauer said. "He's very present and does some pretty cool things."
OK, so if Ghost is that cool (which we can all agree on), why wasn't he around for Season 7?
"The direwolves are tough because you don't want to get them wrong, so we end up always shooting real wolves and doing a scaling trick with them, but the real wolves only behave in certain ways," Bauer said. Fair enough.
In the books the Stark children all have the ability, either consciously or subconsciously, to "warg" with their wolves—i.e., enter their minds. In the show, only Bran (played by Isaac Hempstead Wright) has explicitly displayed this skill, making the popular creatures a bit less important than their novel counterparts. Maybe the sixth book, The Winds of Winter, can further expand on their role…if it ever comes out.
Ghost was originally set to appear in Season 7 when "Jon came out of the crypt [in Winterfell] and Ghost came up to him and he petted him and said, 'Take care of [Sansa], watch over her for me,'" writer Bryan Cogman said earlier this year. But the scene was cut because, as Cogman put it, "I guess those direwolves are expensive."