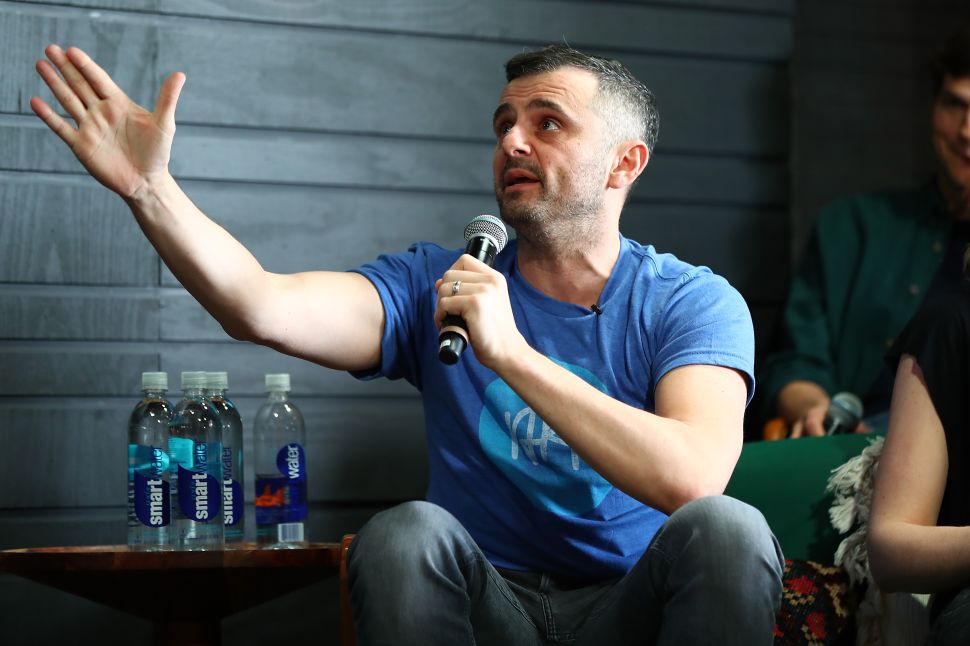 Facebook is dealing with heaps of bad press after a data breach last week exposed the personal information of 50 million users. But Gary Vaynerchuk, one of the site's early angel investors, thinks all of this negative media attention actually goes over users' heads.
"People go on Instagram to say 'Fuck Facebook,'" he told journalist Ken Auletta during an interview at New York Advertising Week on Monday night. "It's fascinating to see people talk a good game and then act completely different."
Vaynerchuk's done a lot of talking in his day. Aside from his angel investments, he co-owns digital and social media marketing agency VaynerMedia. He was also a judge on the tech-focused reality show Planet of the Apps.
Subscribe to Observer's Business Newsletter
As a result of this viral fame, Vaynerchuk's panel attracted a full house. And he rewarded the audience with a take-no-prisoners look at the state of tech.
Another one of Facebook's advantages for Vaynerchuk is the company's ad strategy. The site and app utilize quick streaming videos that users can scroll past instead of using banner ads.
"No normal person wants a banner ad to take over their entire fucking phone, because when you try to click the X, you miss it and get on the site anyway," Vaynerchuk said. "The ad tech people are like 'oh yeah,' but in real life, you hate that brand a little more than you did an hour ago."
Since Facebook doesn't engage in such tactics, Vaynerchuk said it remains a vital platform for advertisers.
"You will create business results that are not replicable outside of a Super Bowl spot," he said.
Vaynerchuk even predicted that advertising on Facebook would become lucrative for individual users, who may not have conventional jobs because they lack a college degree.
"Johnny could be making $100,000 a year flipping shit on Facebook Marketplace," he said.
Vaynerchuk didn't hold back when it came to other tech companies either. As a huge fan of Amazon (AMZN), he predicted the company would acquire even more brick-and-mortar stores after Whole Foods. He bet Amazon's next prize would be Target, though he didn't go into much detail about why.
"Amazon will be destroying everyone's face," Vaynerchuk said. "They're outrageously pro-customer. That company has done so much right it's uncomfortable."
But the outlook is less sunny for other big tech firms. Vaynerchuk predicted that Google would suffer from the rise of voice-based search, since its Google Home hasn't been nearly as successful as the Amazon Echo.
"Google is in deep shit in the 20-year window," he said.
Vaynerchuk's harshest words, however, were reserved for Apple (AAPL). He said Steve Jobs' innovations had stalled during the Tim Cook era.
"He hasn't done shit," Vaynerchuk said. "AirPods? Get the fuck out of here."