Balmoral might be out of the question, but there's another historic castle in the Highlands where you can live out your royal dreams. The 10,000-acre Glen Affric Estate is available as an über luxury rental, allowing mere commoners the chance for a sweet Scottish escape.
At least when it's not being used by its owners, who happen to be Pippa Middleton's in-laws. Her husband, James Matthews, is the heir to the estate, as his father, David Matthews, bought the property in 2008, taking the courtesy title Laird of Glen Affric and promptly converting it into a fancy rental offering.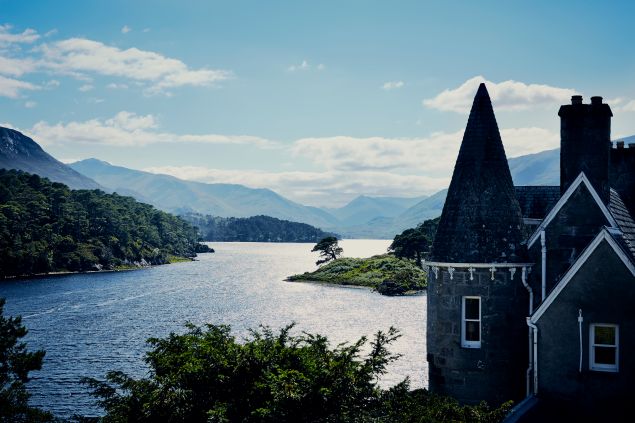 While you don't have to be a princess to stay at Glen Affric, having a royal bank account would help, as rates start at $16,900 per night during peak season. But only one group (20 guests total) can rent the Oetker Collection estate at a time, so anyone who checks in has free rein over both the eight-bedroom, five-bathroom Affric Lodge and the three-bedroom Stable Cottage.
Glen Affric is about 15 miles away from Loch Ness and approximately 45 minutes by car from Inverness. Affric Lodge was built between 1860 and 1872, and even though Matthews embarked on a major renovation after acquiring the property, the decor and furnishings are still "reminiscent of the Victorian age."
The lower level is composed of a sitting room, dining room and reading room, the latter of which acknowledges its surroundings with a painting of highland scenes by 19th-century artist Sir Edwin Landseer. There's also a whiskey—sorry, whisky—room and a wine cave.
A chauffeured car takes guests to and from the Inverness airport, and those staying at the lodge can partake in some classic Highland activities like deer stalking, trout and salmon fishing, clay pigeon shooting and rifle target shooting. There's also the option of hiking, mountain biking, bird watching, pony riding or playing golf (because #Scotland).
If none of that strikes your fancy, you can kayak, canoe, sail or cruise around in the "Affric Workboat." And for those looking for true leisure, spa treatments including massages, facials, manicures and pedicures are available.
As an added bonus, you'll also be taken care of by the Duchess of Cambridge's little brother, James Middleton. His novelty Instagram-inspired marshmallow business may have failed to take off, but Kate Middleton's sibling recently landed a position as a host tour guide at Glen Affric Estate.
James Middleton is working at Pippa and James Matthews' future Scottish estate.
"The host is the person who creates the balance between what the guests would like to do, and also what they don't necessarily know they can do," Middleton explains in a video that includes snippets of Kate and Pippa's brother donning a tweed deer stalking ensemble and riding horses. "It opens the door to a lot of different possibilities, and, really, that enhances the experience."
According to the estate's site, Middleton is "passionate about country life," and his role includes welcoming guests upon their arrival, as well as showing them around and explaining the sports, activities and experiences on offer.
Horse girl central.
He'll also sometimes share meals with the guests, all of which are prepared by the in-house chef; they include a "traditional Scottish breakfast," picnics, luncheons, afternoon tea and three-course dinners.
A final enticing perk: Guests can also book Scottish gin and whisky tastings and request their preferred wine and beverages before checking in. We suggest stocking up on Tignanello in case Meghan Markle pops by, though Kate Middleton is apparently partial to whisky.