Prince Harry and Meghan Markle had to make a few adjustments to their royal tour after announcing the Duchess' pregnancy, but they kept with tradition when they touched down in Fiji. Shortly after the Duke and Duchess of Sussex landed, they headed to the Grand Pacific Hotel in Suva. Waving to the crowd from its balcony, the couple recreated an iconic photo of Queen Elizabeth and Prince Philip, who once stood in the very same spot, before making their way to a state dinner at the property.
Located in the South Pacific island's capital, the hotel has been around for more than 100 years and hosted numerous members of the royal family. Here's everything you need to know about it.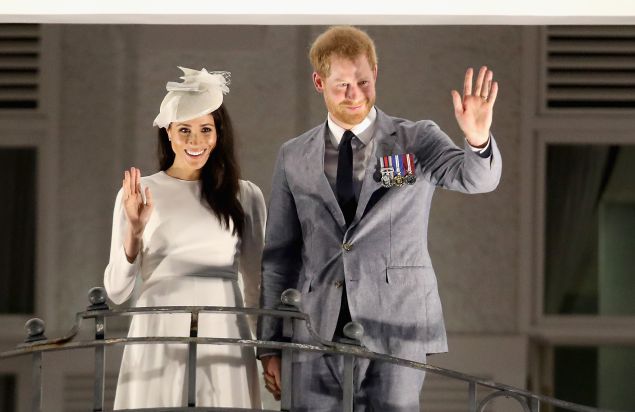 Plans for the hotel were drawn up more than a century ago. 
Initial plans for the hotel began in 1908, when New Zealand's Union Steamship Company decided its passengers needed fancier accommodations on the South Pacific route. The project was commissioned shortly thereafter, with the original design featuring contemporary colonial architecture that showcased high ceilings and plenty of double doors leading to one palatial veranda. The 35-room hotel opened on May 23, 1914.
Subscribe to Observer's Lifestyle Newsletter
The hotel reopened four years ago.

Courtesy Grand Pacific Hotel
New owners bought the hotel in 1958 and in 1960 added on a new 45-room wing, plus a swimming pool, a dining room, a bar and the Taj Mahal club. By the late 1980s it had shuffled through a number of owners, and it shuttered in 1992. Plans for a restoration surfaced in 2011, and the hotel reopened its doors in May 2014, exactly a century after its original opening.
It has plenty of guest rooms, but only 10 exclusive Heritage accommodations.
The 103 guest rooms are located in the Harbour and Kingsford Smith Wings, and feature contemporary decor and a private outdoor space. They range in price from around $160 to $415 per night.
However, it's worth splurging on one of the 10 heritage rooms and suites situated in the aptly named Heritage Building. Layouts differ from room to room, but the colonial-inspired furnishings include canopy beds, and the dark wood and plush velvet fabrics pay tribute to the original style of the hotel. Prices range from $425 to $975 a night.
Queen Elizabeth has stayed at the Grand Pacific at least five times.
The British monarch's first trip to the hotel was on a royal tour with Prince Philip in 1953, when they took their photo on the balcony and attended a Grand Ball in the corgi queen's honor. They checked in again in 1973 for a state dinner.
Other regal guests have included King Edward VIII and King George VI, as well as Prince Charles, who attended a state dinner there in 1970 to celebrate Fiji's independence.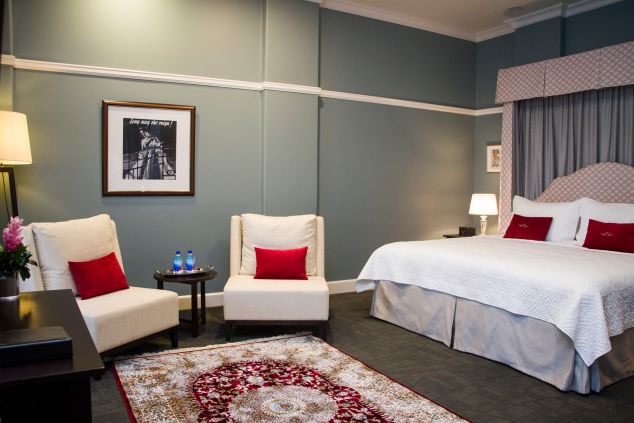 She even has a special suite named after her. 
The Queen Elizabeth Suite overlooks Albert Park and features the largest balcony in the hotel—it's the same one the Queen famously stood on during her 1953 visit, and where Prince Harry and Meghan Markle recently posed.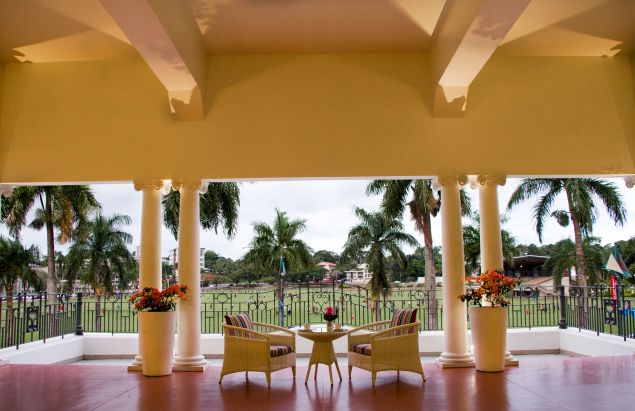 The hotel redecorated the suite in honor of Queen Elizabeth, and newspaper articles, photos and other majestic memorabilia now adorn its walls. It's not just for royalty, though—commoners can stay there too. Rates start at around $700 a night.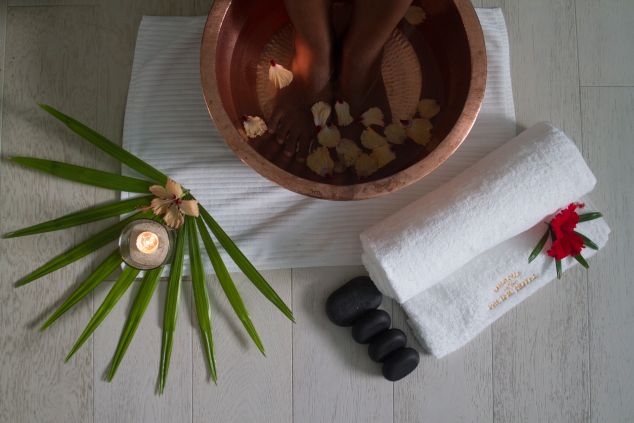 The spa treatments have a Fijian twist. 
Meghan Markle had to change her royal tour schedule a bit, but we're hoping she had a chance to check out the Bliss Spa, which has a dry sauna, a steam shower and six private massage rooms. Treatments include traditional Fijian experiences like the Tropical Bobo massage (with nut oils and tropical flower infusions) and the Royal Coconut Milk and Honey Body ritual, which includes hot stones.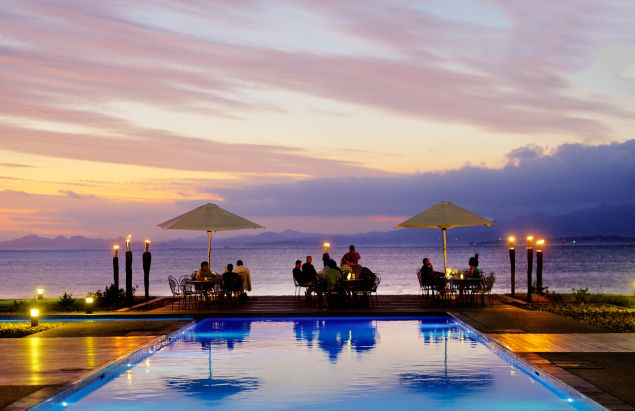 There are six dining options.
They vary from the more formal Prince Albert restaurant to a casual poolside snack bar. However, all of the menus focus on showcasing South Pacific cuisine, like a dessert of plantains with coconut milk, cinnamon and cardamom. We can only assume Prince Harry and Markle were treated to traditional Fijian dishes like this during the state dinner, though sadly it couldn't be documented on Markle's bygone lifestyle and food Instagram.