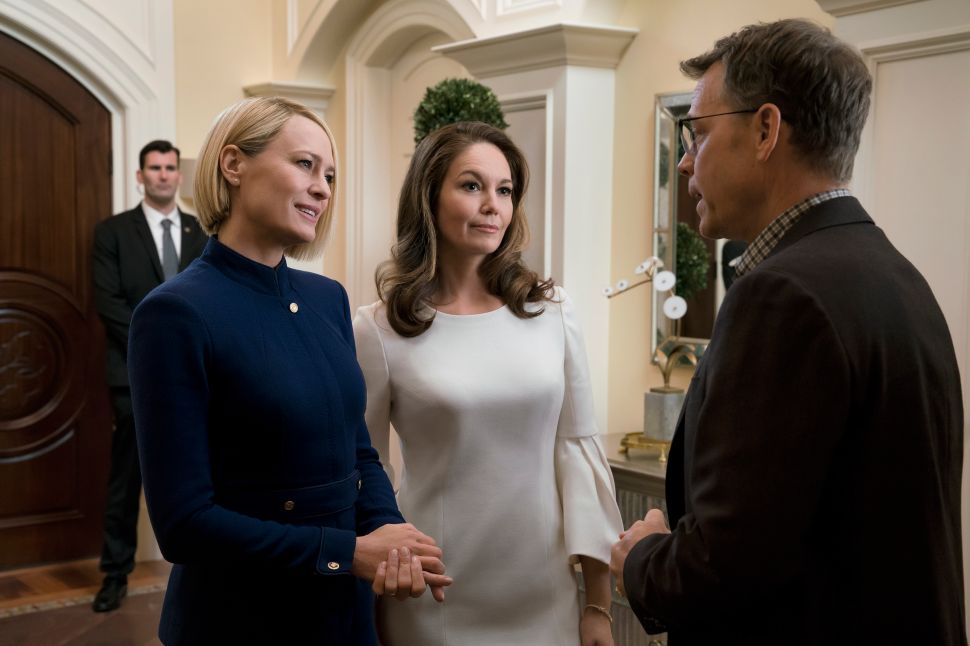 We're intrigued about the upcoming sixth season of Netflix's House of Cards for several reasons. For starters, it is the final season, an eight-episode run that will wrap up Netflix's flagship series for good. All those lingering high-stakes geopolitical plot threads and juicy interpersonal power plays will reach their conclusions, hopefully to the delight of viewers everywhere. Also, very importantly, the show has killed off Kevin Spacey's former lead character President Frank Underwood following the actor's dismissal due to the several sexual misconduct allegations against him. In his place, Robin Wright's Claire Underwood will take center stage—and control of the oval office.
Strap yourselves in.
Joining her are newcomers Greg Kinnear and Diane Lane, who were cast as siblings earlier this year. Not much is known about their characters, but we do know that they'll be playing Bill and Annette Shepherd, respectively. The pair lead a massive conglomerate within the House of Cards universe and represent the untold powers that big business can exert on national policy and beyond.
Subscribe to Observer's Entertainment Newsletter
"Kind of one of those unspoken power couples running around Washington," is how Kinnear described them on Live with Kelly and Ryan. "They sort of pull the levers from behind the scenes and basically, at the end of the day, we want Claire to get the hell out of the White House. So that's kind of the setup of it, and how we go about doing that is…There's secrets. There's always secrets."
Kinnear explained that the show's writers were inspired by the Coke brothers when developing the characters, among other wealthy and politically connected figures. "That kind of power is quite powerful in Washington," Kinnear said. It turns out that Annette and Claire were childhood friends, but now find themselves on opposite sides of the country's political divide.
Having seen the first handful of episodes of the new season, we can safely say that the siblings are worthy foils for the new administration.
House of Cards will begin streaming November 2 on Netflix.