Lifestyle guru and jade egg enthusiast Gwyneth Paltrow got hitched this weekend, and it was a truly Goop-y affair.
Paltrow married American Horror Story and Glee co-creator Brad Falchuk on Saturday, and the festivities included bashes in two multimillion-dollar Hamptons homes, a bunch of Oscar-worthy videos and a lengthy celebrity guest list.
Subscribe to Observer's Lifestyle Newsletter
Paltrow and Falchuk tied the knot at Paltrow's Amagansett retreat, and Jerry and Jessica Seinfeld hosted the rehearsal dinner on Friday, as the two are longtime friends of Paltrow's and their home is conveniently located next door to the actress' pad. The lavish rehearsal dinner started at 6:00 p.m. and went until 10:30 p.m., according to Us Weekly, with lots of speeches and a live band. Here's hoping Paltrow included a Goop gift bag for her guests complete with a rose quartz facial roller and pillbox keychains.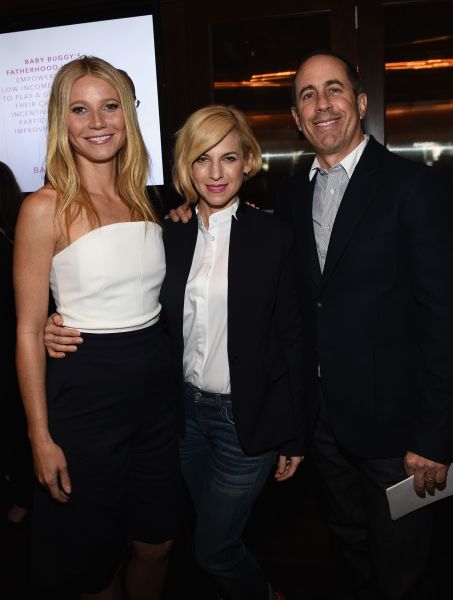 The ceremony took place the next day, at Paltrow's own Amagansett abode. She originally bought the property for $5.4 million in 2006, when she was still married to Chris Martin, and she made sure it was wedding-ready before her nuptials. Apparently, she's been working on the home all year, focusing a lot on the gardening (just imagine Paltrow surveying the grounds and donning breathable goatskin gloves while carrying around a brass misting bucket).
Paltrow's pal Cameron Diaz came early to help her friend prepare for the big day, and other guests included the Seinfelds, her mother Blythe Danner, Good Charlotte guitarist Benji Madden, Rob Lowe, Steven Spielberg, Kate Capshaw and Robert Downey Jr.
Three large white tents were set up on the property, per Daily Mail, which also included a few photographs. We've yet to see any of the videos Steven Spielberg shot, but the Academy Award–winning filmmaker was apparently casually getting footage with a handheld camera throughout the evening.
A string quartet played as guests sipped on cocktails before heading to a different tent for the ceremony (they had the option of taking a golf cart because obviously). The reception was under yet another tent set up with long wooden tables topped with candles and floral arrangements, and featured more live music, per E!. Caterer Olivier Cheng was likely in charge of all things culinary—the large white van nearby emblazoned with his logo wasn't exactly subtle.
Paltrow confirmed her marriage with a rather simple Instagram post of her and Falchuk's new wedding rings, a far cry from how they announced their engagement—in case you forgot, they did it on the cover of Goop's January Sex and Love issue, where we discovered that Falchuk is only medium Goop-y.