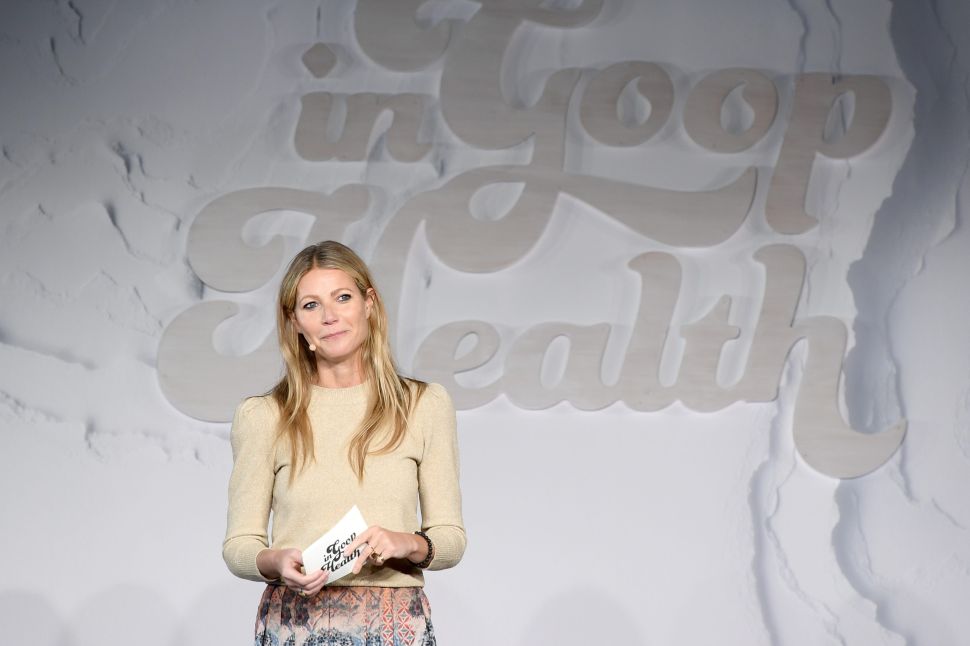 Last month, Gwyneth Paltrow's lifestyle and wellness brand Goop launched its first e-commerce site in Europe and opened a pop-up shop in London's Notting Hill. But just four weeks into business, the celebrity-backed company is now being accused by the U.K.'s advertising watchdog of making dangerously misleading promises to customers.
Over the weekend, the Good Thinking Society, a U.K.-based nonprofit that campaigns against pseudoscience, filed a complaint to the U.K.'s National Trading Standards and the Advertising Standards Authority, in which it listed 113 examples of Goop's misleading advertising on dozens of products, including several of Goop's $90-per-month vitamin supplements, British newspaper The Sunday Times first reported.
"It is shocking to see the sheer volume of unproven claims they make about their products, especially given that some of their health advice is potentially dangerous," Laura Thomason, a project manager at the Good Thinking Society who led the case, said in a statement to Observer.
"Gwyneth Paltrow may well have good intentions, but she and her company sell products with claims that could clearly mislead customers," Thomason added. "Just because Gwyneth has an Academy Award, it does not mean that Goop should be given an easy ride compared to other big corporations."
Here are five products whose descriptions were alleged as either lacking evidence or outright wrong in the complaint.
'The Mother Load' Supplement  
On its website, Goop describes "The Mother Load" as "a top-of-the-line natal protocol," which women can take "prior to conception and while pregnant as well," containing 60 percent of the daily vitamin A needed for pregnant women (or 110 percent of the daily value for adults).
However, the British National Health Service (NHS), the British Dietetic Association and the U.K.'s Department of Health all advise pregnant women against taking vitamin A because large amounts of it could harm an unborn baby, the Good Thinking Society argues in the claim.
In response, Goop's head of science and research Susan Beck told CNBC on Monday that, when used as recommended, the Mother Load supplements are safe during pregnancy, because the supplement contains a very moderate (450 micrograms) of vitamin A, which is less than the recommended daily intake of 600 micrograms per day.
'Why Am I So Effing Tired?' Supplement
According to Goop, the multi-vitamin supplement is a comprehensive "regimen designed to promote adrenal function, mental activity and stress tolerance."
The Good Thinking Society says these claims are not evidence-based. "I do not believe these claims are on the EU register of permitted nutrition and health claims," Thomason wrote in a report to the National Trading Standards and the Advertising Standards Authority.
Other similar supplements listed in the claim include "High School Genes" and "Balls in the Air."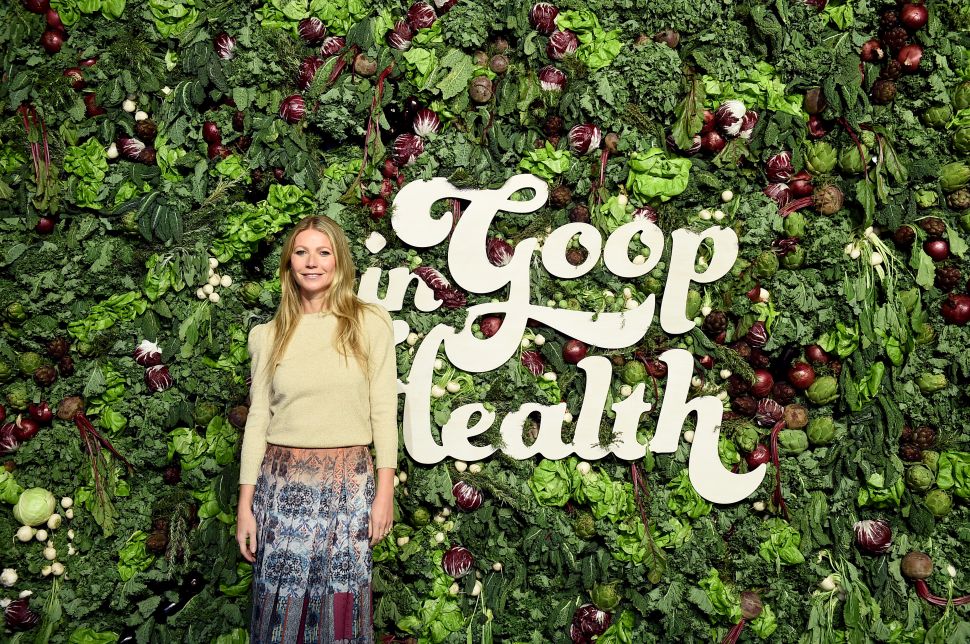 'Psychic Vampire Repellent Protection Mist' Spray
This spray—made of water, grain alcohol, sea salt and a complex blend of essential oils and gem elixirs—is supposed to clear sway undesirable energy and protect you from "psychic attack and emotional harm" when you "spray around the aura."
Again, the Good Thinking Society doesn't believe there is any evidence that the "product is effective to repel vampires (in any literal or metaphorical sense of the word) or to protect from 'psychic attack' (in any sense)."
A similar product, "Chill Child Kid Calming Mist," is also listed. "I do not believe there is any good evidence that the product is effective to calm children," Thomason wrote.
The Goop Medicine Bag
This $85 set, which includes eight pieces of different types of gem stones, dubbed "the eight essential crystals," is advertised as having an "extraordinary ability to store, transmit, and transform energy."
"This clearly implies that the products are intended to be used medicinally—to treat, prevent or manage medical conditions. There is no good evidence that any of the crystals described have any medicinal benefits," the nonprofit claim said. 
Fur Oil (for Pubic Hair)
This essential-oil blend contains ingredients that can "moisturize, clear pores, prevent ingrowns, and soften regrowth—making them brilliant whether you shave, wax, or go all natural."
Specifically, Goop said the grape seed and jojoba oils can "soften and condition" hairs, and tea tree oil "helps soothe pores and ingrowns."
The Fur Oil is one of Goop's most successful products; a quick Google search shows that it doesn't seem to have many competitors on the market and has celebrity endorsers like Emma Watson.
And yet, the Good Thinking Society doubts there is any evidence to support that the oil can actually prevent ingrown hair.