Guests at Helsinki's Hotel St. George admire the lobby's Ai Weiwei.

Henri Juvonen
Helsinki's Hotel St. George opened in May 2018, following an exhaustive, three-year renovation of one of the earliest works by Finnish architect Onni Tarjanne. The building, which dates back to 1890, was once home to the Finnish Literature Society, the oldest publisher in Finland, but architect and developer Arkval Oy has reimagined the historic property, transforming it into a seven-story, 153-room "grand hotel."
Earlier this year, it was rumored to have been among the luxury accommodations Donald Trump considered when planning his Helsinki visit to summit with Vladimir Putin. But despite the fact that he was offered the king-size St. George Suite—which includes a bedroom, a living room, a dining room, a private sauna, a service kitchen, sweeping park views and unlimited champagne—sources says the hotel simply wasn't lavish enough for the president.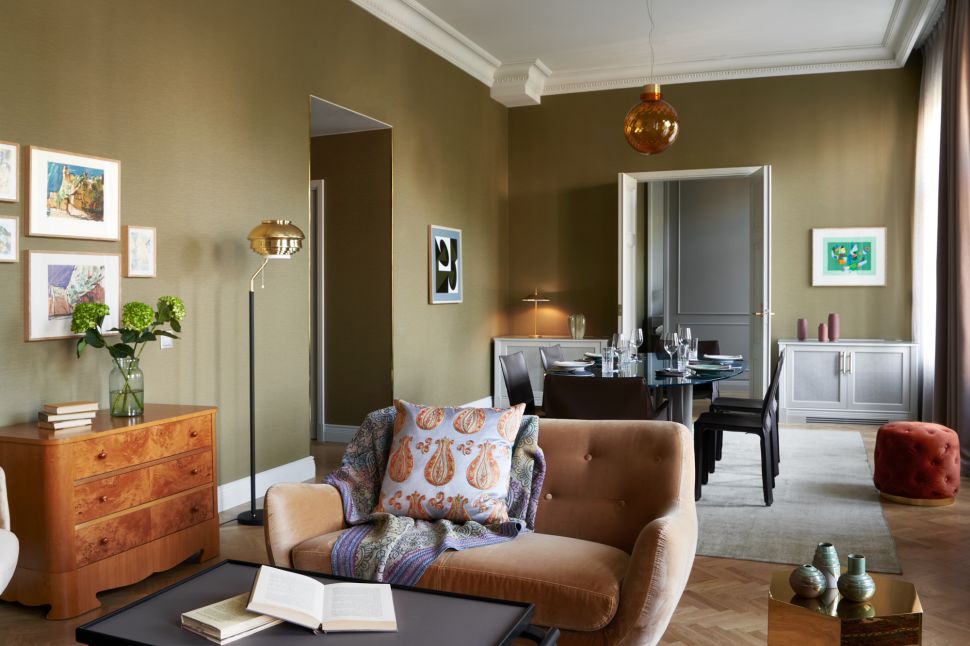 It's a pity, given that it retains many original Neo-Renaissance details and houses more than 300 pieces of modern art, including Ai Weiwei's Tianwu, a silk and bamboo polycephalic dragon that floats from the ceiling of the lobby. By day, Tianwu blends in with the airy and minimalist entryway, but at night—or whenever the Nordic region is cloaked in winter's total darkness—electric light pulses from within the creature's iridescent skin, washing the room in a heady white glow. 
Subscribe to Observer's Travel Newsletter
The composition bears many of the Chinese artist's signatures. The bamboo is resilient and flexible, while the silk is soft and strong. It's also the oldest fabric in the world—perhaps a nod to the inspiration for Tianwu, a traditional Chinese fairy tale called Shan Hai Jing from the 4th Century BCE. Originally part of Ai Weiwei's 2016 Er Xi, Air de Jeux installation at Le Bon Marché in Paris, Tianwu is currently the only Ai Weiwei piece on public display in a hotel—most of the artist's work has been reserved for museums, galleries and private collections. 
Hotel St. George's art collection was curated by Finnish designer and creative director Mirkku Kullberg, who commissioned multiple custom pieces for Wintergarden, the hotel's glass-roofed restaurant courtyard. One of the most noteworthy is Learning to Fly, a sculpture from Finnish artist Pekka Jylhä. Best known for Espace Louis Vuitton's 2012 Tokyo glass installation "Awakening," Jylhä was inspired by how the "light literally flies into" Wintergarden's cathedral ceilings. He explained, "It seemed to need a magnificent bird to fill the space and give wings to the mind." At 20 feet long, Learning to Fly is a puzzle of 100-plus brass bits whose blade-like edges contrast with the plush velvet upholstery, pulpy green jade plants and fig trees below.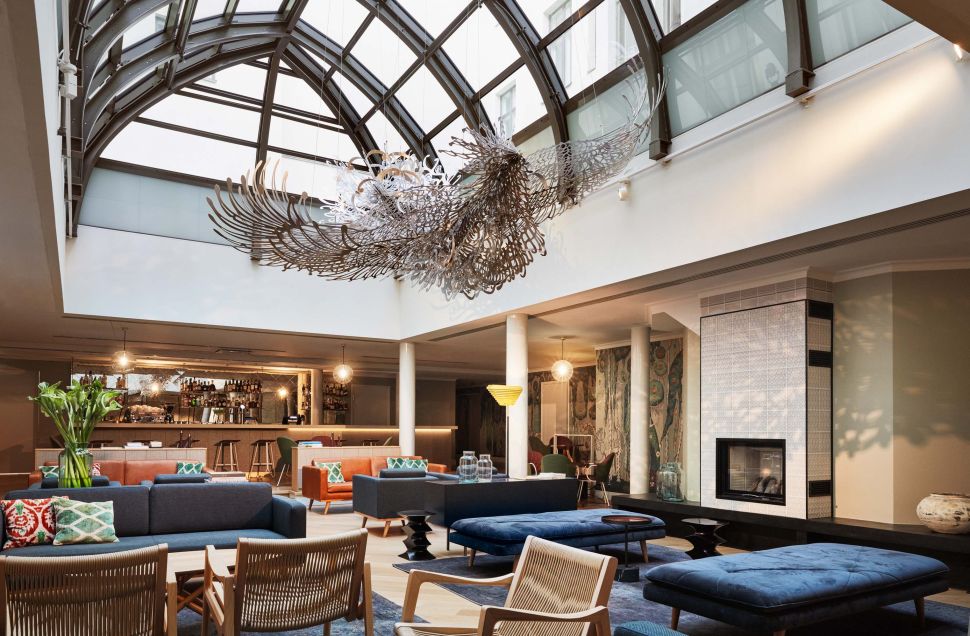 To the far right, Wintergarden is rooted by a bespoke tapestry from Klaus Haapaniemi, a Finnish decorative artist known for weaving playful cultural references into theatrical designs. Asked to "create something magical, like a contemporary gobelin," Haapaniemi returned with the deeply textural Lightnings in Tiger Woods, a large-scale, escapist silk mural in earthy shades of purple, green, blue and gray, well suited to the 18th-century garden feel that Wintergarden strives to evoke. The entire courtyard is canvassed by herringbone parquet floors that stretch between modern, Scandinavian furnishings by Eero Saarinen, Nikari, Vitra, Classicon, &tradition and Sibast, and frame an eclectic body of work from abstract pioneers like Juhana Blomstedt, Ernst Mether Borgström and Lars-Gunnar Nordström.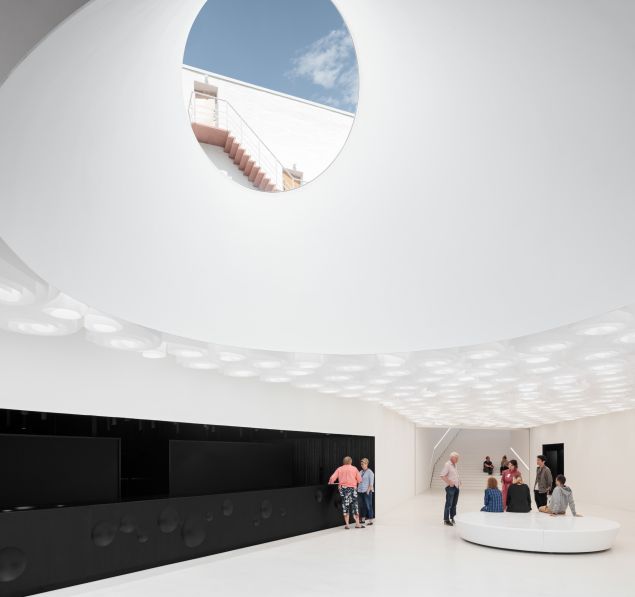 But the hotel itself is only the beginning. St. George sits on the northern edge of Design District Helsinki, a creative hub awarded 2012's World Design Capital for its "embedded" approach—meaning the city "showcased innovative design as a fundamental tool to address the everyday needs of citizens." Mere steps away is the Design Museum, with a permanent collection chronicling the history of Finnish art and design. The surrounding cobblestone streets lead to 18 additional art museums—including the hyper-experimental Amos Rex—and independent galleries.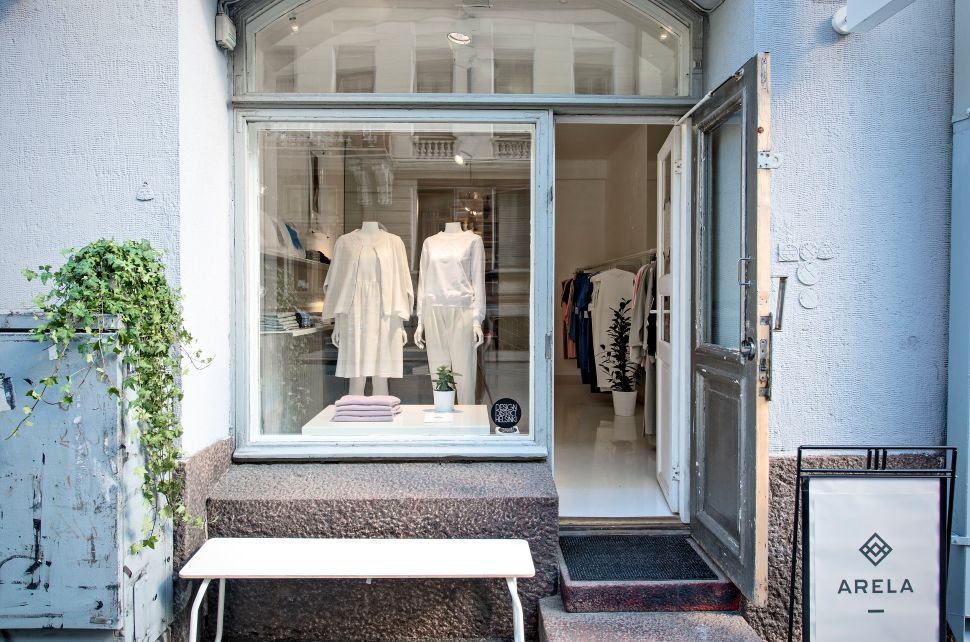 Also within walking distance: the more than 200 boutiques that populate the 25-block district, selling local Nordic artwork, fashion, jewelry and decor. Big design houses like Marimekko and Artek (Finland's most famous exports) join smaller brands like Iittala, a glassware company named for the town in Finland where it was founded in 1881; TRE, a luxury apparel, accessories and home furnishings boutique that sells 90 percent Finnish goods; and Lokal, a concept store founded by photographer Katja Hagelstam that doubles as a gallery dedicated to contemporary Finnish art and design.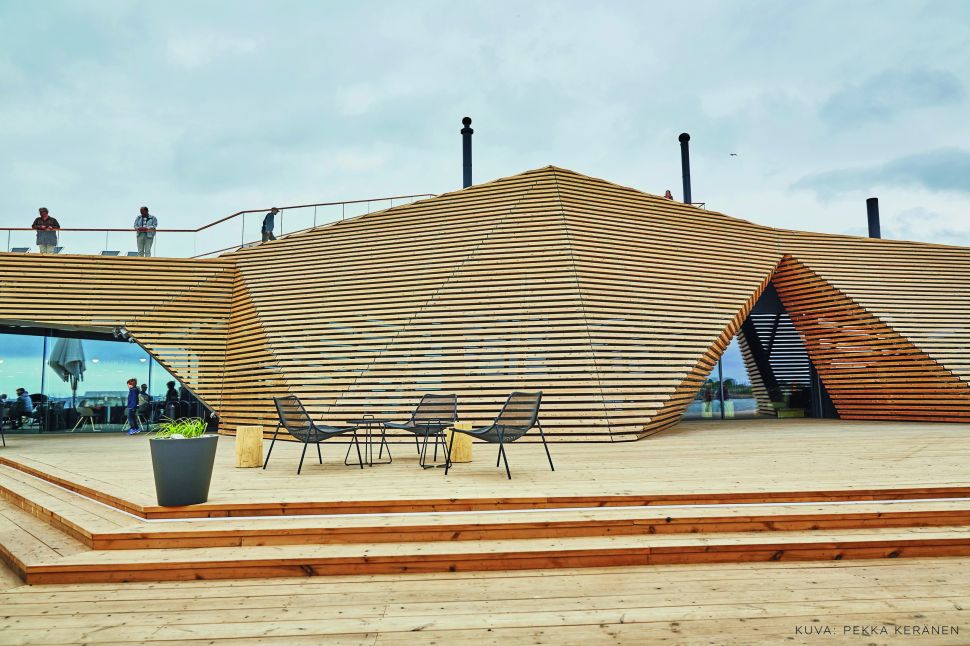 About a mile south of the Hotel St. George, on the outermost perimeter of the Design District, a palatial wooden pyramid cuts into the sky. This architectural stunner is Löyly, a 9,000-square-foot, totally solar-powered, traditional Finnish sauna that faces the Gulf of Finland. The Löyly is beloved by Finnish locals, nearly every one of whom will boast that their country contains 5.4 million people—and 3.3 million saunas.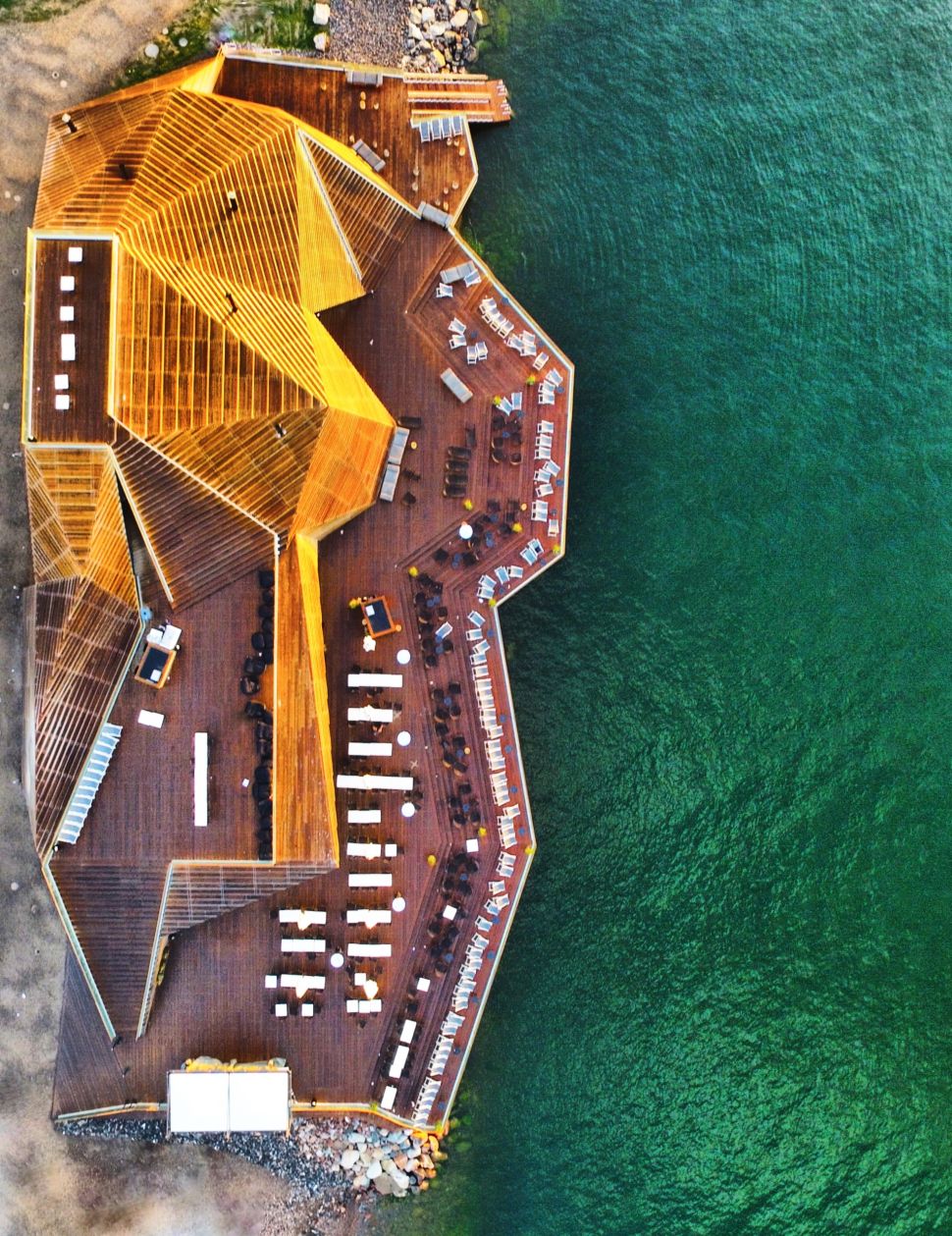 It took eight years and 4,000 planks of sleek, machine-cut pine to build the Löyly which, like seemingly everything else in Helsinki, began with thoughtful, meticulous design. Understanding that the bright exterior finish would eventually darken with age, architects Ville Hara and Anu Puustinen explained, "As the wooden building turns gray, it will become like a rock on the shoreline." If only our president were half as poetic—perhaps, then, he'd realize what he was missing.