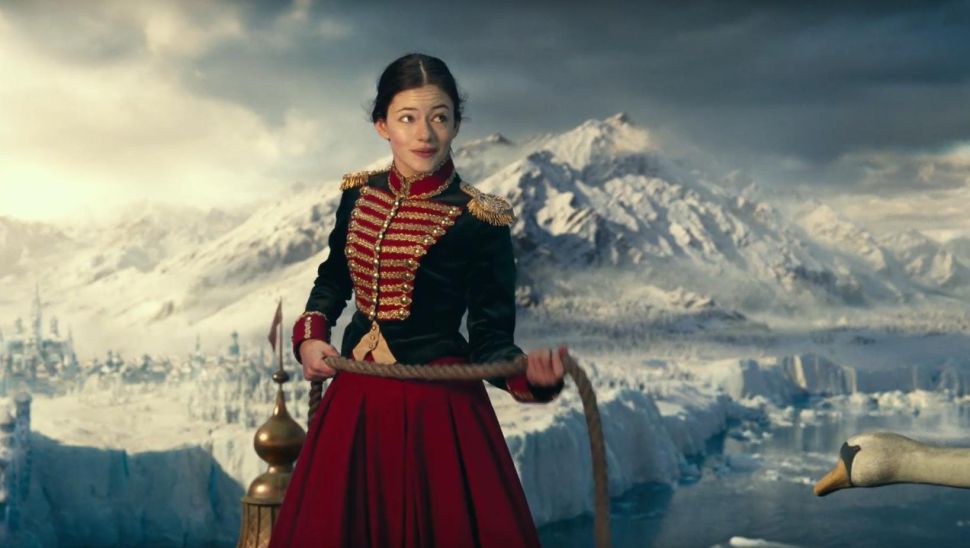 It's true that the holiday season is a time of gift-giving and cheer for most people. But for Hollywood studio executives, it's a panic-inducing period that can ultimately determine the success or failure of their company's year (get the scotch ready). A lot is riding on some of these upcoming releases, and not all of them are going to earn great returns on investment.
While we here at Observer wish every movie would succeed financially (you heathens need to go out and see Bad Times at the El Royale in theaters), in reality, some will bomb. Big ticket items fail to make a dent in the pop culture conversation all the time. So with that in mind, here are a few major upcoming features that might end up flops at the box office.
The Nutcracker and the Four Realms (Disney)—November 2
Thanks to the Marvel Cinematic Universe, Pixar and Lucasfilm, Disney could rightly be called the schoolyard king—kinda like the kid that ripped up your art project and made you eat dirt at recess (not that we're drawing from personal experience or anything…). But while the eye-popping grosses of Black Panther, Avengers: Infinity War and Incredibles 2 have understandably stolen headlines this year, it's fair to point out the Mouse House's small handful of misses as well.
A Wrinkle in Time ($132 million worldwide), Solo: A Star Wars Story ($354 million) and Christopher Robin ($190 million) all failed to meet expectations, and next week's The Nutcracker and the Four Realms could easily join them. The film's budget likely sits somewhere around $100 million, but the movie is currently tracking for a so-so debut around $25 million (on par with Wrinkle in Time and Christopher Robin). Nutcracker's trailers have been met with positive, if quiet, online reactions but the November and December slates are stacked with kid and family-friendly releases eyeing the same target audiences. Plus, Morgan Freeman's presence following sexual harassment allegations and the movie's non-tentpole material gives us pause.
Robin Hood (Lionsgate)—November 21
Over the last 30 years, we've been given a handful of big screen movies inspired by the mythic tale of Robin Hood, but the last one to actually perform well at the box office was 1991's Robin Hood: Prince of Thieves. Lionsgate's new punk rock action-adventure reimagining doesn't have history on its side. It also doesn't appear to have quality on its side either—the movie looks plainly terrible. Social media buzz has been muted and not even Taron Egerton's rising star power from the Kingsman franchise looks to elevate this one (though his Rocketman looks like a blast).
But Robin Hood's real struggle will come against a stacked lineup of formidable competition. The movie opens against the anticipated Creed II, Hugh Jackman's presidential drama The Front Runner, the critically acclaimed Green Book, and the surefire family-driven animated hit Ralph Breaks the Internet: Wreck-It Ralph 2.
Good luck, bowman.
Mortal Engines (Universal)—December 14
Universal has been really pushing Peter Jackson's role as producer in marketing this adaptation of a futuristic steampunk fantasy series to try to ensnare Lord of the Rings fans. But even so, Mortal Engine's trailers have been met with an overwhelming shrug thus far. At $100 million, it's also an expensive gamble on source material that casual moviegoers aren't overly familiar with.
The release schedule won't be doing Mortal Engines any favors either. The sci-fi adventure will go toe-to-toe with Spider-Man: Into the Spider-Verse (Dec 14) while hoping to carve out space in a crowded Christmas lineup against Mary Poppins Returns (Dec 19), Aquaman (Dec 21), Bumblebee (Dec 21) and Holmes and Watson (Dec 21). As First Man fails to take flight at the box office (despite being an exhilarating theater experience in spots), Universal is looking at another potential costly miss.