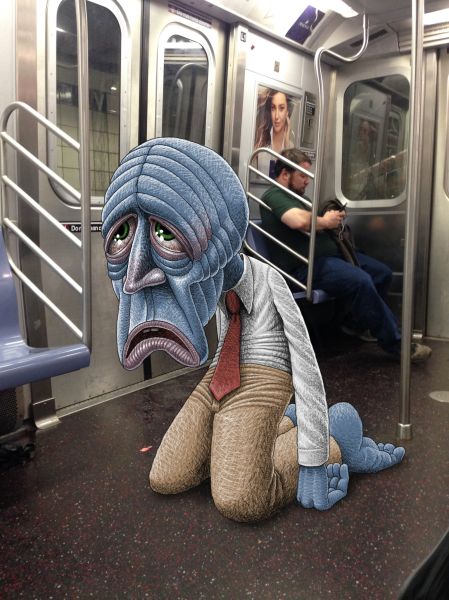 It's 10 past the time your meeting started and your N train has just turned into a Q train and is now going backward. We all love to complain about the subway, and none of us, excluding those rare unicorns that live a five-minute stroll from their office, love our morning commute. So why is it then that subway-related Instagram accounts are gaining millions of followers?
In an unlikely trend, people seem to love the multiple subway Instagram accounts on offer. Subway Hands, an account dedicated to (you guessed it) hands on the subway, has gained over 50 thousand followers and a feature in The New York Times Magazine. The account Hot Dudes Reading has a million followers, though we're unsure if that's because of its subway backdrops, and Subway Ads is growing quickly at over a thousand followers.
Three creators of prominent subway-related accounts weighed in on why they think actual ridership continues to plummet while follower-bases gain steam.
Subscribe to Observer's Arts Newsletter
Rick McGuire, the 34-year-old New York-based TV producer behind Subway Creatures, has gained a fan base of one million from posting funny and relatable subway videos. The account started as a website in 2011 and, after gaining significant followers, McGuire is now hosting a comedy podcast under the same name.
"Honestly, I think people love the account because of how raw it is. It's real people in real situations," he explains. "The majority of us face the same issues that we see on these accounts. We can all relate and just when you think you've seen it all there's something new that blows your mind."
With a TV development deal in the works, McGuire says he's learned more about the subway than he ever wanted to know and feels an added responsibility not to post something dangerous that may be mimicked. Wanting to give back, he's planning on using the platform to give hundreds of shoes to those homeless in New York, though he feels that's "only scratching the surface with what can be achieved."
The anonymous Brooklyn-based artist behind Subway Doodle, an account that gained 159 thousand followers from illustrations drawn while on the subway, started the account in 2010. After seeing someone on the subway drawing on a digital tablet, he began drawing on his commute to work but never expected people to see his illustrations or follow the account.
"I don't think people enjoy subway accounts because they love the subway," he told Observer. "It's the relatability of the shared subway experience. Being aggravated by the subway is universal."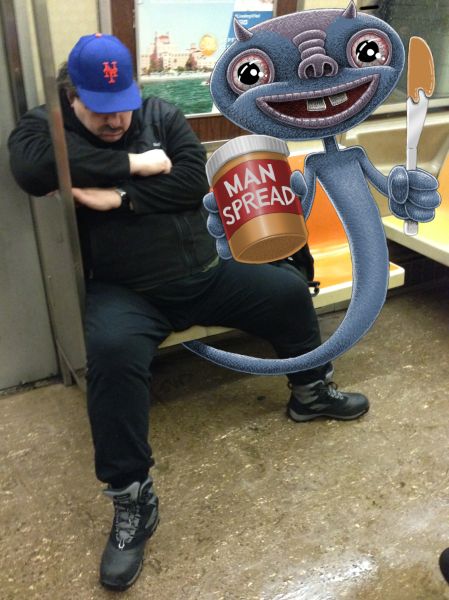 Through this "relatability," the artist has been signed by two Hollywood agencies, The Gotham Group, and APA, with an animated show based on his work currently in active development. He also has painted "large doodles" on Brooklyn buildings for The Bushwick Collective, and is often asked to speak at or attend art events.
But his favorite response is when someone tells him he made them smile. "I find it remarkable that I can touch a stranger who lives halfway around the world," he says.
Julien Potart, the 36-year-old Paris-based director behind I Don't Give a Seat, agrees that people enjoy the accounts because they're relatable to everyday life, but also thinks it's because they give you a different point of view of public transportation.
He started the hyper-focused subway seat pattern account after traveling for work and being amazed by all the patterns he saw on public transport. "The patterns on the seats are part of your everyday life," he explains. "It is something you see even if you don't look at it, it's even easy to miss them. But you see them so often that they'll stay in your mind, and you can recognize it wherever you are."
Since starting the account, Potart has done some research on why most of the seats are blue. He shares that it's because most people associate the color blue with safety, and it calms the stress and anxiety of traveling.
He's hoping the Parisian metro service will soon be paying for his tickets, and he'd love to publish a book or organize an exhibition for I Don't Give a Seat. But when I ask for his future plans, he says with a smile: "I want to have kids, buy a house in the French countryside and not take the metro anymore."
There you have it, even the people behind our favorite accounts are sick of the actual subway. Much like a bad Tinder date, it seems some things just appear a lot more desirable behind the screen.