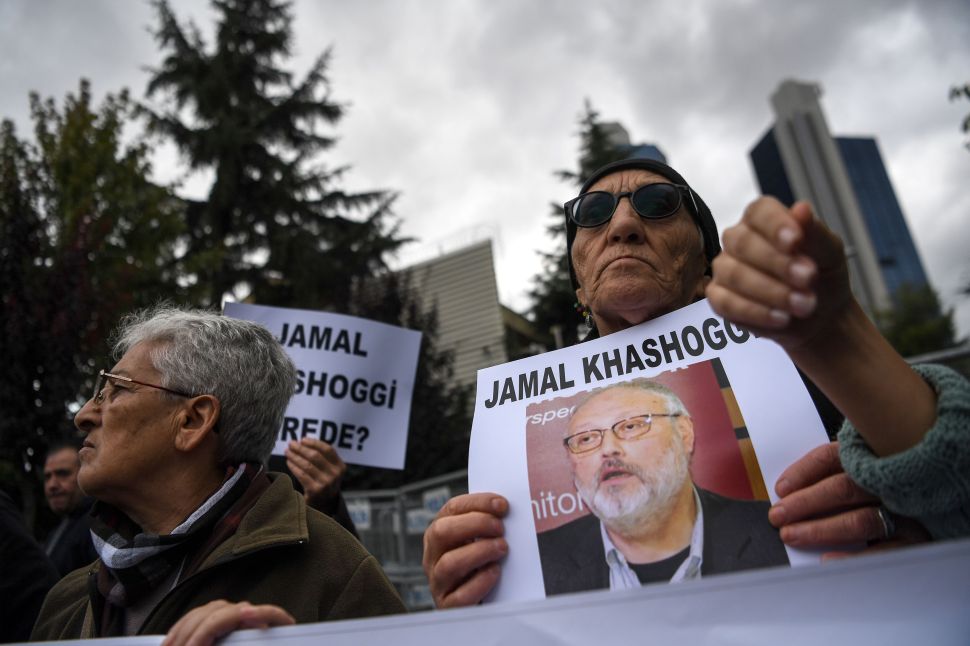 A growing number of tech and media companies are backing out of a prominent business conference in Saudi Arabia after the disappearance and apparent murder of journalist Jamal Khashoggi.
The Saudi Future Investment Initiative (FII) conference, known as "Davos in the desert," is scheduled to take place later this month in Riyadh. Hosted by Crown Prince Mohammed bin Salman, the event is designed to showcase his Vision 2030 plan to break the country's dependence on oil.
Subscribe to Observer's Business Newsletter
But it looks like the prince will be making his presentation to a lot of empty seats. At least seven news organizations have pulled sponsorships from the conference in recent days, including;
The New York Times
The Los Angeles Times
The Financial Times
The Economist
CNN
CNBC
Viacom
Many of the companies cited Khashoggi's disappearance as their reason for backing out of the event.
"The Financial Times will not be partnering with the FII conference in Riyadh while the disappearance of journalist Jamal Khashoggi remains unexplained," Finola McDonnell, the paper's chief communications and marketing officer, tweeted.
"CNBC will no longer participate in the FII in Riyadh due to the continuing questions surrounding the disappearance of journalist Jamal Khashoggi," the network said.
Times columnist Andrew Ross Sorkin, who was set to moderate three panels, backed out because he's "terribly distressed by the disappearance of journalist Jamal Khashoggi and reports of his murder."
Economist editor-in-chief Zanny Minton Beddoes and Los Angeles Times owner Patrick Soon-Shiong have also cancelled their sessions.
Two other American media sponsors, Fox Business and Bloomberg, say they're "monitoring the situation" around Khashoggi. Last year Bloomberg signed a 10-year deal with a Saudi publisher to run an Arabic language financial news network.
Companies outside the media industry are also backing out of FII. Uber (UBER) CEO Dara Khosrowshahi, who was scheduled to speak on the future of transportation, said he would withdraw "unless a substantially different set of facts emerges."
AOL co-founder Steve Case also dropped out of the conference. Jamie Dimon of JPMorgan Chase (JPM) dodged questions about his appearance during an earnings call today, and Treasury Secretary Steve Mnuchin is also still planning to attend.
Meanwhile, Virgin founder Richard Branson is pulling back from two tourism projects in Saudi Arabia and suspending discussions with its government about a $1 billion investment in Virgin's space companies. Branson said that if Saudi authorities don't "clarify their position" on Khashoggi, that would "clearly change the ability of any of us in the West to do business with the Saudi Government."
Khashoggi was last seen entering the Saudi consulate general's office in Istanbul to get a marriage license on October 2. Turkish authorities say they have audio and visual evidence of his murder, though the investigation is ongoing. Saudi Arabia denies any role in Khashoggi's disappearance.
More than 30 journalism and free press organizations sent a letter to to the Saudi ambassador's office yesterday, demanding a "full investigation" into Khashoggi's disappearance.
"It is of utmost importance that officials do everything in their power to find Khashoggi, return him to his fiancée and family and hold those responsible for his disappearance accountable." they wrote.