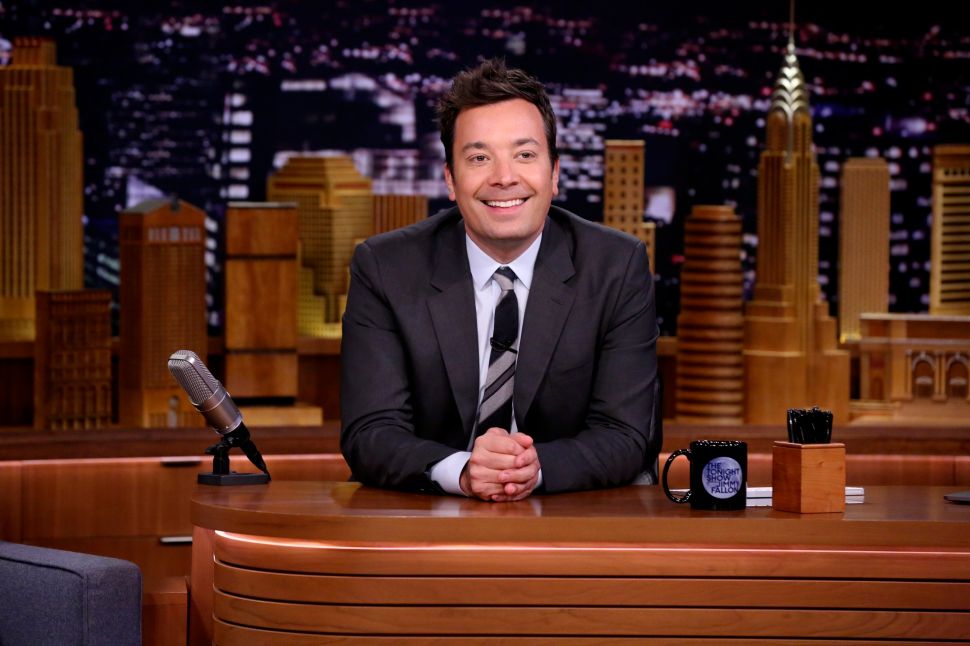 Jimmy Fallon and NBC's The Tonight Show are losing the late-night ratings battle. Since February of last year, Stephen Colbert's The Late Show on CBS leads late night in terms of total viewers, with ABC's Jimmy Kimmel Live steadily gaining ground. Though Fallon still leads the pack in the advertiser-friendly 18-to-49 demographic, even that gap has started to shrink. The Tonight Show edged out The Late Show by just a tenth of a point in the recent ratings contest.
All in all, Fallon's good-guy routine, though great for building viral segments and a social media following, hasn't gelled with audiences as much as the more politically focused nature of Colbert and Kimmel's shows, which continue to unabashedly address the snafus and tragedies of Donald Trump's presidency.
But now, in an effort to combat a downward slide, The Tonight Show is shaking things up: NBC has tapped veteran news and sports producer Jim Bell as the program's new executive in charge and showrunner, Variety reports. Bell has extensive experience overseeing Today and NBC's Olympics coverage and brings a wealth of live-programming knowledge to the table. Under Bell, a hesitant Fallon could embrace a more news-oriented approach to his comedy. We saw the same thing work for The Late Show, as Colbert began to recover from a rough ratings start after CBS installed TV-news veteran Chris Licht as its showrunner.
Subscribe to Observer's Entertainment Newsletter
Fallon got off to an auspicious start in 2014 when he took over for Jay Leno with a modernized Tonight Show that emphasized celebrity interviews and hashtag-worthy bits. Colbert, meanwhile, struggled when he took over The Late Show in 2015. However, as Colbert has shifted his focus more toward politics, his ratings have continued to climb, as have Kimmel's. As of last month, when the new television season began, Colbert's Late Show is averaging 3.6 million live viewers while Fallon's Tonight Show is posting 2.4 million.