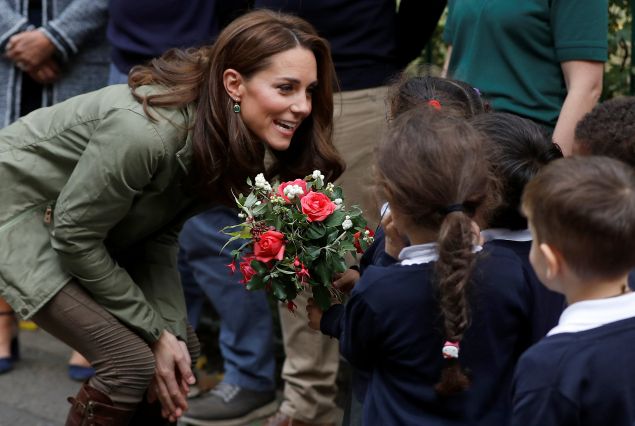 As shocking as it may be, Meghan Markle isn't the only member of the royal family to close her own car door. Following suit, Kate Middleton showed off her D.I.Y. side today when she shut the door of the car that delivered her to her first royal engagement since returning from maternity leave.
But the automobile situation wasn't the highlight of Middleton's day—this return to public life after six months of leave involved a visit to Paddington Recreation Ground at Sayers Croft Trust Forest School and Wildlife Garden.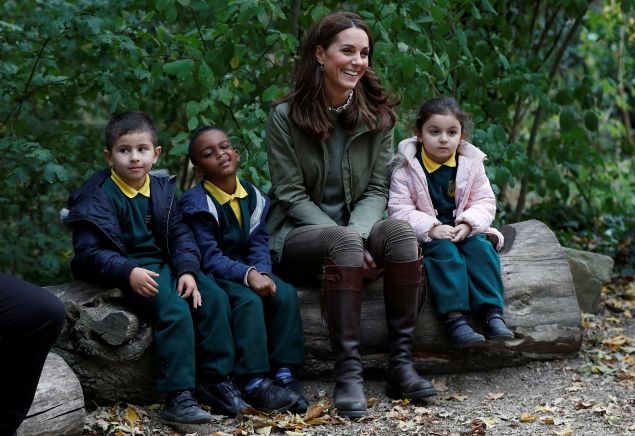 Sayers Croft Trust is one of 46 wildlife trusts across the United Kingdom, and it aims to give inner city children the opportunity to learn about nature and participate in outdoor activities. The Duchess of Cambridge made the two-mile trip from Kensington Palace to the outdoor event, where she was shown an edible vegetable garden patch as well as a forest garden.
Subscribe to Observer's Lifestyle Newsletter
Middleton had to miss out on Prince William's recent weeklong private working trip to Africa, but this event perhaps makes more sense to mark her return—the Duchess' main initiatives involve mental health advocacy and working with young children. At Sayers Croft Trust she listened in on a school session about how nature can aid in promoting emotional well-being among kids and teens.
Middleton sat with St. Stephen's School students and listened to a reading of the book Monkey Queen, and joined in on some gardening along with students from St. Augustine's Primary School. Prince Louis was at home, but Middleton still brought up her youngest when she met a seven-month-old boy named Romi, as she said he was "very chatty, he's almost the same age as my little boy."
The royal also helped make leaf crowns with the children—no match for Queen Elizabeth's tiara, but at least these can be worn before 6 p.m.!
Middleton's grand return isn't the only big royal event this week, however, as Prince Harry and Meghan Markle are going on a rather important day trip tomorrow—they're visiting their royal namesake, Sussex, for the first time since Queen Elizabeth gave them the titles Duke and Duchess of Sussex.