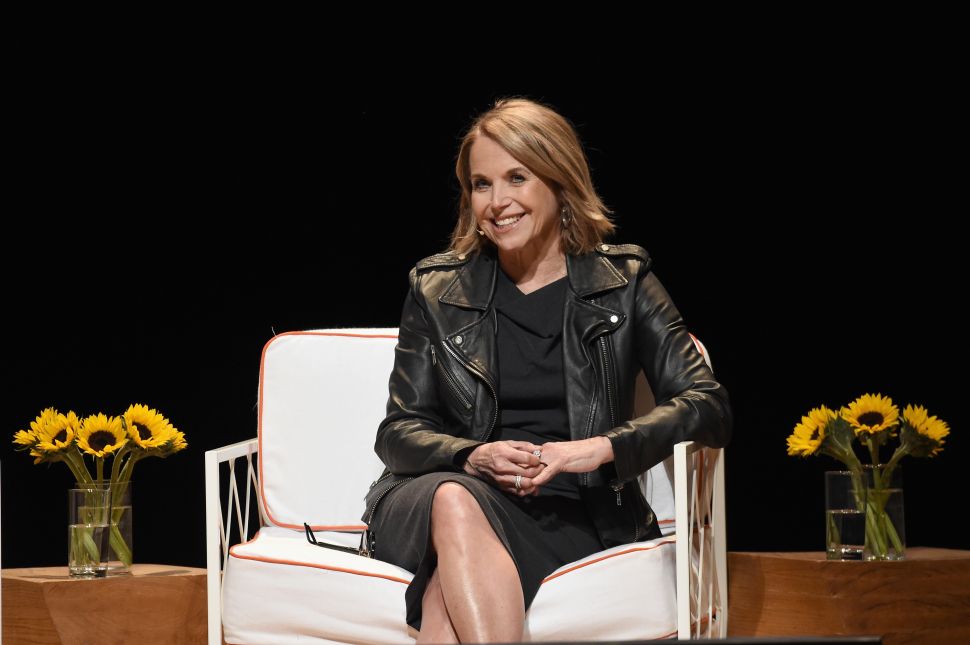 Katie Couric's got a lot going on. The former Today host is now a podcaster with her own eponymous media company. She's also working on a short-form, female-focused online video series called Getting There, co-produced by digital media site theSkimm and sponsored by Procter & Gamble.
"I'm excited to be the master of my own fate, and happy to collaborate as long as they don't tell me what to do," Couric told moderator Bill Koenigsberg (a media executive and friend of hers) during a discussion at Advertising Week in New York on Wednesday.
Of course, given her long career as a journalist, a lot of Koenigsberg's questions to Couric centered on current events. And her thoughts on the state of the country weren't nearly as rosy.
Subscribe to Observer's Daily Newsletter
"It's incredibly depressing and disheartening," Couric said. "The tectonic plates of society are shifting and creating anger and discomfort in people. We are in serious trouble here."
Couric said she isn't the person to solve that problem. When Koenigsberg asked her in a tongue-in-cheek way whether she'd ever consider running for president, she responded with three words: "No, thank you."
But the issues aren't limited to politics. The media world has also been roiled by changes, mostly due to the #MeToo movement. Couric's former co-host Matt Lauer and former boss Les Moonves are among the media titans who' have been felled by sexual misconduct allegations.
"The rules have changed, and that's a very good thing," she said. "Certain behaviors that received an eye roll just can't exist anymore."
Couric added that "there's a spectrum of offenses," because "not everyone is Harvey Weinstein."
But regardless, many companies need to look at their culture. As part of that, Couric said "having more women in leadership positions is imperative." To prove her point, she pointed out that there are just as many female CEOs as male CEOs named John.
"We need to take a good, hard look at our preconceived notions," Couric said. "Pervasive, insidious sexism needs to be confronted."
Not all of this sexism involves sexual harassment. Couric decried the concept of "hepeating," when a man appropriates a woman's comments and then gets praised as if he came up with the concept himself.
She also said there needs to be an equal distribution of tasks in the home or office. "It shouldn't be the woman who always runs out and gets cupcakes for the birthday party," Couric said.
Obviously there's a lot to be done on both micro and macro scales. But Couric urged both men and women to do the work rather than putting their heads in the sand.
"We have to say to ourselves 'We are better than this,'" she said. "I'm optimistic and I hope we'll swing back."