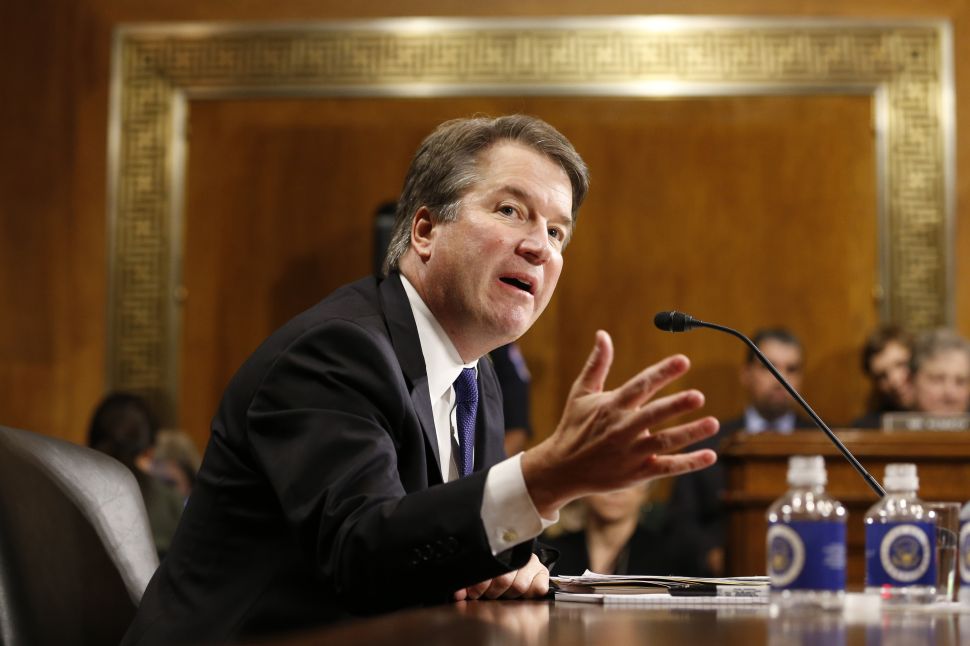 Conservative scribes are offering solidarity to Brett Kavanaugh by recalling the bar fights of their youth.
"I've been in two bar fights, though I suppose one was technically a 'Jumbo Slice fight," tweeted National Review and New York Times columnist Ross Douthat on Tuesday, clarifying that in neither instance was he "close to blackout drunk."
Twitter users speculated "Jumbo Slice" was code for "jumbo slice pizza"—a cheesy delicacy of Washington. When Observer asked Douthat whether his past included pizza parlor brawls, he declined to comment further.
Subscribe to Observer's Politics Newsletter
"I regret becoming part of an insufferable Twitter meme and I think it's best if I leave the details of my scrapes to the reader's imagination," the writer told Observer.
Douthat wasn't the only media bigwig to offer a glimpse of his past debauchery. Responding to National Review's resident "jumbo slice" brawler, corporate reporter-turned-Fox Business correspondent Charles Gasparino recounted being "in dozens of bar fights" resulting in injuries.
"Ive been in dozens of bar fights (ask the guys I grew up with)," tweeted Gasparino. "…nearly lost an eye in one and that's just one of the injuries (I have the scarred stitch marks to prove the rest) never been black out drunk but I have had to defend myself, which I am still perfectly capable of doing."
One of the Gasparino's fights allegedly involved White House economic advisor Larry Kudlow.
"I remember one where a guy sucker-punched you, but he was such a weasel you barely flinched," wrote a financial reporter.
"…he attacked me because I was having dinner w Larry Kudlow and he hates kudlows politics," shot back Gasparino. "True story."
Newsmax host John Cardillo and The Daily Caller's Supreme Court reporter Kevin Daley also tweeted about getting into bar fights.
The recollections follow a New York Times report describing an incident where Kavanaugh threw ice on a bar patron as a Yale undergrad. The Supreme Court nominee was later questioned by the New Haven police department.