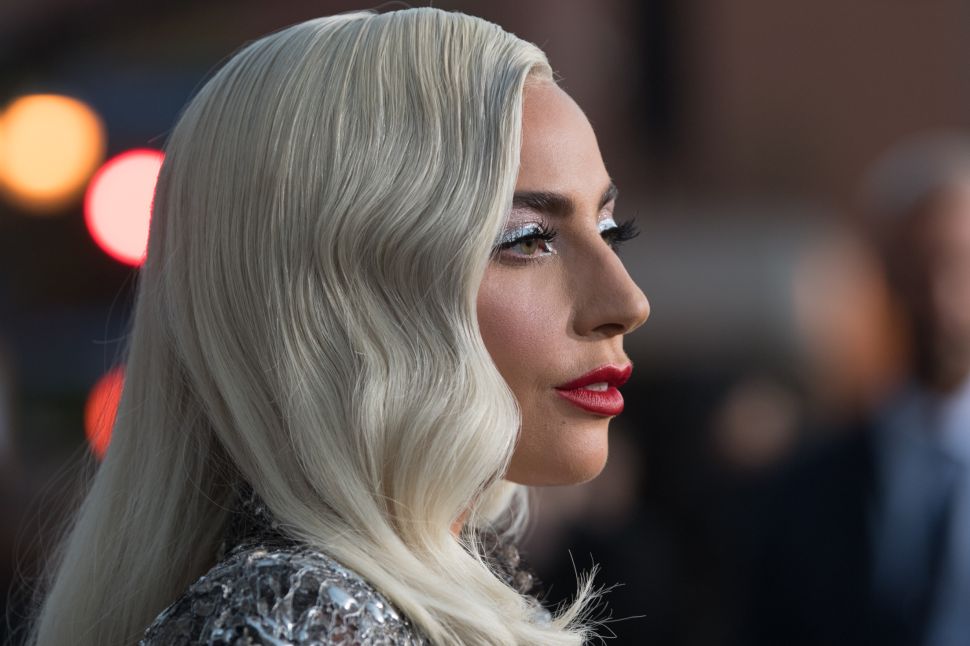 A Star Is Born finally hits cinema Friday, October 5, and in the weeks leading up to the premiere of the movie that's delighted critics and whipped fans into a frenzy, its stars Bradley Cooper and Lady Gaga have been pounding the pavement, doing as much prestige press as possible.
The latest high-profile story to hit newsstands is Rachel Syme's profile of Lady Gaga for The New York Times Magazine. The piece is accompanied by photographs and a video by artist and purveyor of new erotics Marilyn Minter.
The pop chameleon formerly known as Stefani Joanne Angelina Germanotta doesn't give Syme much in the way of fresh material. However, she does sing "Shallow," the movie's lead single, loudly and ferociously when the writer asks whether her in-home studio has good acoustics: "A cappella, unprompted, voce forte, her arms flung out to full wingspan, her head tossed back to bare her throat…'I'm off the deep end! Watch as I dive in! I'll never meet the ground!'"
Subscribe to Observer's Entertainment Newsletter
The feature goes on to offer a little insight into Gaga's world. For example, she is a magpie-like collector of cultural artifacts that inspire her—perhaps not surprising for an artist whose visual presentation is a fundamental part of her pop persona. Syme writes: "In 2012, she purchased 55 items from Michael Jackson's private archive, including his leather Bad jacket and a crystal glove. That same year, she bought an eggshell silk Alexander McQueen gown from the collection of the British fashion maven Daphne Guinness. In 2016, for her Dive Bar Tour in support of Joanne, Gaga rolled up to a show in Elvis's pink 1955 Cadillac Fleetwood (she was just borrowing it)."
Gaga's home is as perplexingly eccentric as both its current and previous owner, experimental musician Frank Zappa. "She showed me a bizarre bathroom, where she had found a bed over the shower," Syme writes, somewhat vaguely. (I've read this sentence five times and still have no earthly idea what a bed above a shower would even look like. Was it affixed to the wall? The ceiling? The world may never know.)
As for the photos, Minter's shots of Lady Gaga are beautiful, if not naggingly opaque—the singer is captured half in frame or behind panes of glass obscured by drops of water and steam. Water vapor, as it happens, is the subject of Minter's show currently on view in Hong Kong. "The new exhibition is primarily about a 21st-century bather," Minter told CNN. "Early on in my career I was taking images from beauty, the industry, glamour. It's like this contemptible industry we have; it's considered so shallow, yet at the same time, it gives you incredible pleasure."
Given the nature of her new work, it's safe to say Marilyn Minter is far from the shallow now.