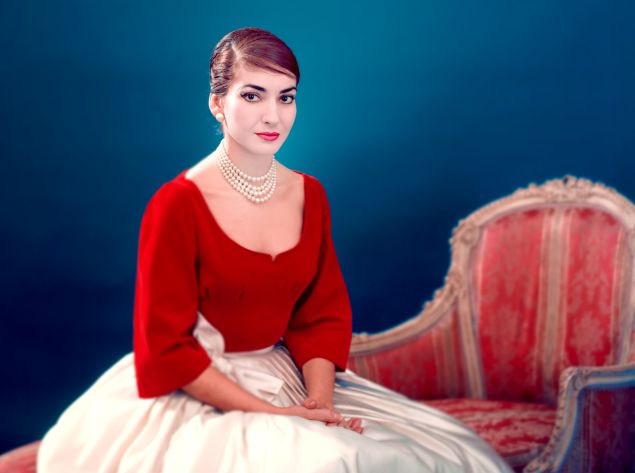 As a general rule, geniuses are misunderstood, even vilified. This phenomenon was certainly true of soprano Maria Callas, whose supernova of a career—barely a decade on the international level—is now revered as a symbol of the most splendid possibilities inherent in the art of opera.
Back during her heyday, though, in the 1950s and early 1960s, Callas achieved household name status not so much as an artist but as a caricature, first as a monster diva who capriciously canceled performances, physically attacked impresarios and, in a pinch, attempted to poison a rival performer. (To be sure, mezzo Giulietta Simionato always swore that Maria could not possibly have known the Coca-Cola bottle contained insecticide.) Later Callas' name splashed across tabloids as the temptress who was breaking up Jacqueline Onassis's marriage.
Since Callas' death in 1977, the pendulum has swung the other way, positing Callas as more sinned against than sinning, and it it upon this now-familiar theme that director Tom Volf has based his documentary Maria by Callas, which had its New York premiere at the Film Society of Lincoln Center's New Film Festival on Sunday, September 30. What emerges from this handsome but sentimental film is a portrait of the artist in decline, cocooning herself in defensive victimhood.
Subscribe to Observer's Arts Newsletter
Ironically for a film about a Greek tragedienne, the qualities that make this film so irresistible also doom it. Volf has shaped his picture around rare newsreel, kinescope footage and home movies of the diva. These materials mostly date from around 1958 or so—the zenith of the singer's fame but toward the end of her best years as a performer. So the narrative arc focuses on Callas' fall without much sense of what her rise was all about.
There are exceptions: silent snippets of the opera Norma (generally acknowledged as Callas' greatest role) from 1953 and 1964 offer glimpses of her fabled intensity in rage and despair. Familiar clips of concert performances are presented in beautifully restored video and especially audio: a "Casta diva" from Paris in 1958 had the film audience in Alice Tully Hall rapt and virtually breathless.
But of the scant video material available, a lot consists of "Film at 11" stuff: Callas emerges from a plane in Paris, in London, in New York; Callas attempts to be civil with aggressive reporters; Callas takes her poodle out for a walk.
Volf also has access to a number of Callas' letters to her friends and colleagues, but even here the bias is toward the maudlin. At the peak of her career, the star was too busy to keep up with her correspondence, but, later, as she phased out her singing and attempted to negotiate her on-and-off affair with Aristotle Onassis, she was left with a lot of time on her hands. Her insecurity about the future, poor physical health and apparent depression led to her believe she was being persecuted, singled out for unfair treatment. And so she poured out her discontent on writing paper.
In the picture, these letters are read by mezzo-soprano Joyce DiDonato, whose performance, achingly heartfelt and fluent, I think distorts the story slightly. Yes, Maria's pain was in large part real, but in all her communications, written or verbal, there was always a hint of the histrionic. She presented herself as a downtrodden waif despite enormous privilege: fame, wealth, beauty and more than sufficient talent to excel in any number of artistic ventures. True, by this point she couldn't sing Norma; but then, who can?
So where Maria by Callas gets rather soggy is in attempting to present the final decade of Callas' life, falling into the trap of imposing a tragic narrative on what was, as so much of live is, a random series of fairly mundane events. Even if the diva herself tried to make her life into an opera, that's not really an excuse for Volf to follow her lead.
One home movie, though, rescues the last reel from bathos. We see Callas, a guest in Palm Beach in 1976, alone, reclining beside a swimming pool. She's barefoot, without makeup, wrapped in a muumuu. Her thick wavy hair is falling loose around her shoulders, and there's a lot of gray amid the auburn.
As in so many other clips in Maria by Callas, she turns and notices the camera, but this time she doesn't strike a pose. She doesn't even take off her glasses. (She was famously vain about that.) For the first time (and the only time I have seen documented) Callas looks like an older woman, a sort of earth mother.
She's neither happy nor sad, but it's the only time in the film that she does seem to be at rest. Or is she just tired? This ambiguous image, it seems to me, is the ideal finale for the film: we mortals should never know everything about our goddess.