For decades, Alfred Hitchcock's garish melodrama Marnie was saddled with a reputation as "the master's most disappointing film in years" (New York Times). Recently, though, some critics have been lauding the 1964 picture as a sort of perverse magnum opus, reading it as anything from a proto-feminist critique of the male gaze to a subtle satire of the glossy surface of Hollywood.
Whether it's camp or a masterpiece (or a camp masterpiece), Hitch's Marnie remains a part of the cultural conversation half a century on. I'm afraid, though, that composer Nico Muhly's take on this material, heard Friday night at the Metropolitan Opera, will fade from memory before year's end.
The opera Marnie, first performed at the English National Opera this time last year, is based not on the film but on the underlying novel by Winston Graham, in which a working-class woman repeatedly assumes a new identity, wrangles a job, embezzles a thousand pounds or so and then vanishes. When, inevitably, she gets caught, her accuser marries her, rapes her and then packs her off to a shrink to get to the root of her transgressive behavior.
Subscribe to Observer's Arts Newsletter
In Graham's novel, this lurid tale is leavened with a strong dash of irony: the journey is all about Marnie's giddy fascination with the process of deception. But the opera's verbose libretto by Nicholas Wright jettisons all that in favor of a turgid soap opera plot peopled with so many cameo characters in so many changes of costume the best you can do is try to remember which singer is wearing which wig.
Marnie's "breakthrough" happens in so brisk and so offhand a manner you can't help but giggle: after five minutes of Freudian analysis she's already seeing flashbacks of her mother turning tricks with sailors.
All this plot, plot, plot finds Muhly in his weakest aspect as a composer: maybe he does not know how to write music for dramatic action or else maybe just he doesn't care. What we hear instead is a shimmery but irrelevant soundscape. An office sounds like a burglary sounds like a psychiatrist's office, and pretty soon you just tune out.
Fortunately there are a couple of things to tune into as well, chiefly director Michael Mayer's gently stylized production, which flows seamlessly from scene to scene. A genius touch is surrounding Marnie with a quartet of doppelgängers suggesting she is haunted by her previous "lives." (Even Mayer, though, is flummoxed by the impossible task of putting a fox hunt on the stage of the Met.)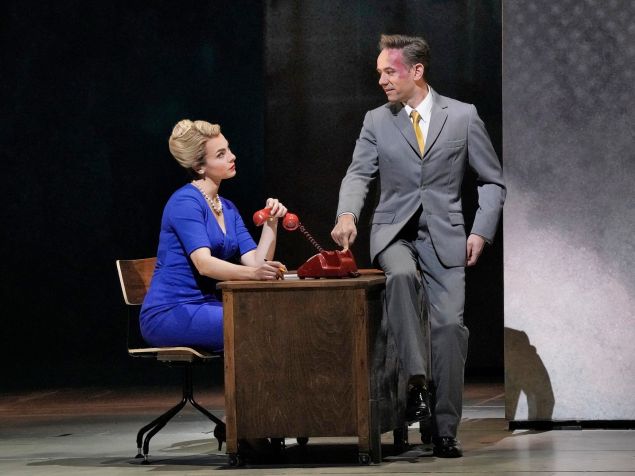 Julian Crouch's scenic/projection design and especially Arianne Phillips' costumes exactly evoke Marnie's heightened sensations of the world around her. A cobalt-blue sheath worn on her first day of work seems to endow the heroine with superhuman power.
Mezzo Isabel Leonard's acting and presence in the title role would do Maria Callas proud, though her timid vocal attack in this long part proved less beguiling. As her husband and captor Mark, baritone Christopher Maltman struggled to make dramatic sense of a cipher of a role, singing powerfully if not always beautifully.
The gifted countertenor Iestyn Davies brought a cool, seductive tone to a little aria sung by Terry, Mark's black-sheep brother, as he puts the make on Marnie, one of the few moments in the score when music and dramatic situation seem to mesh.
Among a gaggle of supporting parts—enough of them to populate the first act of Rosenkavalier—a standout was Anthony Dean Griffey, whose metallic tenor put just the right edge on the role of a lecherous executive.
Conductor Robert Spano meticulously maintained a balance between the burbling orchestration and the sometimes clumsy vocal lines. (The tessitura of Marnie's music lies consistently too low for Leonard's light mezzo.)
Perhaps it's not quite fair that the Met has put Marnie in repertory with La fanciulla del West, since the Puccini opera is practically a master class in how to set a talky, plot-heavy libretto. A return visit to the Met's revival of this piece on October 17 revealed both a tighter ensemble and fresher, easier singing from Eva-Maria Westbroek.
The main attraction here was heart-throb tenor Jonas Kaufmann, making his first Met appearance in four seasons. His voice remains as glamorous as one remembers, and the musicality is exquisite, if a trifle too elegant for the role of rough-and-tumble highway bandit Ramerrez.
If there was a problem with his performance, it was that he didn't quite live up to what were likely impossible expectations. When a superstar returns after years in exile, you can't help wanting the experience to be transcendent.
Instead, Kaufmann was merely consistent and heartfelt…which, after all, is a lot more than you can say about Marnie.