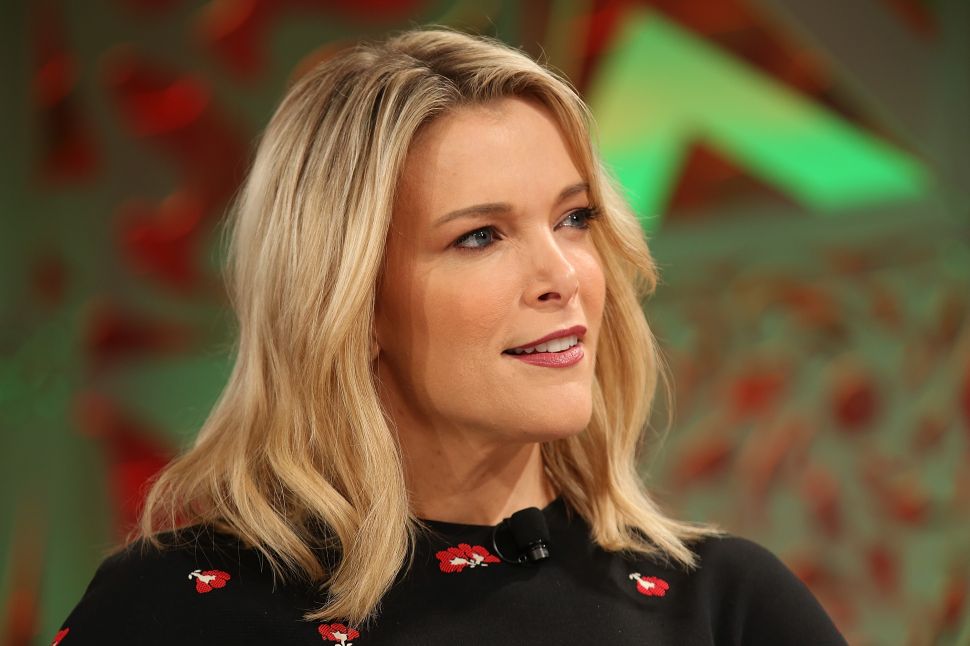 Throughout her controversial run at NBC, Megyn Kelly has angered everyone from Alex Jones to Jane Fonda. Now, her own colleagues are holding her feet to the fire.
At issue is a segment on yesterday's Megyn Kelly Today about controversial Halloween costumes. Kelly made the argument that outfits which utilize blackface aren't actually offensive.
"You do get in trouble if you are a white person who puts on blackface on Halloween, or a black person who puts on whiteface for Halloween," she said. "Back when I was a kid that was OK, as long as you were dressing up as, like, a character." Kelly cited Real Housewife Luann de Lesseps' decision to dress up as Diana Ross as a way to make her case.
Subscribe to Observer's Business Newsletter
Of course, de Lesseps was widely criticized for that costume (for which she darkened her skin tone). And Kelly was born in 1970, when people definitely knew that blackface (the practice of using dark makeup to turn white people into caricatured stereotypes of black people) was wrong.
As such, many people on social media criticized Kelly for these comments (and slammed NBC for hiring her in the first place). Their biggest complaint was that the three panelists discussing blackface on Kelly's show—Melissa Rivers, Jenna Bush Hager and Jacob Soboroff—were white.
Kelly apologized in a statement last night, writing that the outcry was leading her to rethink her views. While acknowledging that she had never been "PC," Kelly said she understood "the need to be more sensitive in this day and age."
"I realize now that such behavior is indeed wrong, and I am sorry," she said. "The history of blackface in our culture is abhorrent, the wounds too deep."
That wasn't enough for Kelly's NBC colleagues, however. They've spent the last day condemning her remarks.
First, NBC Nightly News aired a segment on Kelly's problematic history with race issues. She infamously said on Fox News that both Santa and Jesus are white.
Then this morning, Today held a roundtable about the controversy that included criticism from black correspondents. "While she apologized to the staff, she owes a bigger apology to folks of color around the country," Al Roker said. "No good comes from it."
"She said something stupid, she said something indefensible," Craig Melvin added. "There was some criticism yesterday online that this was political correctness run amok. That's silly and it's disingenuous and it's just as ignorant and racist as the statement itself."
This open criticism of a colleague echoes the firestorm of controversy when Matt Lauer and Charlie Rose were fired over sexual misconduct allegations in November. In both cases, female co-hosts openly addressed the situation on air.
"All we can say is we are heartbroken," Savannah Guthrie said after Lauer's ouster. "We are devastated and we are still processing all of this."
"Charlie does not get a pass here," Gayle King added after Rose's firing. "I'm very glad they [the women] have spoken up."
While neither of the accused men have publicly apologized for their behavior, Kelly offered a second, on-air mea culpa this morning and got a standing ovation from her audience. But it's an open question whether her coworkers will treat her in a similarly warm fashion.