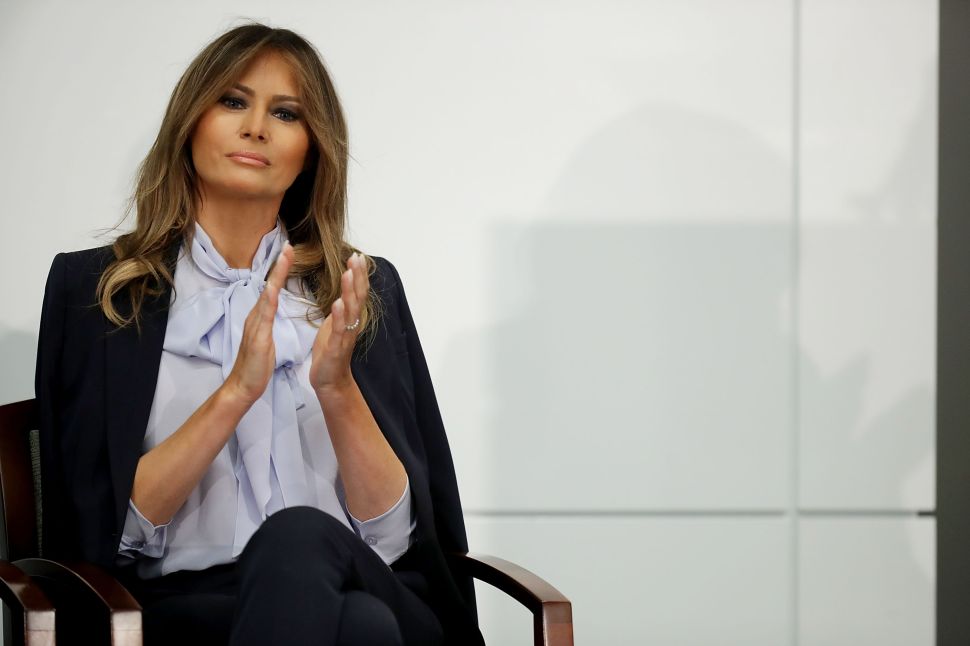 To raise awareness for a White House event coinciding with October's National Bullying Prevention Month, a spokeswoman for First Lady Melania Trump incited a Twitter outrage mob against a producer for The Ellen Degeneres Show on Tuesday morning.
Stephanie Grisham, who has worked for the White House since the transition period, tweeted a Breitbart article spotlighting negative comments made about the First Lady by television producer Andy Lassner, who said he was "more afraid" of "another Melania" coming to the United States than the thousands of immigrants traveling in a caravan.
"Hi @andylassner," tweeted Grisham. "@flotus is hosting children at the White House today to talk to them about kindness…should I save you a seat?"
Subscribe to Observer's Politics Newsletter
"Yes!!" quickly shot back Lassner. "Will she be talking about how she pushed her husband's theory that our first black president was born in Kenya? What about her 'I don't care, do you jacket' worn while babies were being ripped away from parents at the border?"
Responding to Lassner's digs at FLOTUS, a reference to Mrs. Trump's boarding a plane this summer wearing a Zara jacket emblazoned with the words "I don't care, do u?", Grisham told the producer to "check" his "facts."
"I'm happy to brief you upon arrival," added the spokeswoman.
Other politicos to weigh in on the sparring match included ousted Trump advisor Sebastian Gorka, CNN host Jake Tapper and comedian Kathy Griffin.
"This hate-filled misogynist is the Executive Producer of @TheEllenShow," wrote Gorka shortly after Lassner's initial swing at the First Lady on Monday evening. "Typical spite-filled, intolerant, small-minded liberal. Another reason @realDonaldTrump is @POTUS. Please keep posting Tweets like this @andylassner. And they wonder why Hollywood is rejected more & more."
Grisham employed Trumpian rhetoric in responding to criticism and defending the First Lady, attacking the usual suspects in Hollywood and the media.
"The people who consistently attack her—the left-wing media and Hollywood elites—could be so effective in helping to spread her message of kindness, but instead they choose to attack her because of politics," said the White House spox in a statement to news outlets. "It does nothing but spread bias and hate, and it needs to end."
Nothing like celebrating National Bullying Prevention Month with some outrage.