Art and activism have a long history together, but it has arguably grown more intense during the Trump administration. As the November 6 midterms approach, galleries and artists are getting more explicit, with both infusing the work they either make or show with direct calls to action, like setting up voter registration kiosks and planning political protests.
Here are five exhibitions around the country that have found out-of-the-box ways to urge gallery-goers to vote in 2018's crucial midterm elections.
Limited edition clothing aimed to politically educate
Tapping into the hype of drop culture, artist Brendan Fowler is using his experimental fashion project, Election Reform!, to examine the country's controversial voting system. Applying a mix of imagery, textures and messaging onto recycled, one-of-a-kind garments, each item comes with a downloadable reader addressing political reform. The project, which has been ongoing for several years, is currently popping up at the Institute of Contemporary Art in Los Angeles, where other special products made in collaboration with emerging creatives such as Eckhaus Latta and Come Tees are being released.
Subscribe to Observer's Arts Newsletter
Fowler told Observer, "The desperation of the political system is in place 24 hours, 365 days a year, every year. More people are talking about the midterm elections and voting issues now, which is amazing, but for me it's always been relevant." With this, he believes we need to be speaking about these topics between election cycles so there's more time to strategize on how to fix the problems at hand. "Ballot fraud issues are not going to get solved the week before the election." Fowler is hoping his educational, wearable pieces will encourage conversations all year round.
Brendan Fowler's Election Reform! store is open at the Institute of Contemporary Art, Los Angeles, from September 29, 2018 to January 20, 2019.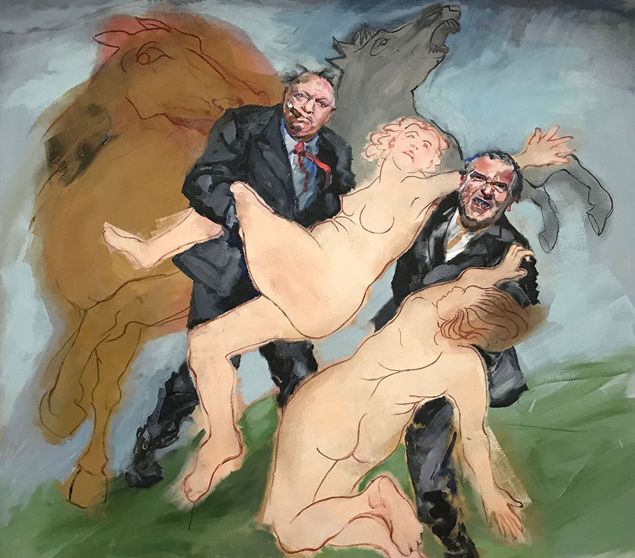 A showcase of artists from every U.S. state
Certainly the Center for Contemporary Political Art might have been a bit remiss not to cast an eye toward the midterms. In a world marked by fake news and knee jerk reactions, how do you cut through the noise and make statements that not only stick but represent an inclusive point of view? This political arts think tank has tried to accomplish those difficult tasks in tandem by inviting creatives from all fifty states and Puerto Rico to submit original work that shows Americans what's at stake—and why it's their duty to vote—in the November 2018 midterm elections.
With over 500 pieces submitted by 296 artists hailing from across the country, the show approaches the Trump presidency from an array of angles and creative mediums, addressing a wide range of political concerns such as freedom of the press, immigration issues and gun control.
Its founders, Robin Strongin and Charles Krause, believe that, "facilitating the active engagement of artists will help restore a once-vital part of the democratic process in the United States: the give-and-take of public debate, [which has] been largely lost due to the corrosive effect of Big Money and backroom politics brought about by Citizens United." Beyond this, they hope the center's efforts inspire other public institutions to develop programs that encourage political consciousness.
"Defining the Art of Change in the Age of Trump" is on view at The Center for Contemporary Political Art in Washington D.C. from September 30 to November 14.
Political cartoons that get you to laugh

—

and go vote
Cartoons have long been a tool for biting commentary, with an ability to distill complex issues into a single image that both raises a smile and illuminates a truth. With this, artist Steve Brodner has curated a group exhibition at New York City's SVA Chelsea Gallery, featuring more than 200 politically focused illustrations, animations and cartoons from 53 artists. The exhibition offers a satirical and motivating criticism on Trump's presidency and hot button issues such as the #BlackLivesMatter, #NeverAgain and #MeToo movements.
As Brodner told Observer, "Times of national emergency require a call out to everyone to speak out and take the necessary action." In these trying times, the role of art and comedy to help us through what feels like a national crisis has become essential.
"Art As Witness: Political Graphics 2016" is on view at the SVA Chelsea Gallery from October 6 to November 3.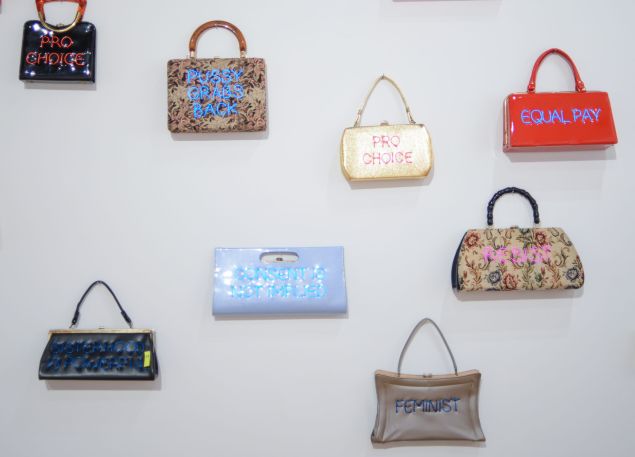 Wearable art that makes a sharp civic statement
Clothing is a way of ascribing social meaning—the things we wear can express our occupation, class and social status, our political views and more. For artist Michele Pred, slogan handbags are how she chooses to wear her opinions on her shoulder, marking them with statements that address the inherent misogyny in this country. With phrases like "Vote Feminist," "Me Too" and "Times Up," written in neon, her purses double as works of art and wearable fashion items. They're currently on display and up for grabs at New York City's Nancy Hoffman Gallery.
Additionally, Pred has also partnered with Kickstarter and the organizations Gun by Gun, For Freedoms and the National Institute of Reproductive Health on a protest march, which will take place on November 3 in New York City, right before the midterm elections. Drawing inspiration from the Women's March, she got the idea to bolster her community by bringing art into the streets with a quasi-parade that is both performative and serious.
As an artist, Pred recognizes how valuable her voice is. "We need to work hard at bringing the political world into better alignment with our social and cultural realities and aspiration," she told Observer.
"Michele Pred: Vote Feminist" is on view at Nancy Hoffman Gallery in New York City from October 18 to November 24, 2018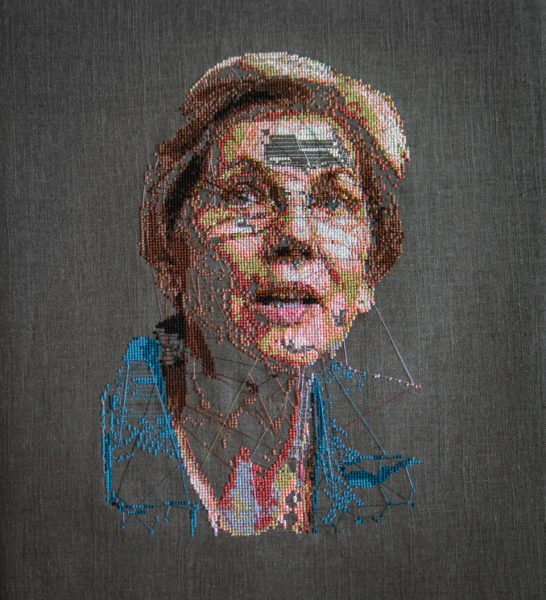 Artwork that comments from both sides of the aisle
Art is a colorful tool that allows us to highlight social injustices, propose new solutions, and show us what our world can become. The Santa Fe-based Gallery Fritz has made it its mission to showcase a rainbow of views and artistic voices. The space's latest exhibition, "The Audacity of Art," brings together the work of 12 politically diverse artists including John Yoyogi Fortes, Dorielle Caimi, Victoria Carlson and Ben Steele, who each address a different issue such as race, environmental challenges and immigration.
Gallery director George Brugnon told Observer, "Our hope with this exhibition is that our community will see that art can be a way to start a conversation and not to be so focused on the tribal mindset."
Beyond exhibited artwork, the gallery is also hosting political talks related to these topics, with politicians from both sides of the aisle who will speak to the relationship of politics, culture and art.
"The Audacity of Art: Art for the Midterm Elections | 12 Artists Get Audacious Across the Political Spectrum" is on view at Gallery Fritz in Santa Fe, New Mexico from October 26 – November 26.