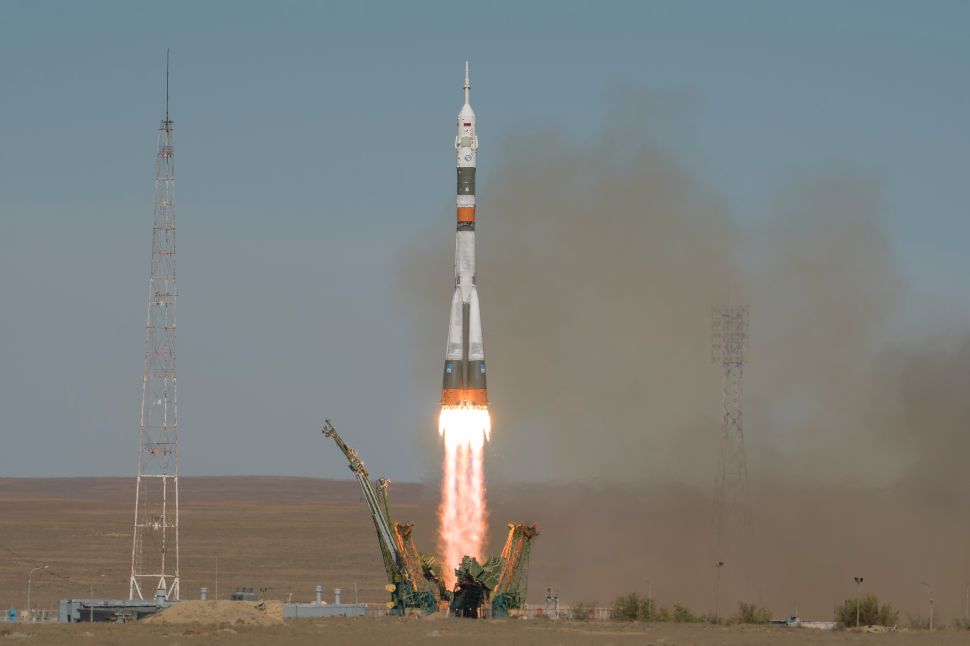 Space programs in two countries averted disaster this morning when American astronaut Nick Hague and Russian cosmonaut Alexey Ovchinin made an emergency landing after their Soyuz rocket malfunctioned on a trip to the International Space Station (ISS).
The duo was supposed to spend six months on the ISS, but instead, they reported a problem with the rocket's booster 90 seconds after taking off from Baikonur Cosmodrome in Kazakhstan. They were shaken around and forced into a ballistic descent in which the rocket returned to Earth at a much sharper angle than usual (the exact trajectory was not clear).
Hague and Ovchinin then deployed parachutes and safely landed the capsule in a plume of dust a few hundred miles north of Baikonur, where they were rescued by a recovery team.
Subscribe to Observer's Business Newsletter
While Russia's space program has faced 13 technical failures since 2010, this was the first launch mishap for a Soyuz booster since 1983. Previous fatal incidents occurred in 1967 and 1971.
There's a lot to digest with the latest mishap, but one notable twist is that Russia's notoriously restrictive state media was open about the incident. The country immediately suspended manned flights and formed a commission to find out what went wrong. Russian President Vladimir Putin was also briefed on this morning's events. (NASA took similar action on American soil.)
Russia's Deputy Prime Minister Yuri Borisov deflected a bit, stating that space travel was a "high-tech industry" that was full of risk. But even he admitted that today's mishap was "uncommon" and that the country wouldn't "conceal the reasons" behind it.
The Russian Federal Space Agency Roscosmos (or Pockocmoc in Russian) also posted regular updates on social media, showing the two astronauts landing safely. The posts had a slight air of propaganda about them, as if to say: "Look how well we are treating this American!"
Granted, the Russian agency had more at stake in this case. NASA has an agreement with Russia to use their Soyuz launch systems to ferry crew members to the ISS, so any evidence of mistreatment would've put that partnership in jeopardy. And since a Russian astronaut was also impacted, the country had a greater impetus to be forthright with its own citizens.