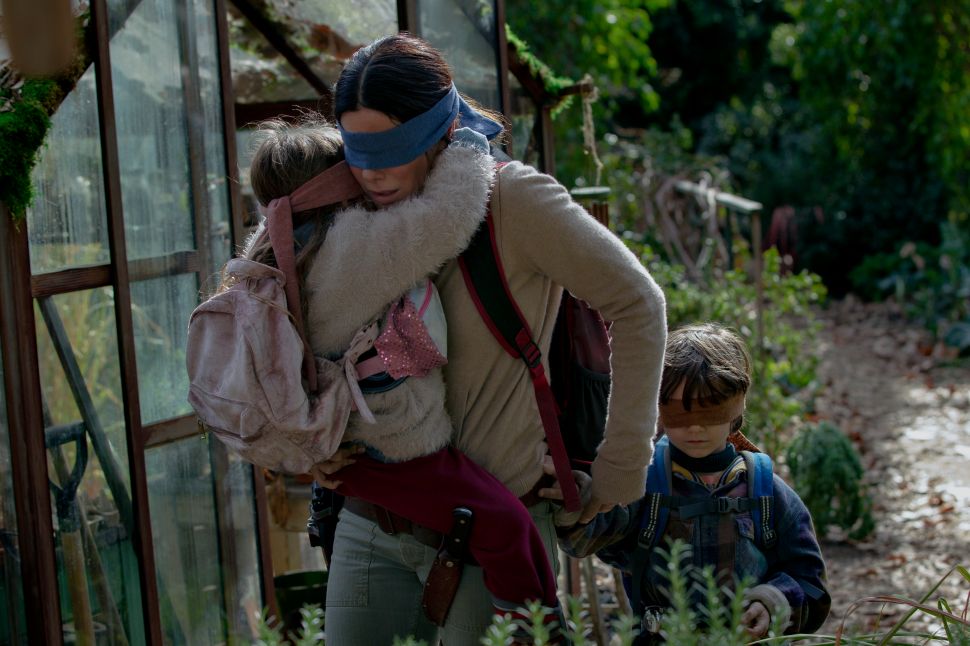 Netflix has released the first trailer for its new horror thriller Bird Box, starring Sandra Bullock, and it's safe to say we'll be spending this weekend locked indoors with an arsenal of weapons within arm's reach. Desperate to push its film division to new heights, the streaming platform has been pursuing big names for roles in front of and behind the camera for a slate of upcoming originals. That strategy seems to be paying off this year, as the service's low-budget rom-coms (To All the Boys I've Loved Before, Set It Up) have joined higher-profile movies (Paul Greengrass' 22 July, Alfonso Cuarón's upcoming Roma) to make a splash. Now, Bullock has arrived to put an exclamation point on all that.
So what is this very creepy flick about?
The official plot synopsis reads:
"When a mysterious force decimates the world's population, only one thing is certain: If you see it, you take your life. Facing the unknown, Malorie finds love, hope and a new beginning only for it to unravel. Now she must flee with her two children down a treacherous river to the one place left that may offer sanctuary. But to survive, they'll have to undertake the perilous two-day journey blindfolded." (We imagine some terrifying stuff happens with birds too.)
Subscribe to Observer's Entertainment Newsletter
From the trailer, it seems that seeing the "mysterious force"—which one of the kids refers to as "the creatures"—is what leads to a presumably gruesome demise. Let's just consider Bird Box the anti–A Quiet Place, which rode a similar setup, but with sound, all the way to rave reviews and powerful box-office numbers (a sequel is on the way). The film shares a title with Josh Malerman's 2014 book on which it is based.
Bird Box also stars American Horror Story's Sarah Paulson (a.k.a. the busiest woman in Hollywood), Trevante Rhodes (Moonlight) and John Malkovich. Emmy winner Susanne Bier (The Night Manager) directs.
The film will premiere December 21 on Netflix.