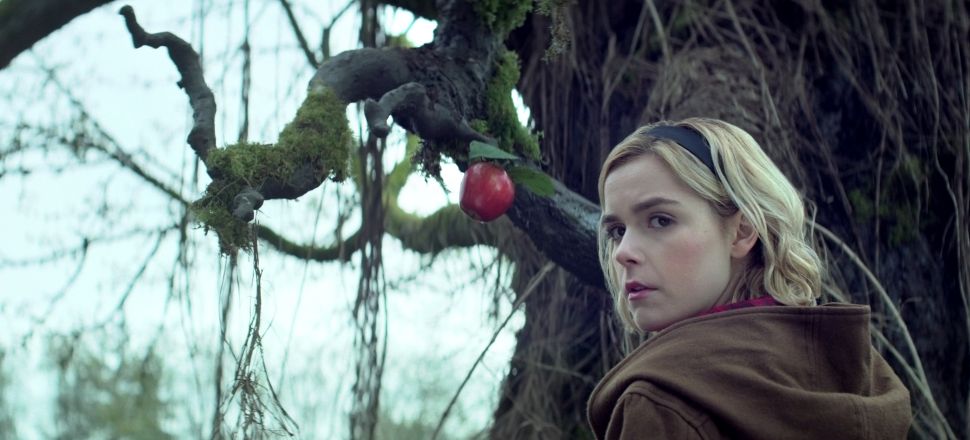 Netflix's The Chilling Adventures of Sabrina is built on the idea of duality. Our titular protagonist (Kiernan Shipka) has one foot in the mortal world and the other in the realm of dark magic. While it's meant to lead her on a path of self-actualization, this setup unfortunately splits the show right down the middle—it can be dazzling, but also dawdling.
When über-producer Greg Berlanti first announced plans to revive Sabrina the Teenage Witch, based on the Archie comic, as a companion series to The CW's Riverdale, it felt like an empty gesture aimed at goosing ratings. Sure, Berlanti's small-screen shared-universe tactics worked for the superheroes scampering around the Arrowverse, but how could the same strategy be tailored to high school melodrama? Thankfully, Berlanti and company realized Sabrina would work better as its own Netflix series—it's still tangentially connected to Riverdale (there's a name drop in the early episodes), but it's free to do its own thing. And do its own thing it does, for better and for worse.
As her 16th birthday nears, Sabrina must choose between the witchy world of her family and the human world of her friends. It's a narrative division that allows Shipka—who viewers know best as Sally Draper in Mad Men—to shine in different modes and showrunner Roberto Aguirre-Sacasa to create a fascinating and often terrifying web of mystery. But it can also leave the more everyday moments in the series (at least those in the first 10 episodes that we've seen) feeling a bit pedestrian. Choosing between your BFFs and your creepy family can't be easy, but since the show's marketing already spoiled Sabrina's decision, what's the point of agonizing over it in the first two episodes? Right off the broomstick, it feels like a lot of throat clearing for what is essentially a moot point. Abracadabra, alaka-scam. We get it. Our advice would be to bang out the first three chapters in one sitting to push through the early table setting.
Subscribe to Observer's Entertainment Newsletter
That's not to say the first few episodes are without value. Sabrina's signature style is abundantly clear as director Lee Toland Krieger immediately knocks us off-kilter; if you're not a fan of spiders, you might want to avoid the show altogether. Also, the freedom of Netflix allows the series to get away with things Riverdale can only dream of—there's a gruesome murder within the first 10 minutes that will prove particularly delicious for the gore-starved Criminal Minds crowd.
So many of the occult scenes are inviting and haunting. Sabrina couples exciting horror elements with attractive world-building; Aguirre-Sacasa has created a mystifying society with its own traditions, customs and special abilities that audiences will want to deep-dive into like a Harry Potter Wiki. Sabrina's main hangup, other than ditching her pals, is her anxiety about signing her life over to the Dark Lord, who is literally Satan. (Apparently the devil has a goat head? I'm behind on my blood ritual studies.) That's totally understandable—you know, Satan is scary—and Shipka perfectly embodies a teen trying to live up to family expectations while also trying to establish her independence. A young girl struggling for her own agency? That dovetails nicely with the real-life reckoning we're experiencing at the moment. Melissa Joan Hart would be proud.
Sabrina is at its best when it's delving into the purpose and function of magical beings, rival factions and Sabrina's ancestral mystery—the more fantastical, the more entertaining. Imagine a younger-skewing, slightly hokier, but still enjoyable version of Syfy's The Magicians—with more guts and jump scares and less sex and maturity. The back half of Season 1, with delusional dream sequences and frights galore, is a devilish delight.
It's when the show tries to make the human drama work that it falters like an incantation from Neville Longbottom. Shipka gives it her best, but she and Ross Lynch, who plays one of her love interests, Harvey, have very little chemistry. Her friend group is spunky, but when half of Sabrina revolves around a battle against the friggin' devil, it's hard to get invested in subplots about teen bullies. Simply put, we've seen the high school stuff done so much better before. It's unfair to compare this rookie series to the likes of Buffy the Vampire Slayer and Veronica Mars, but those shows managed to strike gold in their balance between the ins and outs of adolescence and full-on mystery. Buffy benefited from Joss Whedon's crackling dialogue, and Veronica Mars used an updated detective motif to deliver a surprisingly good character study. The non-supernatural arcs here don't boast that one singular attribute that elevates the material; they mostly just give you a little time to check your phone.
Sabrina improves upon the Riverdale formula—it mixes genres and offers believable performances, creative conceits and, duh, magic. The drawback is that you must endure the monotony of its more mundane story lines to get to the truly bewitching bits. As Sabrina reconciles with the opposing sides of herself, viewers will have to decide if the show's more earthly terrain is worth crossing to get to the land of enchantment.
Grade: B