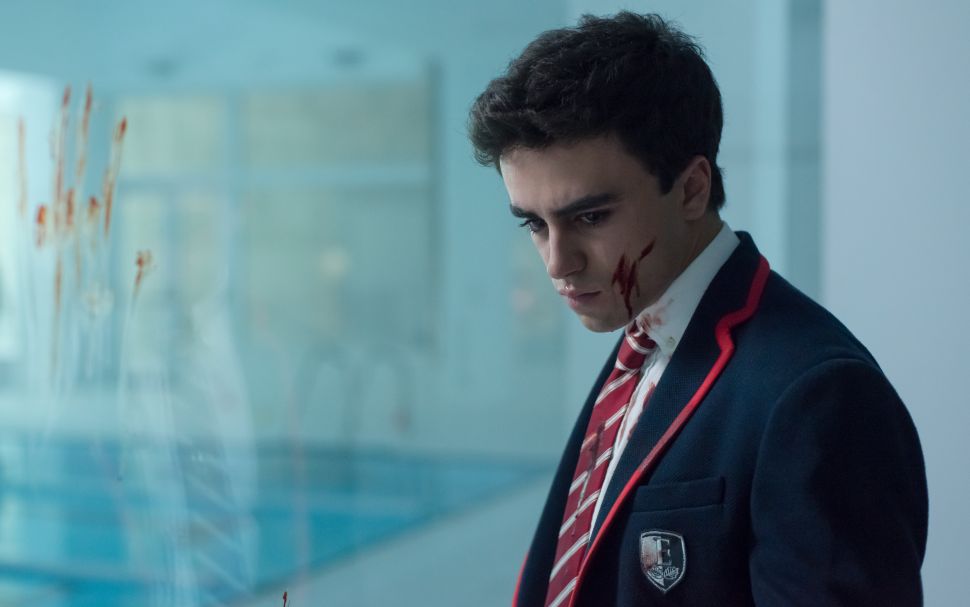 While powering through all eight episodes of the first (and thus far, only) season of Elite, the new Spanish-language teen drama on Netflix, I wondered several times if the series had been designed in a lab specifically for me.
All the ingredients that make up my favorite breed of modern soap opera are here: improbably good-looking and wealthy young people fighting amongst themselves, a potboiler murder mystery that keeps you on the edge of your seat, snappy dialogue, fancy parties, steamy hookups, class anxiety, secrets, lies. I could go on.
But Elite is a product of Netflix, a company with access to such a massive repository of consumer data that in all likelihood, the show was carefully designed and tabulated to please a certain demographic, which includes me, based on the algorithmic bread crumbs we've left behind from years of binge-watching. Given how much fun it is, I'm not mad.
Subscribe to Observer's Entertainment Newsletter
The plot: After the mysterious collapse of a public high school, three working-class students, Samuel (Itzan Escamilla, brooding), Nadia (Mina El Hammani, radiant) and Christian (Miguel Herrán, a riot) win the chance to attend an exclusive private school in Spain called Las Encinas, where scheming rich kids rule the roost and nothing is quite as it seems. News surfaces that a student at Las Encinas has been murdered, a story line that echoes that of the CW's hit Archie Comics adaptation Riverdale, a show about hormonal hot people that kicks off with the mysterious death of Blossom Maple Farms heir Jason Blossom.
The heroic, plucky central trio of Elite are pure Harry Potter, right down to their personality types and relationship dynamics. Meanwhile, Las Encinas, populated with ill-intentioned children of enormously well-off families, is an obvious nod to Gossip Girl, the touchstone CW series that launched a thousand WASP-y headbands. The kids on Elite even dress like Gossip Girl characters, with their pinstripes and crisply tailored uniforms. They are also totally willing to strip in semipublic places.
Samuel's ne'er-do-well older brother, Nano (Jaime Lorente), is a reckless hooligan with a sensitive side—the proverbial rebel without a cause. The title of "most popular boy in school" belongs to Guzmán (Miguel Bernardeau), a charismatic and secretly vulnerable athlete torn between his diva girlfriend and his true love. If that reminds you of Peter Kavinsky in To All the Boys I've Loved Before, you're not alone.
So basically, not one scrap of Elite is original—it's essentially a potpourri of every trashy teen melodrama that came before it. But that in no way prohibits it from being one of the most addictive new series in quite some time. The central procedural crime story is tightly written and engrossing, the romances are perfectly swoony and the way these kids interact with their parents is charmingly believable. Guzmán's mother, an emotionally unavailable wino played by Lola Marceli, is a highlight.
I particularly enjoyed the tension between Omar (Omar Ayuso) and Ander (Arón Piper), a pair of star-crossed lovers whose passionate liaisons dangereuses are constantly threatened by class divides and religious differences. Also, Danna Paola plays a conniving bitch named Lu (short for Lucrecia) who could make Blair Waldorf quiver in her Gucci boots.
If the conclusion of the British version of Skins (sorry, another comparison) left a gaping hole in your life, or if you've ever wondered what Mean Girls (last one!) would be like if someone had actually killed Regina George, look no further: Elite is the hedonistic, bloody romp you've been waiting for.