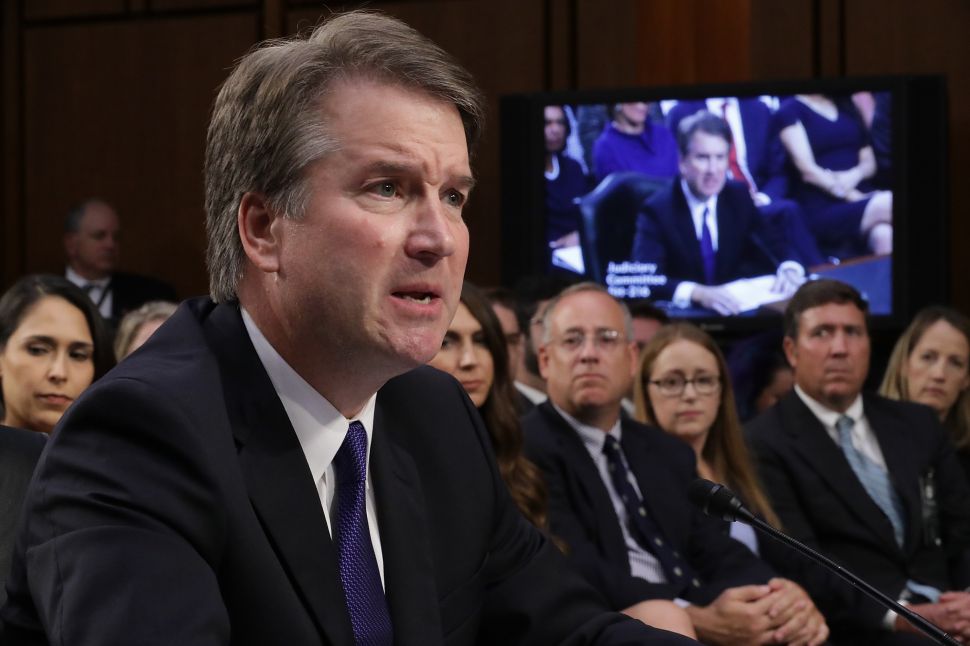 He waited almost until the very last minute, but Republican Senate candidate Bob Hugin on Friday finally revealed how he'd have voted on the nomination of Supreme Court Justice Brett Kavanaugh.
In a tweet, Hugin said that based on everything he knows, he'd support Kavanaugh. He also said he believed the FBI report on claims Kavanaugh sexually assaulted a girl at a party when he was in high school should be released to the public.
Hugin had spent the last week refusing to answer how he stood on Kavanaugh. Now, his position marks another clear choice for voters in the tight Senate race against Democratic incumbent Robert Menendez. Menendez has criticized the FBI probe as being inadequate and voted against Kavanaugh's nomination.
A recent Fairleigh Dickinson University poll found that nearly half of the adults in the state opposed Kavanugh's appointment to the top court, with that number rising to 53 percent among likely voters. Only 38 percent of likely state voters supported his ascending to the bench.
Several polls have put Menendez and Hugin in a statistical dead heat for the Senate seat once thought an easy win for the veteran Democrat. But Hugin has spent months running television commercials hammering Menendez for ethics problems, and those ads are having an impact on the race.
Quote of the Day: "They're going to put their shoulder to the wheel and work very hard to make sure that Bob Menendez wins the race, but they have some urgency now. That's a long way from panic." — Democratic consultant Glenn Totten, on the unexpectedly tight raise between Democratic incumbent Sen. Robert Menenedez and Republican Bob Hugin.
New Jersey Transit Riders Get Glimpse of How Their Commute Could Get Worse
For riders of the country's second-busiest railroad, the past few weeks have been a maddening drumbeat of delays and canceled trains. On Thursday, a "minor slow-speed" derailment in Manhattan near the Hudson River tunnel left thousands of commuters stranded.
New York Times Read more
On Eve of Vote, Hugin Says He'd Support Kavanaugh
The Republican candidate for U.S. Senate from New Jersey on Friday said he would support the confirmation of Brett Kavanaugh to the U.S. Supreme Court.
NJ101.5 Read more
Menendez loss would be a disaster for Democrats in Trump midterm. Here's what they're doing.
In the last week, two polls put U.S. Sen. Robert Menendez's lead within their margins of error and a Washington publication that tracks Senate races made him just a slight favorite to be re-elected.
NJ.com Read more
Democrat Booker, fresh from Kavanaugh vote, makes Iowa debut
New Jersey Sen. Cory Booker is making his national debut as a Democratic presidential prospect Saturday by headlining the Iowa Democratic Party's marquee fall fundraiser.
The Record Read more
Grossman attacks Van Drew over Kavanaugh
Seth Grossman attacked State Sen. Jeff Van Drew for his opposition to U.S. Supreme Court nominee Brett Kavanaugh on Friday.
New Jersey Globe Read more
Murphy aide suspended after posting comments about Trump administration, Kavanaugh
An aide to Gov. Phil Murphy has been suspended after posting derisive religious and political comments on social media, the second time in the past month the governor has had to answer for an employee.
The Record Read more
Murphy's short-lived hire never forfeited pension after bribery conviction
Former Passaic Councilman Marcellus Jackson, bounced last week from his Murphy administration job because of his 2007 corruption conviction, never forfeited his pension despite a state law that says he should have, according to public records.
Politico Read more
PSEG Affirms it Will Shut Down Nuclear Plants Unless it Gets Big Subsidies
Without new subsidies proposed by the state, PSEG will shut down the three nuclear plants it operates in three years, an executive of the company said yesterday.
NJSpotlight Read more
Making Case for Public Bank in NJ
Despite being left on the backburner in the State House, a new report suggests Gov. Phil Murphy's proposal to establish a public bank in New Jersey could play a key role in advancing several big public-policy goals, like boosting investment in infrastructure and increasing access to affordable housing.
NJSpotlight Read more
Gas. Cigarettes. Booze. How do Pa. and N.J. taxes on them compare to other states?
Motorists fueling up in New Jersey on Monday began feeling the effect of a state gas-tax increase that added 4.3 cents to the per-gallon cost.
Inquirer Read more
Ocean Co. prosecutor knew anti-drug ally may have broken law: legal claim
After five years of fighting drug abuse, Ocean County Prosecutor Joseph Coronato fired a top prosecutor who told him that Coronato's ally in the fight against opioids may have broken the law by sending a convicted drug offender out of state in violation of a court order, according to explosive allegations made in legal papers filed by the fired prosecutor.
Asbury Park Press Read more
New Jersey's natural hair braiders get some relief from onerous license requirements
Natural hair braiders, who ply their trade with just their hands and a comb, were required by New Jersey to attend 1,200 hours of training and pay as much as $17,000 for beauty school to obtain a license.
Asbury Park Press Read more
State permit review could sink Camden billboard project
The New Jersey Department of Transportation is reviewing whether a permit that it granted six years ago to a South Jersey company to build a controversial billboard on the Camden waterfront should be revoked.
Inquirer Read more
Newly appointed Rockaway Township mayor's memo raises eyebrows
A memo sent by the newly installed mayor to township employees this week is raising eyebrows.
The Record Read more
Hundreds turn out at Rowan to question gun point police stop of students
Altaif Hassan received a standing ovation at a Rowan University community meeting Friday when the senior called for an end to discrimination against minorities and described his fear when Glassboro police — with their weapons drawn — ordered him out of his car and to the ground earlier this week.
Inquirer Read more
Ex-Dem councilwoman hurls racist slur at Hugin backer
Kathleen Murphy, a former Democratic councilwoman from River Edge, is facing criticism this morning for a racist Facebook post aimed at an African American Democrat who endorsed Republican Bob Hugin for U.S. Senate on Thursday.
New Jersey Globe Read more
Lights, cameras, action! Film tax credits are back and crews are coming to a neighborhood near you
Standing on the steps of a Cresskill mansion where an NBC film crew prepared to shoot scenes of a spy thriller TV series, Gov. Phil Murphy declared Friday that filming in the Garden State is back after being left on the cutting room floor by ex-Gov. Chris Christie.
NJ.com Read more
Palisades Park: Difference between armed guards and police officer is less than $150
A police officer assigned to the schools for a week after the security guard program was suspended cost more than $3,700 — nearly the same amount as having three armed guards in the schools.
The Record Read more
Marijuana sales ban in Freehold Township clears first hurdle
The planning board approved an ordinance banning marijuana-related sales and businesses Thursday night. Now the proposal goes to the township committee for review.
Asbury Park Press Read more
Stafford mayor quits Republican club, supports Democratic nominee to be his successor
Mayor John Spodofora has had a change of mind about his support for the local Republican ticket, who defeated him for re-election in the GOP primary last June.
Asbury Park Press Read more
Middletown official won't deny sending mysterious political email
At 10 a.m. last Saturday, a mysterious email landed in the inboxes of seemingly every person who signed up to receive the township's email alerts, which residents voluntarily join to learn of road closures, emergencies and events.
Asbury Park Press Read more
Editorial: Once a moderate, this NJ Republican cannot dodge his Trumpcare fiasco
Leonard Lance doesn't want to see New Jerseyans lose their health care, and he doesn't want to destroy the Affordable Care Act just for the thrill of watching it die, like most leaders of his party.
NJ.com Read more
Editorial: New guidelines bring clarity to transgender student policies
ate last month New Jersey took a bold step forward on basic civil rights for all students, becoming the 11th state in the union to issue clear guidelines and policies on transgender students. According to the new rules issued by the state Department of Education, schools must accept a student's stated gender identity, but don't have to notify parents about the student's gender decision.
The Record Read more