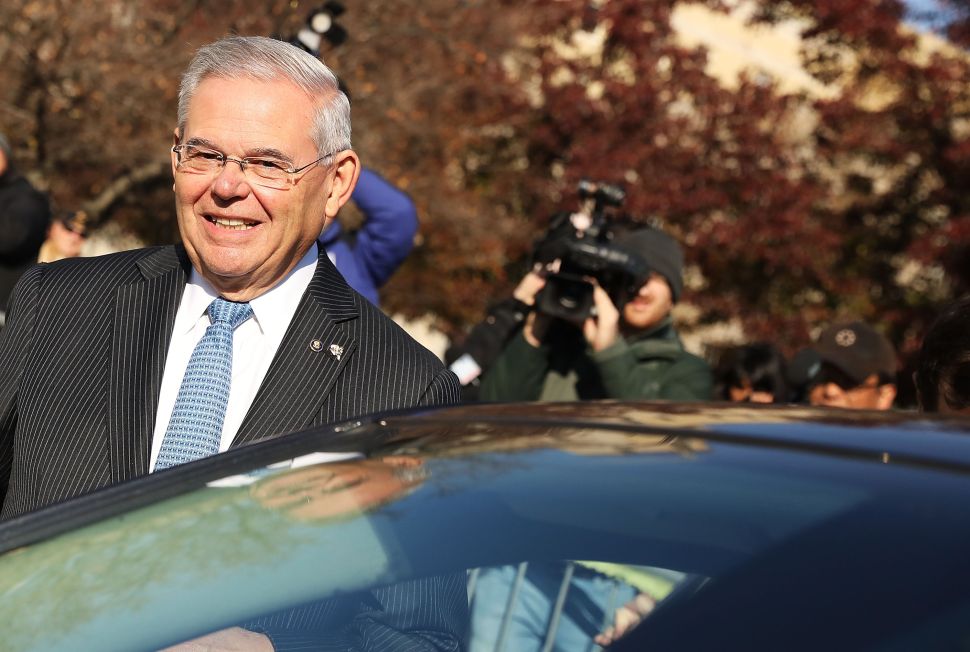 A good number of state voters don't like Sen. Robert Menendez, but they dislike President Donald Trump more.
That's a finding in a new Monmouth University poll that gave the embattled Democratic senator a nine to 12 point lead over Republican challenger Bob Hugin. This, even though the poll found that 39 percent of voters think Hugin is more trusted to bring integrity to state government, while only 26 percent said the same about Menendez. And 45 percent of voters have an unfavorable view of Menendez, while only 28 percent hold a favorable view of the state's senior senator.
All of that would worry a candidate in most races, but the poll also found that 56 percent of voters said their view of Trump was more important in the race than their view of Menendez, and 55 percent said they either strongly disapprove or somewhat disapprove of the job Trump is doing. That's compared to 42 percent who either strongly approve or somewhat approve of the president's performance.
Menendez was tried on corruption charges in a court case that ended in a hung jury and was admonished by the Senate ethics committee. Hugin and his supporters have been running a blizzard of ads attacking Menendez's ethics lapses.
Quote of the Day: "You've got to wonder if New Jersey voters look at corruption through a different lens than other voters." — Monmouth University Pollster Patrick Murray.
Senate bill allows Booker to run for two offices in 2020
A Senate committee will consider a bill on Monday that would allow Cory Booker to run for both president and re-election to the United States Senate in 2020.
New Jersey Globe Read more
Cory Booker heading to another early 2020 presidential primary state
After his visit to Iowa earlier this month, U.S. Sen. Cory Booker is heading south Thursday to spend two days in another early-voting state on the 2020 presidential primary calendar.
NJ.com Read more
Monmouth Poll: Bob Menendez should thank Donald Trump for the lead he has in NJ Senate race
Nearly 9 out of 10 likely New Jersey voters know that Democratic Sen. Bob Menendez was tried for bribery last year, and by a 39 percent to 26 percent margin they think Republican challenger Bob Hugin is more trusted to bring integrity to government, a Monmouth University poll released Thursday said.
The Record Read more
NJ midterm elections 2018: Who's running and where they stand on the issues
If a Democratic wave breaks in November's midterm congressional elections, don't expect to see Republicans losing by double-digit margins. More likely, it will the result of Democrats winning by narrow margins in dozens of districts that are usually reliably Republican.
The Record Read more
Lance, Malinowski Face Off in CD7 Debate
Republican incumbent Rep. Leonard Lance and Democratic challenger Tom Malinowski tested each other's mettle in a debate where they strived to show who is the true moderate in the 7th Congressional District.
NJSpotlight Read more
NJ Election: 6th District pits Pallone against perennial candidate Pezzullo
One has been in Congress 30 years, the other is the perennial candidate.
Asbury Park Press Read more
I supported diversity by giving promotions to people who didn't deserve them, councilman says
A Mountainside councilman's awkward response to a debate question about diversity is drawing a rebuttal from his two opponents, including a woman who grew up in India.
NJ.com Read more
Liquor licenses in New Jersey cost $350K and it's crippling the state's dining scene
Peter Loria still recalls with disappointment the time he tried to open a restaurant in the Bergen County village of Ridgewood. He poured a chunk of his retirement savings into what he thought would become a destination for New Jersey food lovers, but he hit a common roadblock.
The Record Read more
NJ Transit faces mounting lawsuits over 2016 Hoboken train crash
NJ Transit's legal troubles from the 2016 Hoboken Terminal train crash are mounting.
The Record Read more
As midterm election 2018 nears, NJ voting machines remain 'primitive and hackable'
With less than three weeks to midterm elections in which New Jersey is a congressional battleground, election-security experts warned that the state's voting machines remain vulnerable to hacking.
The Record Read more
Medicaid fraud: Lakewood board member repays half owed in amnesty deal, builds $500K house
A first-term school board member was given amnesty from criminal prosecution after admitting he received Medicaid benefits over a three-year period that he was not eligible for, according to a confidential government document obtained by the Asbury Park Press.
Asbury Park Press Read more
Brookdale President Confident College Won't Lose Accreditation
If Brookdale Community College were to lose its accreditation in 2019, students' eligibility for federal financial aid and their ability to transfer credits to another college would disappear.
NJ101.5 Read more
Another N.J. hospital drops lawsuit to gain access to Horizon's discounted plans
CentraState Medical Center in Freehold Thursday became the latest hospital to drop a three-year-old lawsuit against Horizon Blue Cross Blue Shield of New Jersey that accused the state's dominant health insurance provider of squeezing community hospitals out of the market.
NJ.com Read more
Warning of Collapse of NJ Solar Industry
With less than six months to act, the state needs to quickly transition to a new way of promoting solar energy or risk a collapse in one of its fastest growing sectors, industry officials warned yesterday.
NJSpotlight Read more
Free the Grapes – NJ Restriction on Shipping Wine Could Soon be Lifted
Efforts are underway to change what some consider to be a bizarre and unfair law in the Garden State that limits consumer choice in buying wine directly from a winery in the United States.
NJ101.5 Read more
Phil Murphy turns on the charm in Germany as he pitches businesses to bring jobs to Jersey
Before he was elected governor, before his time as U.S. ambassador to Germany and before he was a heavyweight Democratic fundraiser, Gov. Phil Murphy was an executive at Goldman Sachs.
NJ.com Read more
Expecting, and Praying, For Licenses for Undocumented This Year
Advocates for driver's licenses for immigrants who aren't legally in the country say they're confident lawmakers will vote to approve them within two months.
NJ101.5 Read more
Toms River Regional board votes to sue NJ for more school aid
Toms River Regional has joined a growing list of districts that plan to sue the state commissioner of education in an attempt to block state aid cuts.
Asbury Park Press Read more
Rochelle Park officials to attorney: Contact County Prosecutor about election fraud claims
The township's attorney will alert the Bergen County Prosecutor's Office of election fraud allegations made against the mayor, a move officials hope will quell growing concerns over the legality of the candidates in this year's municipal election.
The Record Read more
Freehold race attack: Jerry Wolkowitz, Asbury Park Press freelancer and longtime EMT, dies
Jerry Wolkowitz, a longtime EMT and journalist, has died nearly six months after a brutal, allegedly racially motivated beating left him on life support. He was 56.
Asbury Park Press Read more
Group condemns RWJBarnabas for response to executive's anti-police post
A national law enforcement organization gathered outside the RWJBarnabas Health offices in West Orange Thursday to condemn a "baseless and egregious" anti-police social media post by one of its top executives.
The Record Read more
With Murphy staffer scandal, abolish school agency
In no way should the following editorial diminish the horror of the alleged rape of state employee Katie Brennan by Albert J. Alvarez, or the way that Gov. Phil Murphy's administration shamefully rewarded Alvarez with a key state job, despite Brennan's on-the-record sexual assault allegations. Both had been working at the time on Murphy's 2017 campaign team.
South Jersey Times Read more