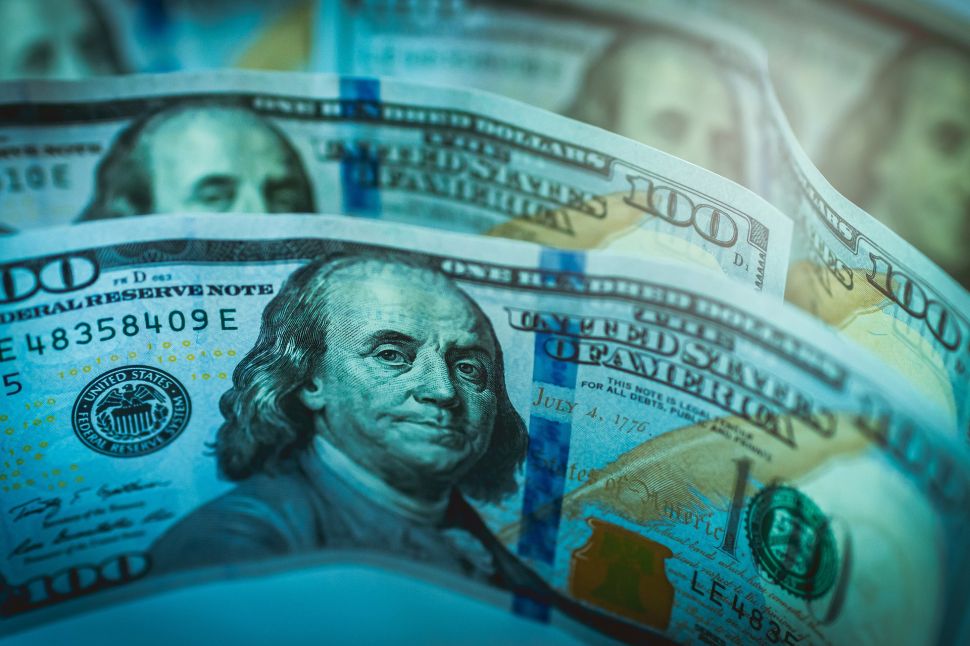 The economy is booming—unless you're a low-wage worker living in New Jersey.
Those are the findings of a study released Monday by the United Way of Northern New Jersey.
The report found that 38.5 percent of New Jersey households can't afford the basics for survival, such as child care, health care, food, housing and transportation, according to a report by The Record.
That's a 15 percent increase between 2010 and 2016, according to the report.
The annual cost of basic needs in New Jersey is now $26,640 for a single adult and $74,748 for a family of four with an infant and preschooler, the Record reported. And that's a "bare bones" survival budget, the report said.
This, while half of the jobs in the state pay less than $20 per hour, the report said.
Quote of the Day: "It would be wonderful to have someone from New Jersey run for president—or be successful running for president." — Senate President Steve Sweeney, supporting fellow Democrat U.S. Sen. Cory Booker, while also taking a swipe at former Republican Gov. Chris Christie.
Many NJ families missing out on economic recovery, study shows
Post-recession recovery remains elusive for low-income workers in New Jersey. Child care and rising health care costs weigh heavily on the families as they struggle to pay for basics such as food, housing and transportation, according to a new economic study.
The Record Read more
New Jersey Democrats making sure Booker can run for president, Senate at same time
New Jersey Democrats are clearing the way for Sen. Cory Booker to run for reelection and president at the same time — and they're not being bashful about their motivations.
Politico Read more
Legal weed delay: NJ lawmakers will miss October deadline for marijuana legalization vote
New Jersey's top Democrats in the Legislature acknowledged Monday that they will not meet their self-imposed deadline this month to vote on a bill to legalize recreational marijuana.
The Record Read more
Staffer who cut deals in controversial Medicaid fraud program removed from job
A staffer within the state comptroller's office who quietly made deals to resolve millions in disputed Medicaid payments — resulting in settlements for far less than what was owed — has been removed from his position, officials said.
NJ.com Read more
Eight people die each day due to opioids. Here's how Phil Murphy is fighting the crisis
In the roughly six years since the heroin and opioid crisis took its deadly hold in New Jersey, state government has waged a broad effort to combat the abuse by expanding treatment, suing drug manufacturers and spending hundreds of millions to raise awareness and launch new programs.
The Record Read more
NJ medical marijuana card for opioid use? NJ 'exploring' weed in fight vs. opioid crisis
Opioid addicts in New Jersey, no matter how they got hooked on the deadly drugs, including heroin and prescription painkillers, could soon be prescribed medical marijuana to help them kick their habit, under a new proposal from the state Health Department.
The Record Read more
Ex-governors open their checkbooks, just a little bit
Personal campaign contributions from former governors of New Jersey in 2018 are rare, with a total of $12,200 coming from the pockets of those who once served as the state's most powerful person.
New Jersey Globe Read more
Sweeney Irked by what He Says was NJEA's 'Harassment' of His Son
In a sit down tonight with Montclair University Political Science Professor Brigid Harrison, Senate President Steve Sweeney (D-3) discussed, among other things, his history-making run for reelection in 2017.
InsiderNJ Read more
N.J.-Israel Commission chair gets Murphy's meeting with Palestinians: 'That is perfectly appropriate'
New Jersey governors have always visited Israel at some point during their term, and the reasons have always been either political or economic.
ROI-NJ Read more
Cornelius E. Gallagher, 7-Term New Jersey Congressman, Dies at 97
Cornelius E. Gallagher, a seven-term Democratic congressman from New Jersey and champion of civil liberties who was jettisoned from his seat by his own party in 1972 after his district was redrawn and he was charged with tax evasion, died on Wednesday at his home in Monroe Township, N.J. He was 97.
New York Times Read more
Can 17,000 door knocks in a weekend help Democrat Andy Kim beat Rep. Tom MacArthur in N.J.'s 3rd Congressional District?
Third house on Driscol Drive — whoops — a wee bit of hostility awaits Laura Docherty and Jud Wampole, first-time political canvassers for Democrat Andy Kim in Ocean County, the half of the Third Congressional District considered a stronghold of Kim's opponent, U.S. Rep. Tom MacArthur.
Inquirer Read more
2018 Elections: Candidates taking wait-and-see approach to SALT deductions
In the five months since Gov. Phil Murphy signed a bill empowering local governments to set up charitable funds to circumvent the new $10,000 cap on state and local tax deductions, no town has taken up the offer.
The Record Read more
Why proponents of a $500M bond act for N.J. schools want you to vote yes on Election Day
With just two weeks to go before New Jerseyans cast their ballots, lawmakers and technical school leaders are trying to raise the profile of a voter referendum authorizing $500 million in state borrowing for improvements to public schools, vocational schools, and community colleges.
NJ.com Read more
NJ election: Is your vote safe? Just one county can back it up on paper
Nearly all of New Jersey's 11,000 voting machines are vulnerable to election hacking that could change the outcome of elections across the state, but that is not the worst part of the nightmare scenario feared by security experts.
Asbury Park Press Read more
No more jail time for man who threatened U.S. Rep. Chris Smith on social media
A 43-year-old man admitted Friday to posting a threatening message on Facebook next to a picture of U.S. Rep. Chris Smith.
NJ.com Read more
Student Loan Debt Drags on NJ Economy
More than 6 in 10 Jersey college grads carry student loan debt, according to a study done by Monmouth University for New Jersey Realtors.
NJ101.5 Read more
DEP Turns Down Plans For Massive Development in Pinelands
The state Department of Environmental Protection has rejected a plan to build a massive housing and commercial project on 930 acres in the Pinelands National Reserve and watershed of Barnegat Bay.
NJSpotlight Read more
Immigrants with Temporary Protected Status face bureaucratic hurdles as program winds down
Luis Muñoz, a father of three from El Salvador who has lived legally in the United States for nearly two decades, was turned away from a Motor Vehicle Commission office in Eatontown earlier this year when he tried to renew his driver's license.
The Record Read more
Paterson BOE member apologizes over social media posting of teacher tirade
School board member Emanuel Capers has issued a formal apology for posting on social media a video of an International High School teacher's classroom tirade, an incident that resulted in the educator's resignation last December.
The Record Read more
Mahwah gets one of only two US opioid abuse treatment grants awarded in NJ
The township knows just how it will spend the $299,360 grant to fight opioid abuse it received from the U.S. Department of Justice — more counselors, increase training for first responders and work hand in hand with local educators and health care providers.
The Record Read more
Editorial: N.J. taxes – If it's any consolation, our structure is deemed fair
Don't laugh, but New Jersey has one of the fairest tax structures in the nation.
Asbury Park Press Read more
Editorial: Vote Mikie Sherrill for Congress: Webber is too fanatical
Jay Webber has been doing his best to cast Democrat Mikie Sherrill, his opponent for the 11th district seat in Congress, as the dark, fire-breathing radical in this race. But in reality, he is the fringe candidate.
NJ.com Read more