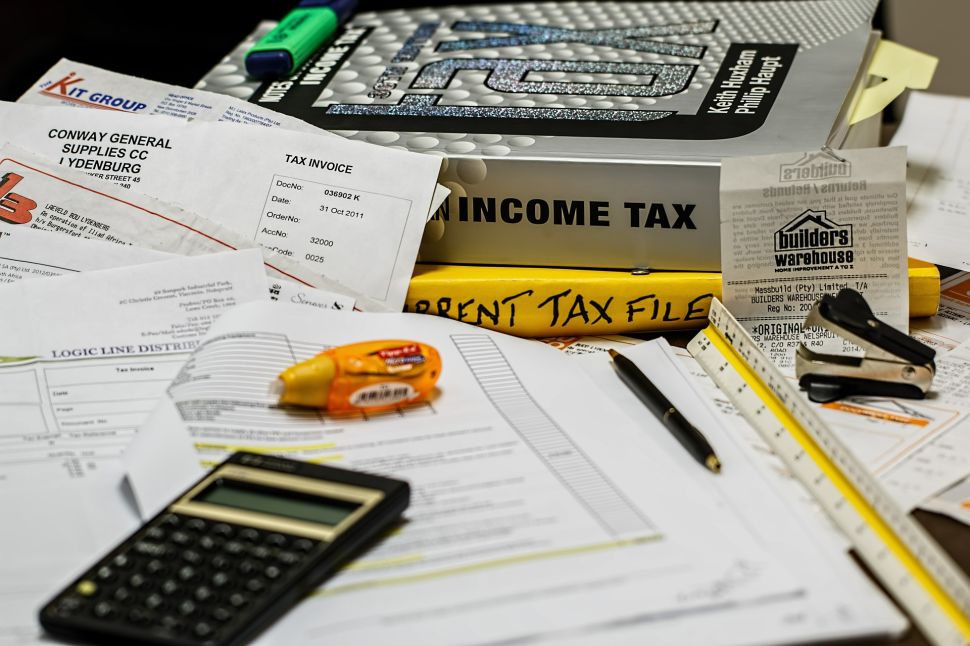 New Jersey has one of the highest tax burdens in the nation, and if your family earns between $40,000 and $80,000 annually, you are paying more than your fair share of taxes.
That's the conclusion of an analysis by the New Jersey Policy Perspective, which found those middle-class families are paying a higher share of their income in state and local taxes than the state's most wealthy residents, according to a story by NJ101.5.
While the state has taken steps to improve its tax code for families who are struggling, its still not doing enough to lower the cost of public college tuition or property taxes or to improve New Jersey Transit—items that impact both lower- and middle-class families in the state, according to the report.
Gov. Phil Murphy, who campaigned on a pledge to assist the state's middle class, has instituted a program to bring free community college to the state's lowest-income residents. Murphy says the state can't yet afford to help middle-class families with increased community college aid.
New Jersey Policy Perspective is calling on the state to increase the sales tax, raise the tax on high-wage earners and restore the estate tax.
Murphy has embraced raising the sales tax and a so-called millionaires tax, arguing that residents won't mind paying even more in taxes if they feel they are getting their money's worth in state services. He also approved the latest hike in the gas tax, which brings the state to among the highest gas tax rates in the nation.
But hiking state taxes even further might be difficult, as Senate President Steve Sweeney has said the state must look to cut spending before looking to increase the already high tax burden. The sales tax, for instance, was reduced when the state instituted the first of what turned out to be two substantial hikes in the state gas tax.
Will more ads and station naming rights save NJ Transit?
Plastering more ads on trains? Promises of U.S. visas to rich foreigners willing to sink money into the state's troubled transit system? How about railroad station naming rights?
NJ.com Read more
Is This a Fair Share? Taxes Paid by NJ's Poor, Rich and Middle Class
A new study finds middle class families in New Jersey are continuing to face an uphill struggle just to make ends meet.
NJ101.5 Read more
Murphy investigation into staffer's sexual assault allegation won't come cheap. And you're paying.
New Jersey taxpayers will pay law firm Sills Cummis & Gross $350 an hour to investigate how Gov. Phil Murphy's campaign and administration handled a rape allegation against a senior official who recently resigned.
NJ.com Read more
NJ lawmakers hire attorney Michael Critchley to help panel investigating Phil Murphy
Lawmakers have named veteran defense attorney Michael Critchley as the counsel to the select committee that will investigate hiring practices and a sexual misconduct allegation in the Murphy campaign.
The Record Read more
Hudson Prosecutor Defends Investigation into Murphy Staffer Rape Accusation
Hudson County Prosecutor Esther Suarez stood by her investigators in how they handled allegations of rape brought forward by a Murphy campaign volunteer against a man who was later hired by the Murphy administration.
NJ101.5 Read more
Menendez Unpopular, But Retains Narrowing Lead in Senate Race
U.S. Sen. Bob Menendez is unpopular but still leading his Republican opponent Bob Hugin with three weeks until Election Day because of support among women, according to poll results released today by Quinnipiac University.
NJ101.5 Read more
There's still no evidence Menendez slept with underage prostitutes. New attack ad says it anyway.
An 11th-hour attack ad from a Republican candidate in New Jersey rehashes old, unproven accusations that Sen. Robert Menendez slept with underage sex workers during trips to the Dominican Republic.
Washington Post Read more
Menendez calls Hugin 'desperate' and 'a liar' after prostitution ad airs
An angry Sen. Bob Menendez on Wednesday ripped into Republican opponent Bob Hugin, labeling him a "slimeball," and a "liar" for airing a commercial that dredges up old, unsubstantiated allegations that Menendez solicited underage prostitutes in the Dominican Republic.
Politico Read more
Midterms 2018: Speaker Paul Ryan tries to boost GOP candidates in New Jersey battlegrounds
As part of a multi-state tour aimed at shoring up Republicans in competitive House races, Paul Ryan is expected to arrive in New Jersey on Wednesday for a rally with Jay Webber and separate closed-door events for two Republican incumbents.
The Record Read more
Sherrill says Ryan has 'punished New Jersey families'
Democrat Mikie Sherrill today bashed GOP rival Jay Webber for bringing House Speaker Paul Ryan to New Jersey's 11th district.
New Jersey Globe Read more
Inside the 'very awkward' South Jersey congressional race between former friends Jeff Van Drew and Seth Grossman
Jeff Van Drew has told the wedding story from the night before and wants it told again. It pretty much sums up the weird but true, dizzying and unexpectedly personal campaign in which this smooth South Jersey pol is reaching for the Second District Congressional ring against — of all people! — Seth Grossman, his longtime friend.
Inquirer Read more
Hillary Clinton seemingly unharmed in New Jersey car accident
Hillary Clinton was seemingly unharmed when the Secret Service vehicle she was riding in was involved in a crash.
Associated Press Read more
NJ election night results may be delayed, Monmouth County election official warns
New Jersey's general election results may be delayed by as many as two days, leaving not just the state, but also the country hanging in the balance, a Monmouth County election official warned.
Asbury Park Press Read more
Murphy confident N.J. can be hub of offshore wind energy on East Coast
Gov. Phil Murphy is confident New Jersey can become the hub of offshore wind energy on the East Coast.
ROI-NJ Read more
Lawmakers Urge State to Lock in Pharmacy Benefit Savings
New Jersey lawmakers are pushing administration officials to quickly rebid a $6.7 billion, three-year contract for pharmacy benefit services that a state court tossed out earlier this year. The lawmakers warn that delays in reaching a new deal could imperil millions of dollars in ongoing taxpayer savings — something state officials dispute.
NJSpotlight Read more
Montclair State police who drew guns responding to campus fight won't face charges
Montclair State University police officers who drew guns while responding to a fight in a campus parking lot last month will not face charges after a review by the Passaic County Prosecutor's Office, officials said.
The Record Read more
Elected official (who's a lawyer) got a referral fee for telling cop to sue his own town
A Haddon Township elected official pleaded guilty Wednesday to a criminal charge for steering a disgruntled employee to a lawyer who successfully sued his own municipal government — and accepting a $7,000 referral fee for it.
NJ.com Read more
Saddle River deer hunt can proceed, judge orders
The borough's deer hunt has been reinstated.
The Record Read more
Stop calling me a 'sexual predator,' N.J. mayor tells opponent and critics
Faced with allegations on social media of sexual misconduct with young boys, Carteret Mayor Daniel Reiman requested restraining orders this week against four people — including his Republican opponent and an alleged victim — to keep them from making defamatory statements about him.
NJ.com Read more
N.J. college students are yelling expletives at future priests. It has to stop, school says.
Seton Hall University's interim president sent the campus community a stern reminder to be civil to everyone — even future Catholic priests — after several cases where seminarians were the targets of verbal abuse on campus.
NJ.com Read more
Middletown released a list of residents' email addresses to a mystery third party
On July 10, the Middletown government received a public records request seeking all the names and email addresses of people who had voluntarily turned over this contact information to the town in order to receive emergency alerts and updates on local happenings.
Asbury Park Press Read more
NJ election: Contentious Howell council race could swing majority
Three seats are up for grabs in an election that could change the longstanding political majority of the township council.
Asbury Park Press Read more
Toms River school board member files ethics charges over critic's Facebook posts
Toms River Regional Board of Education member Christopher Raimann has filed ethics charges against fellow board member Daniel Leonard, saying Leonard has repeatedly posted "confidential matters which should not be known to the public" on his Facebook page.
Asbury Park Press Read more
Judge tosses Wildwood commissioner's lawsuit against mayor
A judge dismissed a lawsuit Commissioner Pete Byron filed against Mayor Ernie Troiano and fellow Commissioner Tony Leonetti, saying Byron failed to show the two retaliated against him for voting against the city budget this year.
Press of Atlantic City Read more
Cornelius Gallagher, former U.S. congressman representing Hudson County, dies at 97
Cornelius "Neil" Gallagher, the former U.S. congressman who represented Hudson County for nearly 15 years, died Wednesday morning. He was 97.
NJ.com Read more
William 'Sonny' Lea, 83, iconic Atlantic City barber who mentored children
William C. Lea, 83, an iconic Atlantic City barber who was a mentor and champion for the city's children, died Monday, Oct. 15, after a car accident in Williamstown, Gloucester County.
Inquirer Read more