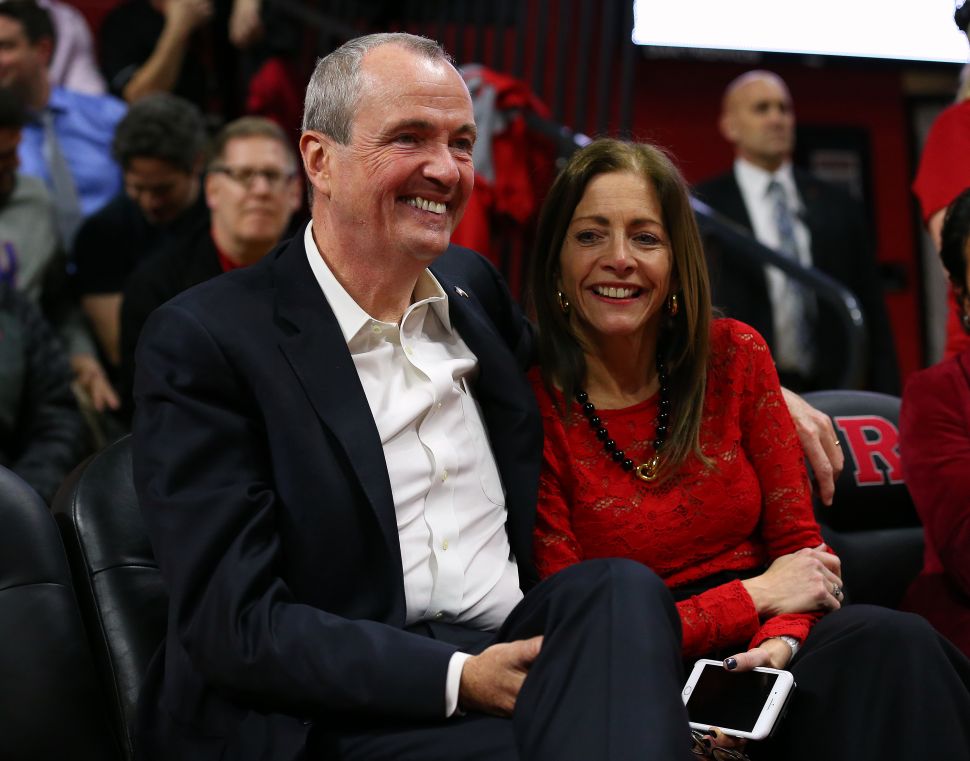 There's one couple in New Jersey who don't have any problem paying the state's crushing tax burden.
Tax returns released by Gov. Phil Murphy and his wife Tammy show the couple earned $6.8 million in income last year, according to reports.
Of that, the couple paid $2.2 million in state and federal taxes. The couple paid $203,502 in property taxes on their Middletown home.
The couple, who spent most of the year working on Murphy's campaign for governor, didn't report any salaries. Instead, the money was almost all from investments.
Murphy retired from Goldman Sachs in 2006.
Quote of the Day: "How is this safe?" —A tweet from a NJ Transit commuter showing a train station packed with people during yet another day of problems and delays for the troubled transit agency.
State Superior Court Hears Arguments in Lawsuit Over School Testing
The New Jersey Department of Education is entangled in a lawsuit over graduation requirements for high school students, and it could all come down to the interpretation of three words: eleventh grade pupil.
NJSpotlight Read more
Medicaid Fraud: Official Fired Over $2.6 Million Amnesty Deals Is Now Suing
A state employee fired at the close of a Medicaid fraud amnesty program last year has filed a whistleblower lawsuit alleging his firing was retaliation for disputing claims that he went rogue in offering discounted settlements to participants worth $2.6 million.
Asbury Park Press Read more
Gov. Phil Murphy Releases Part of 2017 Tax Returns, Showing $6.8 Million in Income
Gov. Phil Murphy and his wife Tammy earned $6.8 million in income last year even as they were on the campaign trail ten months out of the year and preparing to take office the other two, according to two pages of their joint 2017 income tax return released by the governor's office Tuesday.
The Record Read more
Anger at NJ Transit Overflows for Second Straight Day as 111-Year-Old Bridge Fails Again
For the second night in a row, NJ Transit commuters faced a nightmarish commute, following another mechanical issue that caused delays of over an hour in and out of Penn Station.
NJ.com Read more
NJ Transit Train Bound for Montclair Loses Power for Almost Two Hours
A mechanical failure caused an NJ Transit train bound for Montclair on Monday night to lose power and stall on the tracks for nearly two hours, passengers and officials said.
The Record Read more
A Commuter Went Off on an NJ Transit Conductor. The Other Riders Were Having None of It
A woman stranded Monday evening on a broken down NJ Transit train said she was mad as hell and unloaded her frustrations on a conductor. But as a video taken by another passenger showed, her rant and name calling didn't get support from fellow riders.
NJ.com Read more
New Jerseyans Are 'Fully on Board' With Legal Weed in New Poll. Do You Agree?
While politicians in Trenton continue delaying legalization to legalize marijuana in the state, the people of New Jersey have again said they strongly support legal weed and appear to be coalescing around other areas of marijuana reform.
NJ.com Read more
Smith Seems Safe in District 4 as Democrat Battles Tax Controversy
A congressional district widely expected to remain in long-term incumbent Chris Smith's hands may be even safer for the Republican now that his opponent is under fire with accusations of tax and ethics violations.
NJSpotlight Read more
What Menendez and Hugin Say About Trump's Plan to End Birthright Citizenship
The two men who have clashed in New Jersey's contentious U.S. Senate race do agree on this: President Donald Trump should scrap his potential executive order ending birthright citizenship for the offspring of non-citizens.
NJ.com Read more
New Jersey's GOP Senate Candidate Calls Trump's Immigration Rhetoric 'Inflammatory'
New Jersey Republican Senate candidate Bob Hugin said Tuesday he thought President Donald Trump's rhetoric on immigration had been "inflammatory" and that the country should instead pursue "comprehensive, compassionate immigration reform."
Politico Read more
Pittsburgh Synagogue Shooting: In NJ, Vigils Spring Up to Heal the Hurting
In a crowd of more than 500, 11 people rose from their seats and walked onstage at the Marlboro Jewish Center sanctuary.
Asbury Park Press Read more
Is It Anti-Semitism? Jackson Election Fliers Tie Candidates to 'Lakewood Developers'
Rival campaign fliers painting either of the township's mayoral candidates as Lakewood puppets are being panned by the candidates for spreading falsehoods and playing on anti-Semitic fears.
Asbury Park Press Read more
Number of New Jersey Firms Offering Health Benefits Shrinks From 85% to 78%, Survey Finds
The annual Health Benefits Survey from the New Jersey Business & Industry Association has revealed a significant decrease in companies offering health insurance benefits to their employees, but, of those that are, more are cutting into their profits to do so.
ROI-NJ Read more
Power Was Cut and a Woman Died, PSEG Screwed Up, Report Says
PSE&G repeatedly fell down on the job after cutting power to a woman on oxygen — a situation family members say led to her death this summer — according to a report by an attorney for the company.
NJ101.5 Read more
Fulop Adds Another Ally to Board of McGreevey Nonprofit
Mayor Steve Fulop has appointed another close ally to the board of ex-Gov. Jim McGreevey's jobs and prisoner re-entry nonprofit as McGreevey's allies worry that Fulop is moving to push out the former governor.
NJ.com Read more
Former New York Knick, Senator Bill Bradley Gives Talk to Current Team
David Fizdale has brought in several former players to spend some time with the Knicks.
The Record Read more
Prison Officers Ask Murphy: Give Us a Raise and Make Prisons Safer
More than a hundred officers from New Jersey's largest corrections union rallied at the State House on Monday to ask for a long-delayed pay raise and safety reforms at the state's prisons.
NJ.com Read more
Newark Insisted Its Water Was Safe. Then It Offered Filters for Lead.
For nearly a year and a half, top officials in Newark denied that their water system had a widespread lead problem, despite ample evidence that the city was facing a public health crisis that echoes the one in Flint, Mich.
New York Times Read more
Giant Digital Billboard Planned for South Jersey Has Support of State Transportation Agency
The New Jersey Department of Transportation will not revoke a permit it approved six years ago for a South Jersey company with plans to install a towering digital billboard on the Camden waterfront, the agency confirmed Tuesday.
Inquirer Read more
Gopal Introduces Bill in Support of Small Breweries
Sen. Vin Gopal introduced a bill Tuesday that would allow microbreweries to hold special events both on- and off-site with prior notifications to the Alcoholic Beverage Control.
NJBiz Read more
Toms River Now Owns 'Nuisance' Motel; Red Carpet Inn to be Torn Down
The township now owns the downtown motel that officials last year labeled a "nuisance."
Asbury Park Press Read more
Fit for Brick School Board? 'Attack of the Killer Chickens' Actor Questioned
For most people, Halloween is just once a year, but for Brick school board candidate Edward X. Young, horror is a year-round profession.
Asbury Park Press Read more