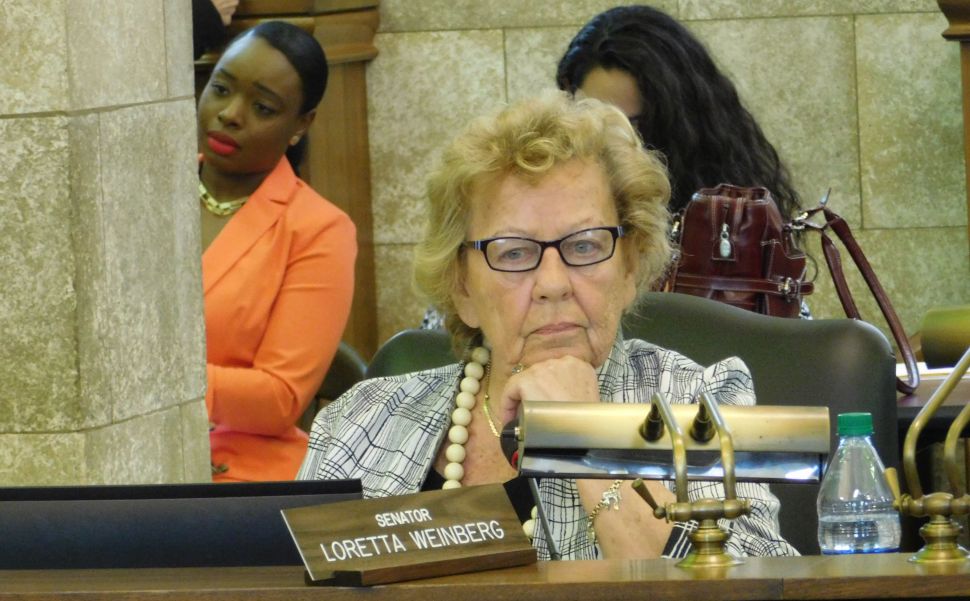 The day after Christine Blasey Ford testified in front of the U.S. Senate Judiciary Committee, New Jersey's top female lawmaker went on Facebook and shared her own story of being sexually assaulted as a child.
"I am 83 years old and I still remember the EXACT moment and EXACTLY where I was at age 13 when I was first horribly groped and forcibly kissed by a middle aged man who had been [a] welcome visitor in my home," state Senator Loretta Weinberg wrote in a post that quickly attracted statewide attention. Weinberg's post comes as Congressional Republicans try to tread a fine line with Ford's testimony, saying they believe she was sexually assaulted as a teen, but that she's mistaken when alleging Supreme Court nominee Brett Kavanaugh is the one responsible for the assault.
In a follow-up post, Weinberg made it clear how she felt.
"I posted this today so people would better understand how girls and women have been treated for generations. And how most of us have reacted over some of those generations. Each of these experiences are seared in our brains, in our emotions, and on our bodies. And no we are not confused. We know who our assaulters are and we know exactly where we were when they happened," she wrote.
In her initial post, Weinberg named her attacker and said she had never told anyone about the incident.
Weinberg's post prompted other women to post about their own experiences and her daughter, Francine Weinberg-Graff, to post: " I never knew. My world is spinning a bit right now."
Weinberg's posting also came a day after the state legislature adopted new regulations that requires sexual harassment training for legislators and their staffs and to make it easier to file complaints.
Quote of the Day: "The public has not stepped up the way they need to. They need to get angry as hell. I'm serious." — Senate President Steve Sweeney, on his efforts to reform New Jersey's public worker benefits and spending.
Amid debate of Brett Kavanaugh allegations, Loretta Weinberg shares sexual assault story
Amid a tense national debate over sexual misconduct allegations against Supreme Court nominee Brett Kavanaugh, 83-year-old state Sen. Loretta Weinberg, D-Bergen, stepped forward Friday to share her own story of being sexually assaulted as a child.
The Record Read more
Sweeney looking for public fight on government reform: 'I'm ready to go to war'
State Senate President Steve Sweeney has worked with (and battled) governors, members of the Legislature and public-sector unions throughout his public life.
ROI-NJ Read more
Cory Booker walks out on Brett Kavanaugh vote, then returns after delay plan reached
Denouncing a "sham" process even as he professed his respect for the Republican chairman who oversaw it, Sen. Cory Booker declared he would not join in a Judiciary Committee vote on Supreme Court nominee Brett Kavanaugh.
The Record Read more
Cory Booker said Kavanaugh supporters are 'complicit in evil.' He regrets that now.
U.S. Sen. Cory Booker once called those who supported putting Judge Brett Kavanaugh on the U.S. Supreme Court "complicit in evil."
NJ.com Read more
Vulnerable New Jersey Republican Defends Kavanaugh, Jolting Race
The deep divide over the nomination of Judge Brett M. Kavanaugh and the emotional testimony of Christine Blasey Ford is jolting a closely watched, tight congressional race in New Jersey.
New York Times Read more
Is There Anything More to New Jersey's US Senate Race Than Negative Ads?
To the typical New Jersey resident, this year's U.S. Senate race boils down to a choice between the crooked Bob or the greedy Bob.
NJSpotlight Read more
Rep. Tom MacArthur and Andy Kim now both are throwing punches in New Jersey's Third Congressional District
Republican U.S. Rep. Tom MacArthur's second-floor Marlton office was roped off, with a sign reading: 'Consultations by Appointment Only.'
Inquirer Read more
House Republicans just went after your property tax break again, this time for good
House Republicans on Friday voted to make that limit on how much you can deduct for state and local taxes permanent.
NJ.com Read more
In NJ-2, 126 years since party last held an open House seat
Republican Frank LoBiondo will retire from the U.S. House of Representatives in January after 24 years as a congressman. The winner of the open seat 2nd district race will become just the fourth person to represent the South Jersey seat in the last 50 years.
New Jersey Globe Read more
Kelly: 'Bridgegate' architect returns from political exile. Is this justice? Or is it just weird?
So you think politics has gotten weird? Well, it just got weirder – or, as gonzo-journalist Hunter Thompson once wrote in one of his "Fear and Loathing" essays: 'When the going gets weird, the weird turn pro.'
The Record Read more
New Jersey's gas tax goes up Monday (and so do other taxes). Here's what you need to know.
They'll be a bit more pain at the pump beginning Monday, New Jersey.
Taxes on gasoline sold in New Jersey will rise 4.3 cents per gallon on Monday, a hike triggered by a slowdown in how much gas we're buying.
NJ.com Read more
Here's how much each N.J. county spent on overtime. (Some workers doubled salary)
A corrections officer in Cumberland County made double her salary in overtime payments in 2017 — bringing home nearly $245,000 despite an annual salary of $71,575.
NJ.com Read more
Ex-Passaic councilman Marcellus Jackson resigns from DOE following hiring controversy
Marcellus Jackson, the former Passaic councilman who admitted to taking bribes in office, has submitted his resignation from the Murphy administration after his controversial hiring.
The Record Read more
Lawmakers push for convict job ban
A bipartisan group of 40 lawmakers is pushing for a measure that would ban people convicted of public corruption from working for the state, a direct response to Gov. Phil Murphy's hiring of former Passaic councilman Marcellus Jackson.
The Record Read more
NFL and casinos clash over sports betting, again. Here's what it's all about.
Should the federal government regulate sports betting?
NJ.com Read more
Public Pension Funds Beat Expectations for 2018
New Jersey's public-employee pension-fund investments generated returns of just over 9 percent during the last fiscal year, besting the assumed rate of return for what is one of the nation's worst-funded state retirement systems.
NJSpotlight Read more
Two Instances of Anti-Semitic Vandalism on Saturday
Two more cases of anti-Semitic vandalism occurred in New Jersey this weekend including a second occurrence at the home of a Rep. Josh Gottheimer supporter.
NJ101.5 Read more
Michael Saudino attempted to change his resignation date; NJ Dept. of State says no
The state rejected the former Bergen County sheriff's apparent attempt to delay his resignation and scuttle and election to fill his office Friday night by saying he did not actually resign when his office announced earlier this month.
The Record Read more
NJ legal weed: Palisades Park is the latest to ban medical and recreational marijuana
The council is the latest to ban medicinal and recreational marijuana in their borders after getting an increase amount of interest from potential businesses.
The Record Read more
Schools don't need to tell parents about student gender choices, new NJ policy says
New Jersey schools must accept a student's stated gender identity, but don't have to notify parents about the student's gender decision, according to new rules from the state Department of Education.
The Record Read more
Sea. Hear. Now: Don't count on boarding NJ Transit trains after concert
If you are staying late at the Sea.Hear.Now festival on Saturday or Sunday, don't count on getting on the last trains out of Asbury Park.
Asbury Park Press Read more
Wanda Sykes heckled after Trump jokes at Count Basie; angry fans walk out
More than a dozen fans walked out of Wanda Sykes' show at Count Basie Center for the Arts Thursday, after the comedian opened with a series of jokes about President Donald Trump.
Asbury Park Press Read more
In Trump's trade war with China, N.J. manufacturers are on the front lines
As two global superpowers fight a trade war, the collateral damage is being felt on Mayhill Street in Saddle Brook, on Empire Boulevard in South Hackensack, and in the industrial zones where machine shops and factories turn out made-in-New Jersey products.
The Record Read more
Who is Rockaway Township's real interim mayor? Court will decide
Who is the real interim mayor of Rockaway Township? The decision may come on Monday as the case heads to Superior Court.
Daily Record Read more
West Orange to Kill Legionnaires Disease Bacteria, Won't Close Schools
A North Jersey school district where a bacteria called Legionella was found in the water of most district schools will work to kill it this weekend.
NJ101.5 Read more