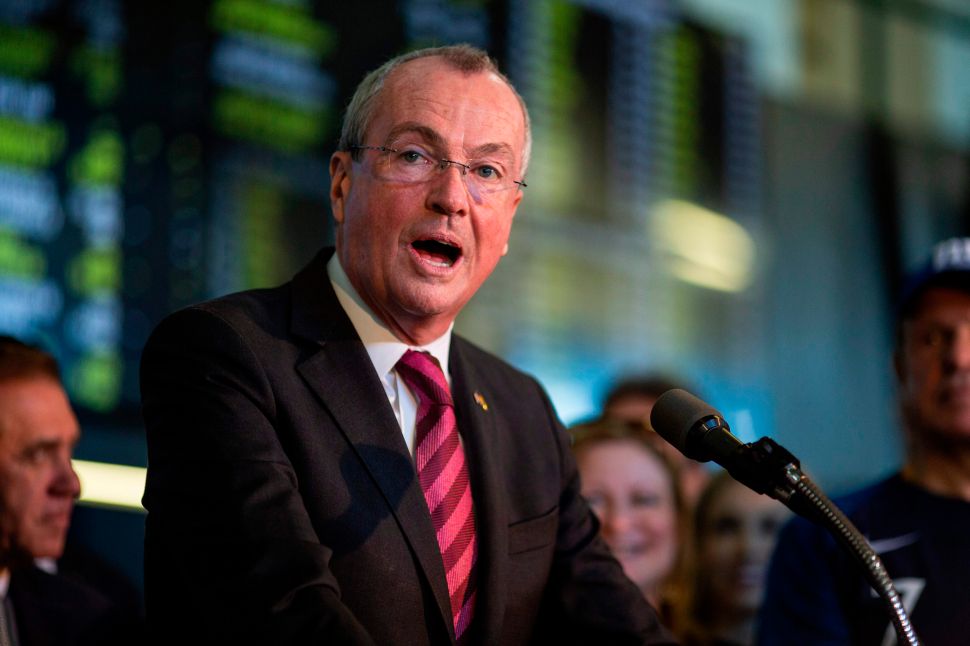 Gov. Phil Murphy said his administration will investigate how it gave a high-paying state education job to a politically connected Democrat accused of raping a campaign volunteer in 2017.
Murphy's order comes as pressure mounts on the governor days after the allegations went public and four months after the woman reached out to Murphy and his wife asking for a meeting to discuss what happened, according to reports.
Meanwhile, questions also remain why the Hudson County Prosecutor's Office declined to prosecute the case.
This is the latest hiring scandal to plague Murphy, who last month defended giving a former Passaic City councilman who pleaded guilty to taking bribes a $70,000 per year state post. It was later revealed that state law prohibits officials found guilty of corruption from holding further public office.
A third hire who was allegedly involved in a campaign finance scandal in Bermuda now earns $140,000 annually as an adviser in the Secretary of State's Office, The Record reports.
Murphy's call for an investigation comes after a week of reports about an alleged sexual assault incident involving Albert J. Alvarez, who, on October 2, left his $140,000-a-year job as chief of staff of the New Jersey Schools Development Authority.
In a story in The Wall Street Journal on Sunday, former campaign volunteer Katie Brennan claimed Alvarez sexually assaulted her after he drove her home from a campaign gathering in Jersey City in July 2017. At the time, Alvarez served as director of Latino and Muslim community outreach for Murphy's campaign.
Brennan now works as chief of staff at the New Jersey Housing and Mortgage Finance Agency.
Brennan said she went to the hospital, told her husband and friend what happened and reported the alleged incident to police the next day, according to reports. The Hudson County Prosecutor's Office, however, declined to prosecute, according to NJ.com.
Brennan said she also told the Murphy transition team about the alleged assault, but Alvarez was given a state job anyway, according to the report.
She said she told the governor's chief counsel, who referred the incident to an ethics official who then referred it to the state Attorney General's Office. On June 1, Brennan emailed Murphy and his wife saying she wanted to discuss a sensitive matter. Murphy indicated his administration was "on it," but Alvarez remained in his job for four more months, according to The Wall Street Journal report.
Alvarez's attorney has said his client denies the allegations.
On Monday, Murphy said an investigation into how Alvarez was hired will be conducted by former state Supreme Court Justice Peter Verniero.
And the criminal complaint has been sent to the Middlesex County Prosecutor's Office for review, the Attorney General's Office announced on Monday. That's because it was discovered during a review that Hudson County Prosecutor Esther Suarez knows both Alvarez and Brennan, NJ.com reported.
Quote of the Day: "The people of New Jersey deserve a full and straightforward accounting of what happened during the campaign, what carried forward into the transition and what continued into the administration." — a statement by Democratic legislative leaders, on Gov. Phil Murphy's hiring of a man accused of sexually assaulting a volunteer on his campaign for a post in the state Department of Education.
Could Murphy Staffer Face Rape Charges? Prosecutors Taking New Look
Allegations a former Murphy administration staffer sexually assaulted a then-campaign volunteer are being newly reviewed by the Middlesex County Prosecutor's Office.
NJ101.5 Read more
Phil Murphy launches investigation into why alleged rapist was hired for top state job
Expressing sympathy for the alleged victim and frustration with how her case was handled, Gov. Phil Murphy ordered an investigation Monday into how his administration responded to allegations a senior staffer raped a woman while he worked for the governor's campaign last year.
NJ.com Read more
Editorial:This time, let's really investigate the Murphy staffer accused of rape
Gov. Phil Murphy had a chance to investigate a top aide accused of sexually assaulting a woman, before the guy was hired for a government job. He blew it.
NJ.com Read more
Murphy hired campaign aide who was part of investigation into secret Bermuda bank account
Gov. Phil Murphy's campaign paid $2 million to a consulting company led by one of his top aides who at the time was tied to a campaign finance scandal under police investigation in Bermuda known as Jetgate.
The Record Read more
Marijuana prices can now be published in N.J.
Prices for medical marijuana may now be posted by the six existing dispensaries in New Jersey.
Inquirer Read more
NJ election 2018: MacArthur, Kim neck-and-neck in congressional race, new poll says
Republican Rep. Tom MacArthur and Democratic challenger Any Kim are locked in a "statistical tie" in a key battleground district in South Jersey, a Stockton University poll released Monday said.
The Record Read more
Have MacArthur's Obamacare repeal efforts hurt his re-election chances?
Rep. Tom MacArthur's key role in helping House Republicans repeal the Affordable Care Act has hurt his re-election chances, according to a Stockton University poll that gave him a statistically insignificant lead over Democratic challenger Andy Kim.
NJ.com Read more
NJ Senate: Hugin attack uses Brett Kavanaugh hearing to raise unproven Menendez allegation
Three weeks before Election Day, a new ad from Republican Senate candidate Bob Hugin uses the recent battle over Supreme Court nominee Brett Kavanaugh to revive unproven allegations that Sen. Bob Menendez traveled to the Dominican Republic for trysts with underage prostitutes.
The Record Read more
This N.J. Republican just got more help from Trump for his congressional race
Assemblyman Jay Webber, trying to keep an open House seat in Republican hands, has already gotten an endorsement from President Donald Trump and fundraising help from Vice President Mike Pence.
NJ.com Read more
Van Drew says he wouldn't vote to impeach Kavanaugh
Seth Grossman on Monday claimed his opponent, State Sen. Jeff Van Drew, would vote to impeach recently-confirmed U.S. Supreme Court Justice Brett Kavanaugh, a charge the right-of-center Democrat flatly denied.
New Jersey Globe Read more
Governor, Dems Cautioned It's Time to Repay African-American Support
Little more than three weeks from Election Day, it should come as no surprise that New Jersey's African-American community is united in support of the Democratic ticket in this year's critical 2018 midterm elections. Yet, members of the community are unsatisfied with what they've seen thus far in the political and economic aftermath of the state's 2017 gubernatorial election.
NJSpotlight Read more
Healthcare Costs Continue to Rise in NJ, Outpacing National Increase
Far fewer people are being admitted to New Jersey hospitals in recent years, with improvements in medical care and a growth in less-costly outpatient options. But, with the price of inpatient care escalating by nearly 40 percent over four years, spending on this category continues to climb.
NJSpotlight Read more
Stockton to house LoBiondo memorabilia and legislative history
In the more than 20 years Rep. Frank LoBiondo has been serving South Jersey in Washington, D.C., he said he made a conscious choice to have an agenda that focused on his district.
The Press of Atlantic City Read more
After Dogs Die at Petsmart, NJ May Require Groomer Licenses
Lawmakers took a step Monday toward making New Jersey the first state in the nation to require that pet groomers be licensed.
NJ101.5 Read more
Rutgers Inviting Fox's Lisa Daftari Afterall
Rutgers University College Republicans and several other campus groups have started an online petition in support of Lisa Daftari's appearance on campus — and the school has offered her four dates in November to speak.
NJ101.5 Read more
Lakewood paid township manager 'hush money' to stay silent, lawsuit alleges
Lakewood's former township manager, who got a $327,000 severance package when he resigned in September, received illegal "hush money" to stay quiet about municipal affairs, a group claims in a lawsuit filed Monday.
Asbury Park Press Read more
North Arlington mayor laid to rest, remembered for willingness to 'help anybody'
The late Mayor Joseph Bianchi's funeral processional paused once on Ridge Road Monday before it reached the cemetery gates. It was to salute his barbershop chair placed on the sidewalk in front of his shop and cradling the helmet and jacket he used when serving Hose Company 1.
The Record Read more
Middletown Democrat busted stealing campaign signs: Police
Police have charged a 73-year-old township Democrat, who is also a retired police officer, with two counts of theft after they say they witnessed him stealing campaign signs.
Asbury Park Press Read more