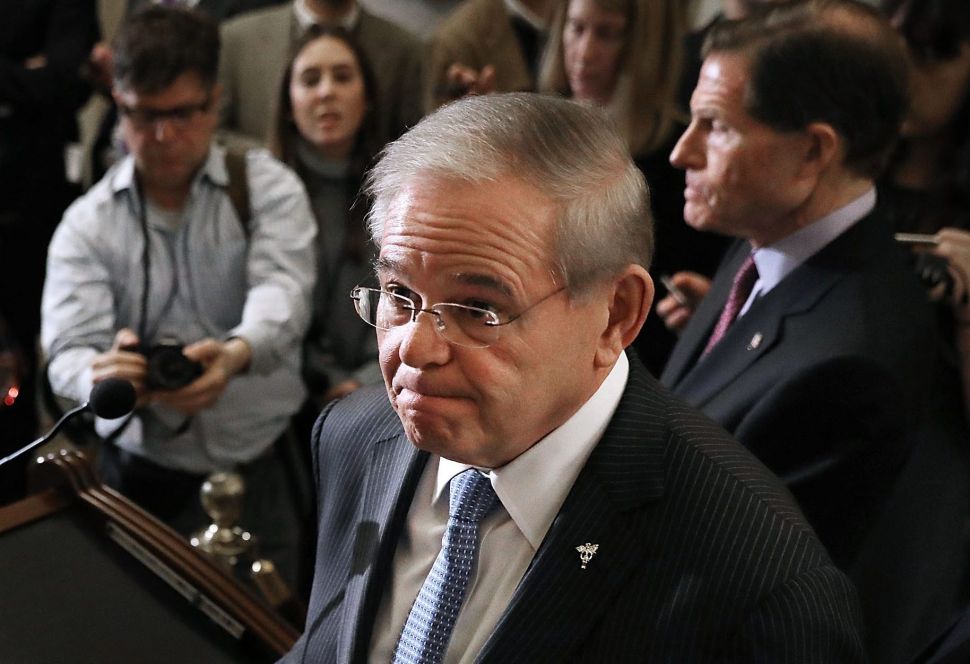 Reelection was supposed to be a cakewalk for veteran Democratic Senator Bob Menendez. But a new poll by Stockton University finds that ethics problems and a relentless campaign of ads highlighting them by his Republican challenger has left Menendez in a fight for his political life.
The poll finds Menendez leading Republican challenger Robert Hugin by 2 points—45 percent to 43 percent—which is well within the poll's margin of error.
New Jersey is a blue state, where Democratic voters easily outnumber those registered Republican. And Democrats are looking to New Jersey as a key player in a blue wave that could sweep them to power in the House of Representatives and the Senate.
But Menendez is hampered after his corruption trial ended in a mistrial and the Senate Ethics Committee admonished him.
Hugin has filled the airwaves with television commercials highlighting Menendez's ethics woes. The Democrat, has tried to attack Hugin's backgrounds as a pharmaceutical executive, but those efforts aren't gaining the same traction with voters as the Republican's attacks.
Menendez's campaign claimed the poll results were not accurate, according to reports by the The Record.
Quote of the Day: "The Senate race at this point is up for grabs." — Michael W. Klein, interim executive director of the William J. Hughes Center for Public Policy at Stockton University.
2018 midterm elections: Menendez-Hugin race for NJ Senate a 'dead heat,' poll says
The race between U.S. Sen. Bob Menendez, D-N.J., and his Republican challenger, Bob Hugin, is a "statistical dead heat," according to a Stockton University poll of likely voters released Monday.
NJ.com Read more
Sweeney Panel Proposes 401K Pension for Some State, Local Workers
A proposal to move some state and local employees to a new 401(k)-like pension system is gaining support because it has the potential to save billions of dollars. But long before anything is adopted, it's likely to draw strenuous pushback from the public workers' powerful unions.
NJSpotlight Read more
Murphy proposes $500M venture fund, new tax incentive programs
Gov. Phil Murphy proposed an expansive new economic master plan for New Jersey on Monday, putting aside tax breaks for big companies in favor of capped and targeted investments in tech-oriented firms.
Politico Read more
Trump swipes at Cory Booker over Kavanaugh, appears to refer to 'stealing second' article
Defending Supreme Court nominee Brett Kavanaugh, President Donald Trump attacked Sen. Cory Booker and other Democrats on the Judiciary Committee during a news conference on Monday.
NJ.com Read more
NJ Has Highest Foreclosure Rate in Nation
New Jersey is the 11th most financially savvy state in the country, according to a new survey by the personal financial website Wallethub.
NJ101.5 Read more
New Jersey challenges the Trump administration's asylum policy
New Jersey Attorney General Gurbir Grewal has joined his counterparts from 17 states and the District of Columbia in challenging a Trump administration policy that blocks immigrants from seeking asylum on the grounds of domestic or gang violence in their home countries.
The Record Read more
NJ municipal courts: Will these reform bills make the system fair?
A state lawmaker who has been vocal about fixing the municipal court system has proposed two bills and a resolution meant to "start the conversation" about the "critical" reform effort.
Asbury Park Press Read more
N.J. to get legal weed 'sooner than later,' Gov. Murphy says
Hang in there, Gov. Phil Murphy said Monday, New Jersey will get legal recreational marijuana "sooner than later."
NJ.com Read more
NJ Could Require Teens to be Screened for Depression
New Jersey students would have to be screened for depression a half dozen times during the years leading up to high school graduation, if a bill advancing through the state Legislature were to become law.
NJ101.5 Read more
There will be fewer bear hunters in the woods next week, thanks to Murphy's new rules
Gov. Phil Murphy's ban on using state land during the bear hunt appears to be discouraging lots of hunters, one week before the controversial season begins in eight northern counties.
NJ.com Read more
It Just Became Easier to Clean Your Criminal Record in Garden State
It just got easier for many New Jerseyans to wipe clean their past criminal records.
NJSpotlight Read more
NJ Airbnb users now must pay tax, unless they use a real estate agent
Visitors to the Shore who want to avoid paying a new occupancy tax have a loophole: Find a place to stay through a real estate agent.
Asbury Park Press Read more
Murphy says new N.J. craft brewery restrictions hard to swallow
Gov. Phil Murphy says he's a Budweiser guy. In other words, his beer of choice comes from one of the nation's largest breweries.
NJ.com Read more
This resident is on a crusade to fix North Jersey roads after string of pedestrian deaths
Bergenfield remains in mourning for Bob Armbruster, one of six victims killed recently while crossing crowded North Jersey roads, but few are taking his death harder than a man who has lost more than his share of friends and loved ones to road carnage.
The Record Read more
Rockaway Township finally has a real interim mayor after court decision
The question of which of Rockaway Township's two interim mayors is the official one has been answered — it's Adam Salberg the court ruled.
The Record Read more
Police chief says he'd 'like to kill' council president, calls her a b—-
A law enforcement official is being called out for allegedly threatening the town council president in a recording that was played at a public meeting last week.
NJ.com Read more
Paterson gets $2.5M federal grant to expand student services at two schools
A $2.5 million federal grant will allow Paterson education officials to expand student services at John F. Kennedy High School and elementary School 2, officials announced.
Paterson Press Read more
Neptune City mayor faces backlash over political Facebook meme
Mayor Robert Brown is facing backlash from some residents in his town over a meme he shared on Facebook attacking liberals.
Asbury Park Press Read more
PTO Member Pocketed $9,000 Meant For Orphans, Police Say
A member of the local parent teacher organization has been charged with taking thousands of dollars from a GoFundMe set up to help three young orphans, police said.
NJ101.5 Read more
Gov. Whitman: I'm glad to see Republicans recognizing climate change. Now they must do something
During my time as both governor of New Jersey and administrator of the Environmental Protection Agency, I knew that I'd be judged by my actions. All the speeches and public appearances in the world won't convince people you've done your job unless you produce results.
NJ.com Read more
Harrison: Some N.J. candidates believe race-baiting in elections work. But does it, really?
It would appear that racism is alive and well in New Jersey's congressional elections.
NJ.com Read more
Editorial: Republicans confident you will forget what they did on health care
Attacking health coverage for people with pre-existing conditions like cancer or diabetes is not a good look. So just weeks before the November elections, Republicans are giving themselves a hasty makeover, starting right at the top.
NJ.com Read more