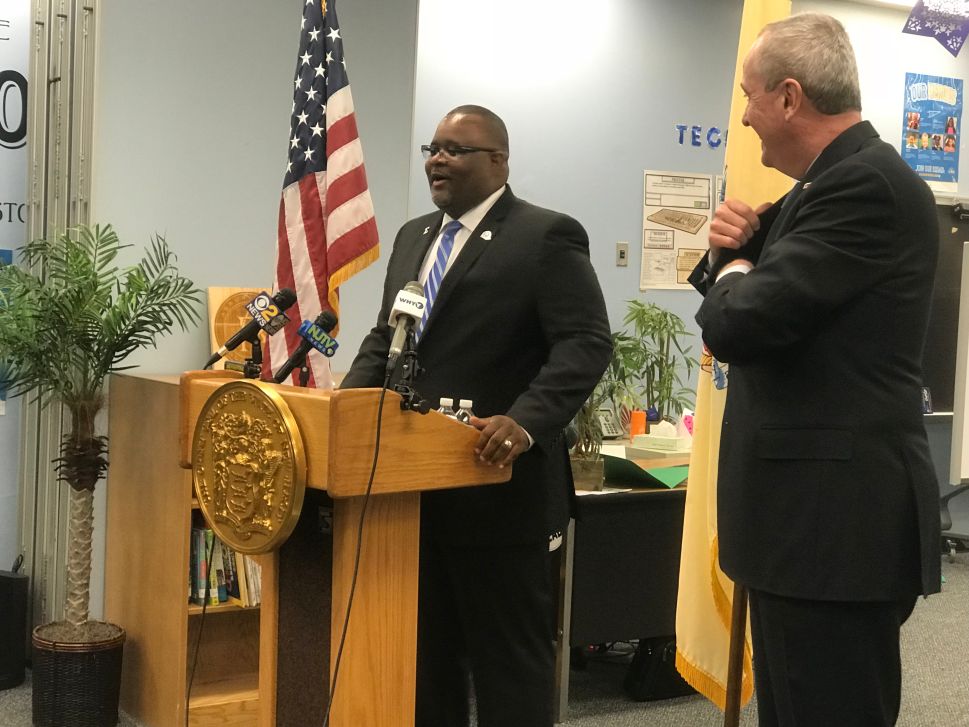 He says charter schools represent "an exciting opportunity" to design "innovative ways of helping children reach high levels of academic achievement." But State Education Commissioner Lamont Repollet also said "no" to every charter school bid in the latest cycle, according to a story on NJSpotlight.
Charter school advocates say Repollet issued his denials to 13 schools without even interviewing the applicants. That's leading some to worry that behind his gung-ho words, Repollet and the Murphy administration have imposed a stealth moratorium on expanding charter schools in the state, according to the NJSpotlight story.
Murphy has said he favors taking a timeout on expanding charter schools, and on Friday, the state announced a "comprehensive review" of New Jersey's charter school law.
But, as commuters have learned to their regret, Murphy's calls for a review can drag on well past the time frame promised. Ten months ago, the governor ordered an audit of New Jersey Transit, saying the review would be completed in about three months. It's still not done, and commuters have become increasingly vocal about how bad service on the beleaguered transit system has become since Murphy took office.
Charter school advocates tell NJSpotlight that the refusal to approve charter schools is harming families—particularly those in low-income communities of color—who want an alternative to sending their children to local public schools.
Quote of the Day: "With more than 35,000 students on charter school waiting lists, it's clear families, particularly in low-income communities of color, are desperately seeking additional public school choices." — Harold Lee, the interim president of the New Jersey Charter School Association.
Utilities Submit Proposals for Nuclear Subsidies
It will be months before the state decides whether customers need to subsidize nuclear power, but New Jersey's four electric utilities are already proposing how they will recover those costs.
NJSpotlight Read more
High School PARCC Tests Won't Cut Back As Much as Planned
The state Board of Education on Wednesday gave its initial endorsement to a plan to scale back the number of standardized tests that must be taken by New Jersey high school students – although not by as many as Gov. Phil Murphy's administration had sought.
NJ101.5 Read more
Repollet Hits Pause For Charter Schools, Rejects Latest Two Hopefuls
No big surprise, Gov. Phil Murphy's promise of a "timeout" on new charter schools is coming to fruition, with the Murphy administration rejecting two more charter schools that had been hoping to open next year.
NJSpotlight Read more
Conservative group sues Gov. Murphy over law protecting public worker unions
A conservative right-to-work group is suing Gov. Phil Murphy's administration over a New Jersey law that restricts when and how public-sector workers can opt out of their unions.
NJ.com Read more
How bad is Washington? New Jersey officials push ideas to boost ethics, break gridlock
Have things in the federal government gotten to the point that New Jersey needs to lead the way to improve?
The Record Read more
Trump support is mixed blessing in tight New Jersey House race
New Jersey Republican Assemblyman Jay Webber didn't get a heads-up when President Donald Trump endorsed his congressional bid last month by tweet.
Politico Read more
How close is the NJ Senate race? Two more polls say it's competitive for Menendez, Hugin
With less than five weeks until Election Day, Sen. Bob Menendez, the incumbent Democrat, appears to hold an advantage over Republican challenger Bob Hugin, although a pair of polls released Wednesday show differing amounts of separation between the two.
The Record Read more
Murphy Pledges New Programs to Improve Housing
A day after unveiling an ambitious economic development plan, Gov. Phil Murphy and members of his administration gave some details on several new programs that would provide tax credits to help revitalize communities and build much-needed housing.
NJSpotlight Read more
In Freehold, immigrants protest end of Temporary Protected Status
About two dozen immigrants and advocates from across the country met Wednesday morning near U.S. Rep. Chris Smith's office in Freehold Township to call for a path to legal permanent residency for those who are months away from losing temporary protections to stay in the United States.
Asbury Park Press Read more
'Computer Science for All,' Murphy's Plan for NJ Schools
Gov. Murphy is pressing ahead with a "Computer Science for All" initiative for New Jersey high school students.
NJ101.5 Read more
Jersey CPAs Back Sweeney Plan to Boost NJ Economy
A survey of New Jersey Accountants finds strong support for three tax recommendations made by State Senate President Steve Sweeney's Economic and Fiscal Policy Workgroup.
NJ101.5 Read more
NJ upends how doctors get paid, so why do vaccination, C-section rates lag?
New Jersey doctors and hospitals are increasingly paid based on quality, but patients aren't getting the care they need to prevent illnesses and bigger bills down the road, a report released Tuesday said.
The Record Read more
100 days in, Atlantic City's reopened casinos looking good
One has Elvis Presley's Rolls-Royce, the costumes the Beatles wore onstage, and the management know-how and money of one of the world's largest and most successful hospitality companies — even as it replaces its boss.
Associated Press Read more
Glassboro police chief defends officers who pulled guns on Rowan students
Two days after video of a controversial police stop on the Rowan University campus went viral, Glassboro Police Chief Franklin S. Brown Jr. broke his silence Wednesday and released a body-cam video to show why officers had pulled over two college students and aimed their weapons at them before searching their car for a gun.
Inquirer Read more
Gov. Murphy signs growth zone bill for Atlantic City airport
For Atlantic County, the third time is the charm.
After nearly two years and two vetoes from the Governor's Office, the bill to establish state tax incentives for the county's aviation district within a one-mile radius of the Atlantic City International Airport was signed into law Wednesday.
Press of Atlantic City Read more
Lacey seeks federal funding for hosting Oyster Creek nuclear fuel
U.S. Senate candidate Bob Hugin joined U.S. Rep. Tom MacArthur, R-3rd, on Wednesday in supporting federal funding for towns like Lacey that host highly radioactive spent nuclear fuel rods.
Press of Atlantic City Read more
Rutgers immediately revamps sexual harassment policy following NJ.com investigation
Rutgers University will immediately start investigating all sexual harassment complaints, including those more than two years old, the university's president announced Wednesday hours after the publication of an NJ Advance Media report about the controversial issue.
NJ.com Read more
How New Jersey towns are making streets safer for pedestrians
Two pedestrians killed in Clifton. One killed in Bergenfield. One killed in Elmwood Park. One killed in Garfield. One killed in Ridgewood. Two pedestrians hit in Dumont. One hit in Hackensack.
The Record Read more
4 months after launch, Cape recruiting towns to join central dispatch
In June, Cape May County launched its new centralized dispatch center at the Lower Township Public Safety Building.
Press of Atlantic City Read more
Toys R Us comeback? New name, same Geoffrey emerges from Wayne headquarters
Toys R Back? Not quite, but the first signs of how the financial firms that carved up Toys R Us plan to resurrect the iconic brand from the ashes of its bankruptcy and liquidation have started to emerge.
The Record Read more
Library renamed for late Jersey Journal reporter Earl Morgan
Earl Morgan, the late Jersey Journal columnist who reported on Jersey City government and politics for decades, became an indelible part of the city on Wednesday when the Greenville library branch was renamed in his honor.
Jersey Journal Read more
Lawsuit seeks to force another council vote on Polish statue
The twisting, convoluted story of the potential relocation of the Katyn monument is about to get more confusing, thanks to a lawsuit filed Wednesday in Hudson County Superior Court.
NJ.com Read more
There is nothing normal about this year's midterm elections
In a normal year, a midterm election would have all the drawing power of a root-canal procedure.
Times of Trenton Read more