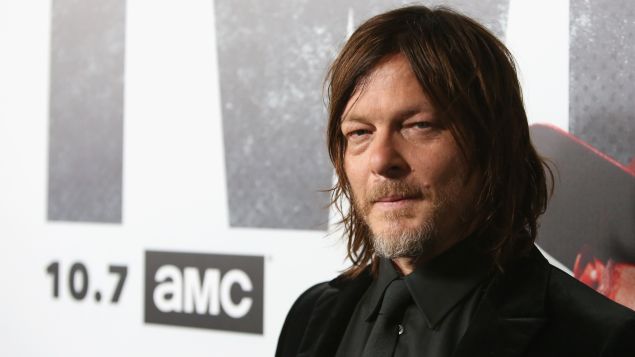 As the juggernaut, zombie-filled series The Walking Dead plows into its ninth season, serious changes are afoot—like a new showrunner at the helm, the loss of an integral cast member and an infusion of new characters.
Angela Kang, who has been with TWD since Season 2, has been elevated to showrunner, while series mainstay Andrew Lincoln, who portrays Rick Grimes, is exiting the series after a tenure that began on day one.
As Rick exits, will his right-hand man, Daryl Dixon, played by Norman Reedus, step up to fill the vacated leadership role?
Subscribe to Observer's Entertainment Newsletter
Here, Reedus shares his thoughts with Observer about upcoming changes in the series, Lincoln's departure and discovering the new definition of the word ship, thanks to his character's relationship with Carol, played by Melissa McBride.
You now have a female showrunner and many of the new cast members are women. It feels like there's been a big shift in gender on the series. What are we going see this season that reflects that?
We've always known that the women were a powerful force on the show and it's true that the women have taken over in a way that's changed the dynamic. All the new female cast members are fricking killing it this year. Really setting a tone.
I was running a scene the other day with one of the new girls. Off set she's kinda goofy, then they say, "roll" and she's ready to eat your face off. I'm in this hard, well-written, complicated, angry scene, the two of us are in each other's faces, and in the middle of it I kind of checked myself, because this woman, she's destroying me. But this is great. It's this new energy on set, and it's very powerful.
How did you react when you found out how Andrew's final scene would play out?
Andy and I, he's been my BFF for a long time, so I knew he was leaving before [anyone else] knew. I knew it was coming and I still didn't like it.
It's been almost a decade of having him leading this team. If [there were] ever actors who were talking or not focused, I'd look over at Andy and go "Do the thing." He would go, "Come on guys, let's get this goin'!" And they would go, "Yeah, okay!"
When he did his last scene, he got up, he gave a speech and everyone kinda gave him a standing ovation. Some of the cast picked up their phone and he's like, "You know what? Put down your phones. This isn't for social media, this is our time."
His memory on set is still there. His spirit is still there.
So, in Rick's absence, is Daryl going to step up? He doesn't really seem very comfortable in that role as a leader. Is that something that's going to change over the course of the season?
He's not the kinda guy that's ever going to build a podium and talk to a group of people. It's just not who he is. If Daryl started doing that now, it wouldn't be true to the character. He'll show up when you need him, he's very loyal, but he's not the social guy.
He could step up and do things with people that he might not have done when Rick was around, so I think he'll fill those shoes a little bit, but he's never going to be like, "Everyone gather around, we can rebuild." That's not him.
A lot of people still want Carol and Daryl to get together…
Yeah. God, you have no idea.
What is their dynamic going to be this season, and is there any hope for resolution between them?
First of all, the funny thing is I didn't know what "shipping" was for the longest time. I was at an event or something and I'm like, "Let's ship it." Everyone laughed at me. You know, you're an old guy you don't know what that means. That shipping thing went bananas.
So, then you really get it that people are really into you and Carol?
Trust me, I know, I know. People get mad at me. When that preview [for this season] showed up, they were like "You don't deserve her," and I was like, "I don't like this, man. Stop yelling at me, [Melissa's] one of my best friends. Shut up!"
I do feel like whatever path Carol chooses, Daryl will have her back regardless. More than anything, those two characters want what's best for the other. She and I are probably in it for the long haul, so you'll never not see us together in some form. We're too good together. Every time you've seen us together, it's magic.
If you had to explain the evolution of the show as a whole, how would you describe it?
I remember the first episode really blew me away. I thought it was set up so well—Rick walking down the stairs striking matches that kept going out.
I was so happy that they didn't go into some weird B-movie zombie genre. It would be real easy for us to screw this up—you know, samurai swords, a redneck with a crossbow, zombies, bad guys with baseball bats. On paper, it could look really corny, but I think that first episode really started us on the path of playing it real, and we fight to keep it that way.
The Walking Dead airs Sunday nights at 9/8c on AMC.