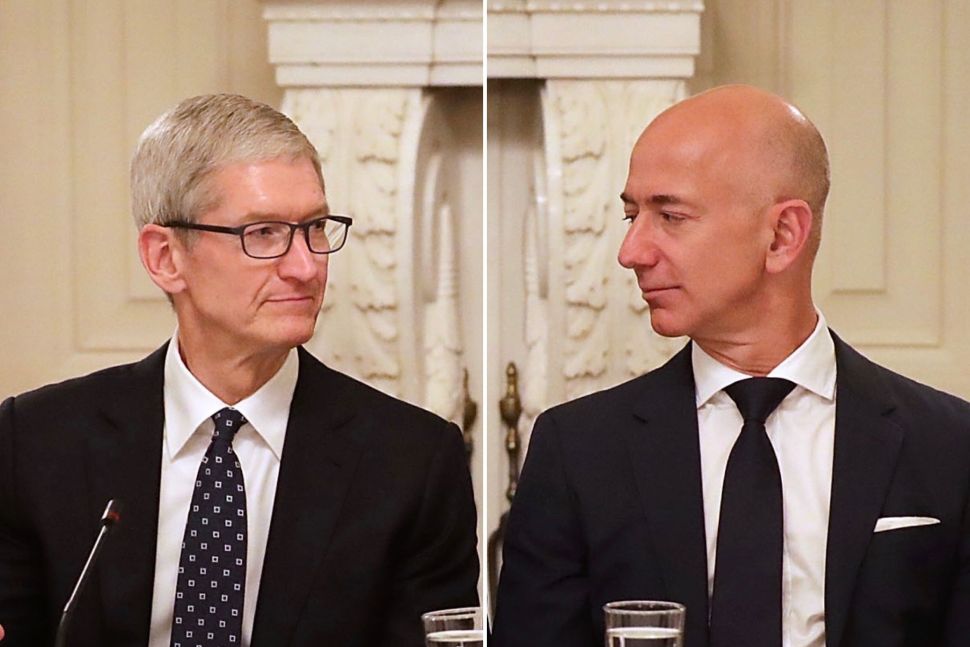 Remember three months ago, when all eyes were on the close race between Apple and Amazon to become the first company ever worth over $1 trillion? Even after Apple reached the historic milestone first on August 2, Amazon was still just inches away from becoming the second trillion-dollar company in U.S. stock market history.
But soon, an unexpected market crash happened in early October and was followed by weeks of frightening price swings in major indexes, as well as historically low-volatility stocks. Still with no signs of an end in sight, the month-long market rout has already driven Amazon and Apple, the two largest tech companies in the world, in opposite directions.
As of Tuesday, Oct. 30, Apple's total market value still holds steady at just above $1 trillion, whereas Amazon has lost a quarter of its market worth, or nearly $250 billion, from its late-September peak.
Subscribe to Observer's Business Newsletter
In the past two days alone, Amazon has lost 14 percent of its market value, the worst two-day loss since 2014.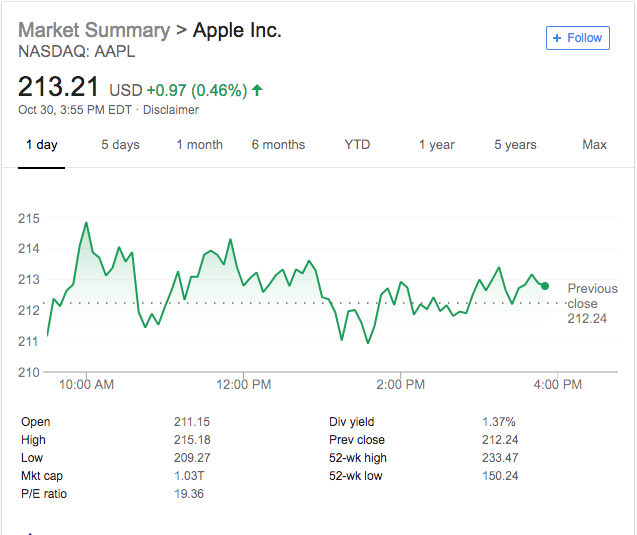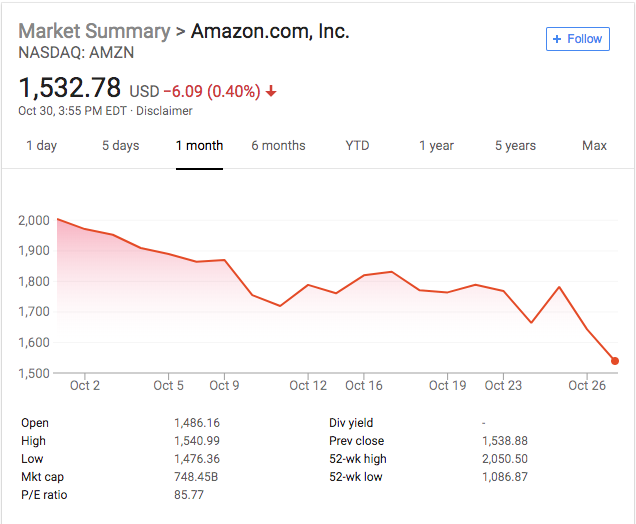 Amazon stock has been on a steady decline since the company reported below-estimation third-quarter revenue and posted disappointing revenue guidance for the fourth quarter on October 25.
Amazon's fall also spread to other large-cap tech stocks, such as Facebook and Google. Apple, although not entirely immune to the market current, held relatively steady throughout the tumultuous week, dropping only four percent in share price.
Amid the recent market woes, Wall Street analysts seem to have formed a consensus that Apple is the only safe stock to hold for the long term.
On Monday, equity research firm Jeffries gave Apple a buy rating, citing its "massive" potential in the services business, including the App Store, iCloud storage plans, Apple Music and more.
On Tuesday, Dow Jones analyst Nigam Arora called Apple "the only FAANG [Facebook, Amazon, Apple, Netflix and Alphabet] stock to hold up" in an opinion article, but warned that the market condition could drastically change depending on Apple's third-quarter earnings release on November 1.