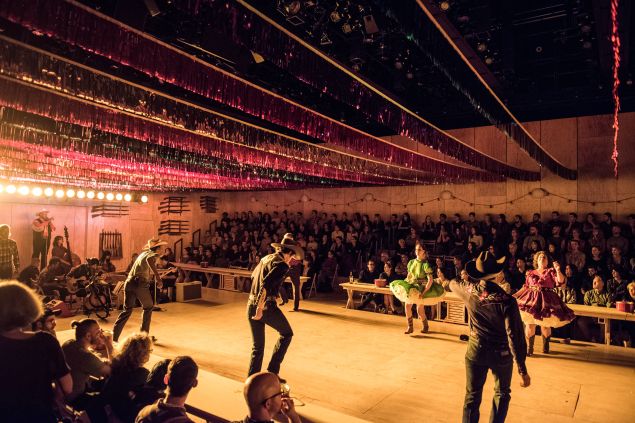 The ladies of the remade Oklahoma! playing at Brooklyn's St. Ann's Warehouse watch the men warily, steadily, keeping desire or disgust in check. No matter how cute he may be, strumming his guitar and crooning softly about the surrey with the fringe on top, the ladies betray no emotion. Because after all, what happens in that buggy after midnight on an empty road and no one for miles around? Does a Curly turn into a Jud? Rebecca Naomi Jones keeps her gaze cool and level as Damon Daunno serenades her with promises of a fancy ride to the box social. In Daniel Fish's stripped, tense, electrifying staging of Oklahoma!, women best be on guard, lest they be roped and broken with the rest of the cattle.
Fish's semi-immersive, often deadpan staging of Rodgers and Hammerstein's 1943 megahit is unmistakably "director's theater," but he's just following the text. In the idyllic opening number, "Oh, What a Beautiful Mornin'," cowpoke Curly (Daunno) warbles languidly that "All the cattle are standin' like statues. / They don't turn their heads as they see me ride by, / But a little brown mav'rick is winkin' her eye." His last line alludes coyly to Laurey (Jones), the proud, skittish farm gal Curly fancies.
Bestial metaphors are not exclusive to women; Laurey likens Curly's singing to the croaking of a bullfrog. So far, so playful. But Fish picks up on the animal theme and lets it reach full bloom in a radically reconceived dream ballet at the top of Act 2, in which the ecstatic dancer Gabrielle Hamilton—head shaved, eyebrows bleached, wearing only a shimmery t-shirt that reads: DREAM BABY DREAM—gallops and prances around the space with increasing frenzy. In Daniel Kluger's acid-rock re-orchestration of Rodgers' composition, a guitar wails and weeps through waves of distortion. A corps of she-quines joins Hamilton and, in John Heginbotham's aggressive choreography, they stampede across the space. I've a feeling we're not in Oklahoma anymore—and thank God for that.
Subscribe to Observer's Arts Newsletter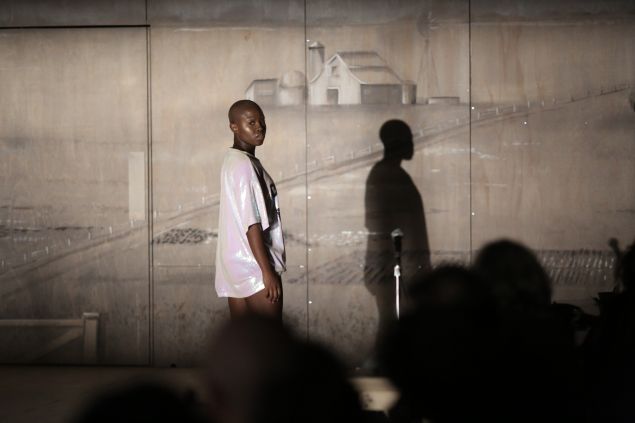 Not that a traditional, showbizzy Oklahoma! is a bad thing. In May I saw it revived at Oregon Shakespeare Festival in Ashland, and in terms of costumes, sets and singing style, Bill Rauch's production (which runs through October 27) is an Oklahoma! your grandparents would recognize. Except that Curly is a woman. And Ado Annie, the boy-crazy gal "who cain't say no" is now Ado Andy. Rauch's concept is a same-sex, LGBTQ-friendly pioneer paradise, and it works beautifully. Point is, for the musical's 75th birthday, you can buy it a tie and renew its subscription to Smithsonian, or you can show it the world.
The world Fish and his designers create is stark but not uninviting. Laura Jellinek's set is a plywood room, plain and homey, like an ad hoc community meeting hall. On one wall a couple dozen rifles are displayed on racks, which is unnerving. On the other wall, there's a drawing of a farmhouse. The costumes, by Terese Warden, are modern country-and-western, and Kluger has created folksy arrangements of Richard Rodgers' score for a spirited bluegrass ensemble.
The overall vibe is that of a hipster hoedown, with a diverse, handsome group of performers. Daunno brings swagger and raffish good looks to Curly, while Jones' Laurey—when she lets down her guard—reveals a voracious, sensuous side. And there are sparks aplenty between Ali Stroker's fun-loving Annie and the lanky, hunky dope Will Parker (James Davis), despite the fact that Annie has been dallying with traveling salesman Ali Hakim (Michael Nathanson). Outside the circles of courtship is Jud Fry (Patrick Vaill), the brutish, socially awkward farmhand who pines after Laurey—who seems both attracted to and repelled by him. And benignly supervising these romantic shenanigans is Laurey's flinty but kind Aunt Eller (queen of brass Mary Testa).
Fish, an experimental-theater director with an impressive body of work that includes abstract opera, multimedia installations and dense text by the likes of David Foster Wallace, threads the needle between picking at the piece and letting it transport us. He doesn't direct against the punch lines and while a Broadway-wary director might step on the "buttons" at the end of songs, he gives the audience space to applaud a graceful finish. It's an Oklahoma! that sounds lovely and earns its laughs and heartache honestly, even if tempi slow to a crawl, or lighting designer Scott Zielinski plunges us into a sudden, sickly green wash. Fish gives us more. He gets between the lines, finds the gray areas of ambiguity and fear that complicate the aw-shucks rom-com.
One example is what you might call the Curly/Jud dichotomy. In a standard staging, Curly is our hero, the well-adjusted good guy. Jud is the surly loner with pornographic photos tacked to his wall. For the scene where Curly visits Jud in his squalid smokehouse room, Fish kills the lights and faces the men inches away from each other. Using microphones, their voices are amplified to radio-drama intimacy and a camera operator captures their live images using infrared filter (spooky). I think Fish suggests a kind of communion between the men, where the putative hero and the designated villain merge, a homosocial (almost homoerotic) exchange that can only be corrected by the ritual slaughter of Jud in the second act. (If you have even a passing awareness of Oklahoma!, that's no spoiler. But this version of Jud's death—on the eve of Curly and Laurey's marriage—is less tying up a plot thread than Curly cutting off a part of himself.)
Sexy, suspenseful and with a fresh, exuberant sound, this is an Oklahoma! to hoot and cheer and stomp your boots at. If it's your first time, you will be amazed that two middle-aged white guys in the middle of WWII wrote a show about 21st-century America's discontents. (Backstage they call it Woke-lahoma!). If you've seen other revivals, I hope you'll appreciate how a sturdy work can support radical readings, and how feel-good entertainment and darker, weirder pleasures can go hand in hand. The territory wasn't settled with just "plen'y of heart and plen'y of hope," as Aunt Eller sings. It took a lot of guns, a lot of blood and a lot of bad bargains. Just ask the women.