Vacationing in a monkey-infested, remote African rainforest sounds like a lot of things. Mostly: "not boring," but also "frighteningly expensive." And if the latter of those two dialogues has prevented your inner Jane Goodall from realizing dreams, there's news.
From the brand of white-glove resorts that knows how you like your nightcap before you even arrive (Instagram, and you'll thank them later): One&Only Nyungwe House just opened Rwanda's Nyungwe Forest National Park. Starting Oct. 1 you can chimp all day, and use super-nice amenities all other parts of the day and night. For as cheap as $595 until the end of 2018. When introductory pricing is over, the trip will cost up to $6,325 per night. So act now because man has also stopped evolving.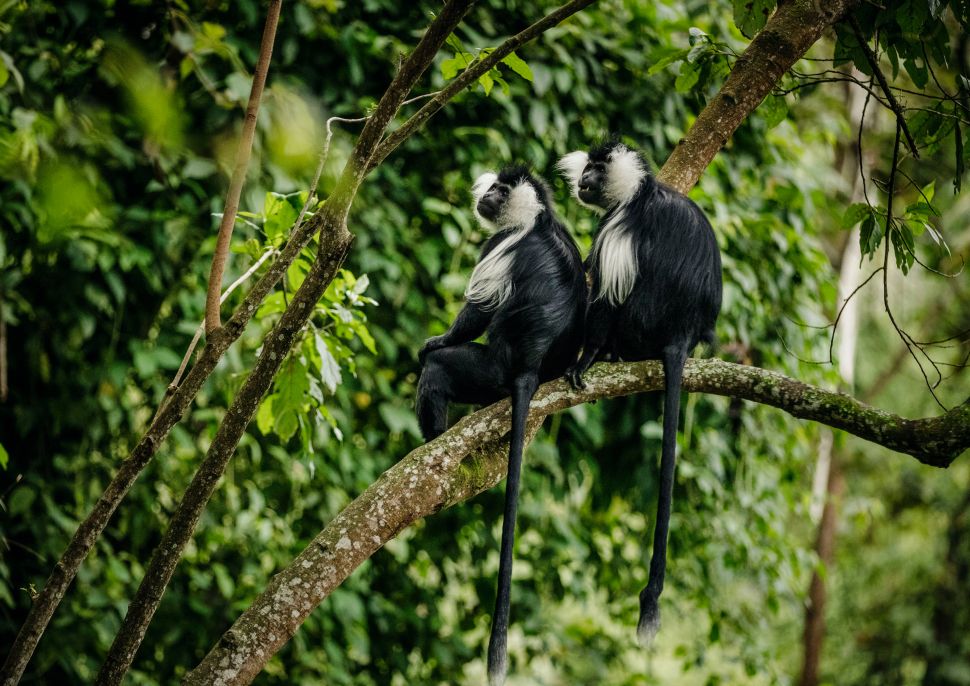 Home to over 20 percent of all the apes in Africa.
The resort sits on the edge of a working tea plantation in the largest and best-preserved rainforest in Africa. It is the eighth One&Only destination, joining a portfolio of properties in Dubai, Los Cabos, the Maldives, Cape Town, Mauritius and Wolgan Valley. Originally developed by the Rwandan government in 2010, the resort was purchased by One&Only in 2017 and renovated into 14 acres of solar-powered, five-star accommodations.
Interiors rooted by traditional Rwandan artwork and design.
The 23 "lodge-inspired" rooms and suites spotlight textiles, paintings, crafts and objects by local Rwandan craftsmen. Post-and-beam frames back into neutral tones. Walls have mountain and plantation views. Fireplaces burn fragrant eucalyptus and peek into complete and total wilderness from which birds, butterflies, moths, orchids (of course they do!), and primates look back.
Dubbed "the most important site for biodiversity conservation in Rwanda" by Birdlife International.
At the center of the resort is Nyungwe House's main open-air dining room where organic, seasonal, farm-to-table cuisine celebrates culture and "the exceptional spoils of the land." An adjoining tea lounge and bar promise "chill-out melodies," cocktails and bites—all of which are also available by the infinity pool, by the small but high-tech fitness center. There is private dining in the tea plantation, and picnics on secluded hilltops.
Spear throwing and archery lessons are included.
The nightly rate covers food, drinks and some activities, like treehouse yoga, kinetic jungle bootcamp workouts, spear throwing and archery lessons, chef's garden tour, exploring on bikes, and on Saturdays, an optional conservation-based volunteer outing. Helicopter tours over the scary-pretty Lake Kivu are à la cart. Other add-ons: chimpanzee trekking, bird watching, stargazing, and hiking across a hanging canopy bridge that swings 196 feet above the rainforest floor.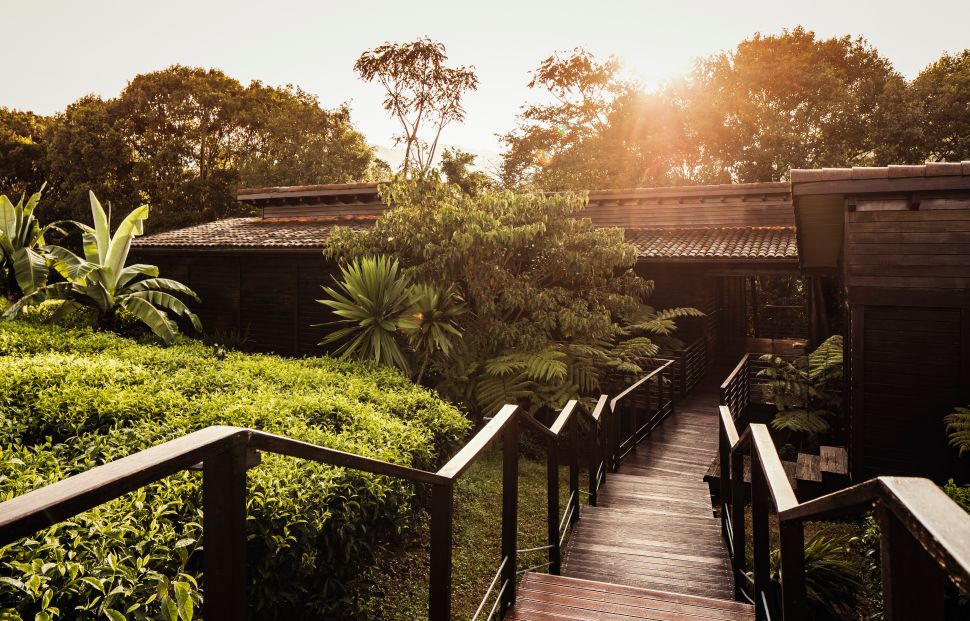 The spa is also farm-to-table. 
Holistic therapies, products and treatments by Africology, a botanical blend sourced in South Africa, include a potato body wrap and a traditional, deep-tissue massage using sticks to release tension.
The best time to visit Rwanda is mid-December to early February.
High season is dry season, and there are two: (1) mid-December through early February, and (2) June through September. The resort is ~150 miles from Kigali International Airport, five hours by car through the Rwandan countryside (transfers for $350 each way). You can also get there by helicopter in 30 minutes ($1,600-$8,500, depending on the number of passengers). Now, where are your khaki shorts?