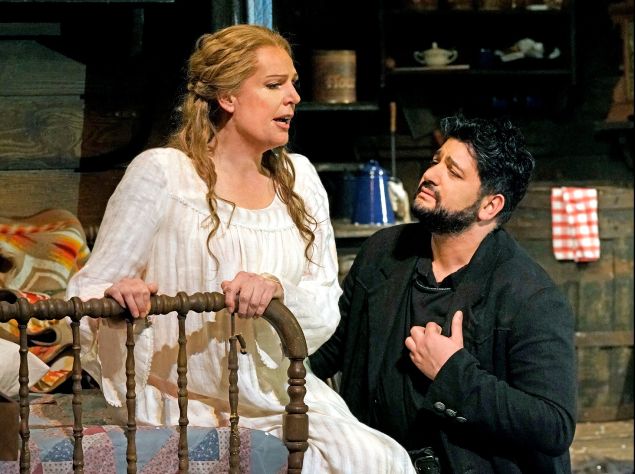 That most fascinating and most heartbreaking of all Puccini's operas, La Fanciulla del West (The Girl of the Golden West) returned to the Met last Thursday in a performance as obliquely bittersweet as the piece itself.
Tears flowed copiously, but one could never be sure whether they were evoked by sympathy with the work's unbearably poignant depiction of nostalgia and loss, or by frustration at the company's slapdash treatment of a masterpiece.
The opera, adapted from a melodrama by David Belasco, not only had an American world premiere (in 1910, at the "old" Met just below Times Square) but is an American subject.
During the California gold rush era, the virginal Minnie takes a break from her bartending duties at the Polka Saloon (which include giving Bible lessons to her gold-mining clientele) for a date with the Sacramento dude Dick Johnson. Although he's secretly a wanted bandit, she falls so in love with him that she challenges the lustful local sheriff to a game of poker, with the stakes her virtue and Johnson's life.
After more complications, Minnie and Johnson are reunited to ride off into the great unknown beyond the Sierra Nevada Mountains: a happy ending, right? Well, yes and no. Their love duet is punctuated by the miners, bereft at the loss of their beloved "Girl," singing a folk song whose refrain is "Far away, back home, will they weep for me?"
So love means loss, and happiness can be won only at the cost of sorrow. Puccini's music strikes this note of ambiguity from the very start, a prelude of great sweeping whole-tone scales, suggesting the infinite potential of an uncharted territory, but also its forbidding loneliness. Arias are few and far between: these people are too conflicted to express themselves in so straightforward a way. But melody and an endlessly varied orchestration make this opera throb with vitality.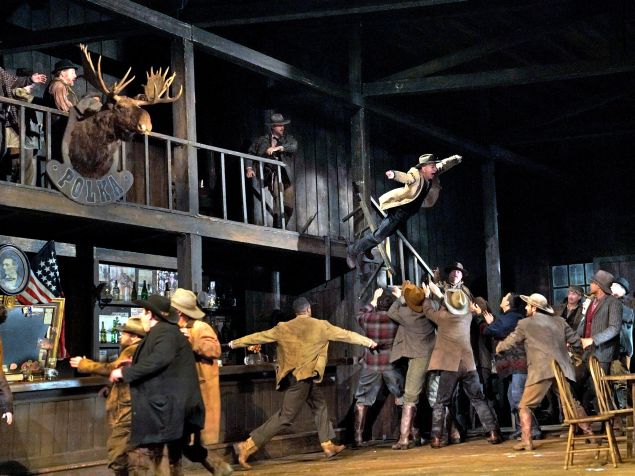 Fanciulla is quite rarely done, and the Met's uneven handling of the piece suggests why. Both Minnie and Johnson are long and wide-ranging roles that must be projected over a powerful orchestra, and on Thursday only the tenor Yusif Eyvazov proved himself up for the task.
His voice, though not quite glamorous, is perfectly true, and in his first time ever singing this tricky part, he proved immaculately musical. Johnson's last act aria "Ch'ella mi creda" offers a tenor almost irresistible temptation to bellow and bawl, but Eyvazov's take was a model of tragic dignity, up to a pair of rock-solid high B-flats.
It's always sad when a singer's voice isn't working, but it's particularly heartrending when, as with Eva-Maria Westbroek's Minnie, the artist clearly has such brilliant intentions.
Puccini's parlando style, depicting the character's humor, shyness and, finally, heroic valor was like a native language for her. Physically, all the soprano needed was a glance or a turn of the head to charm the audience, yet she threw herself with terrifying vigor into the opera's several scenes of physical violence.
But her voice imploded in almost every one of the role's high-lying climaxes: the top C's and even B-flats were not much more than screams. Whether this problem was only on opening night or chronic I can't say, but I can only hope she recovers for later performances: so gifted an artist deserves a chance to wield her full powers.
Ironically, baritone Zeljko Lucic, who had a cold, sounded just fine, though his laid-back, lazy demeanor on stage was dissonant with the feral character of Sheriff Jack Rance. The gigantic supporting cast and especially the chorus sounded more than mighty enough to conquer the west.
A particular delight was Michael Todd Simpson in the cameo role of Sonora, to whom Puccini imaginatively assigned the climactic moment of the opera. As the miners decide to pardon Johnson, Sonora sings to Minnie "Le tue parole sono di Dio." ("Your words are from God") Simpson's soaring baritone made this gorgeous phrase really sound like it descended from Heaven.
Conductor Marco Armiliato settled for safe routine and moderate tempos, the last things this bat-out-of-hell score needs. Worse, the heavy faux-naturalistic sets from Giancarlo del Monaco's antiquated production framed what was at best rudimentary lurching instead of motivated stage movement. The fateful poker game was half-obscured behind a needlessly enormous staircase.
All this heaviness and enormousness may win a few patters of applause when the curtain goes up, but they also lead to long intermissions, totaling close to 90 minutes on the first night. That stretches this compact opera, barely 2.5  hours of music, to a playing time of nearly four hours.
Not only does all this down time stunt Fanciulla's momentum, it limits the potential weekday audience to those who can sleep in the following morning or else function on less than six hours of slumber.
That's a damn shame, because even in the Met's less than optimal presentation, this is an opera that will rip your heart out.