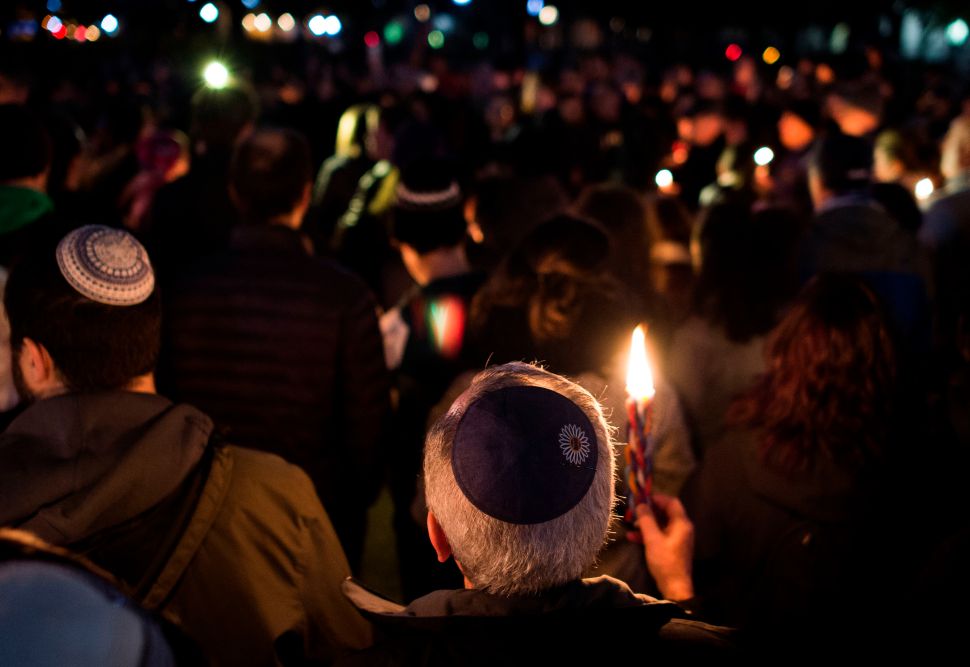 Over 3,000 people attended a candlelight vigil this weekend at the Jewish Community Center of Squirrel Hill, the Pittsburgh neighborhood where Saturday morning's mass shooting, which left 11 people dead, at the Tree of Life synagogue took place. Turnout for the event spilled out into the streets.
Pennsylvania State Representative Dan Frankel, who has represented Squirrel Hill for 20 years, said he has faith that Squirrel Hill's tight-knit Jewish community will rebuild. "The Jewish community and Jews know how to deal with tragedy," he said. "We have a sense of resilience."
In Chicago, hundreds attended an interfaith gathering in honor of the 11 Pittsburgh victims and two black people fatally shot in Kentucky on Wednesday during what appeared to be racially-motivated hate crime.
Subscribe to Observer's Politics Newsletter
Emmanuel Garcia, an organizer with Chicago's Latino LGBTQ community, likened the Pittsburgh synagogue shooting to the deadly shooting at the Pulse nightclub in Orlando, Florida. He also drew similarities to the way people of various backgrounds came together to show support. He said he came to the Chicago interfaith gathering because he remembered how many people had come to support his community after Orlando's shooting, and he wanted to do the same for another community.
"That happened at a nightclub, and this happened at a synagogue," Garcia told The Chicago Tribune. "There isn't a place for people to be in fellowship with each other."
Similar vigils were held at Jewish community centers, synagogues, universities and in downtown squares across the nation and the world.
On Sunday, Pope Francis led prayers in St. Peter's Square, where he said he is grieving with the Jewish community. "All of us are wounded by this inhuman act of violence," he said.
Despite the widespread grief, efforts to rebuild the Squirrel Hill community have already begun. Advertised on social media, fundraisers to help with costs associated with funerals, shivas, medical care and reconstructing the building that holds three synagogues, including Tree of Life, have already raised hundreds of thousands of dollars.
In partnership with the Muslim Center of Pittsburgh, a campaign started by two Muslim groups called "Muslims Unite for Pittsburgh Synagogue" reached its initial goal of $25,000 in six hours, and has since raised over $100,000. In response, the fundraiser adjusted its fundraising goal to $125,000, which it has now met.
Here is a list of some of the current crowdfunding campaigns that benefit the Squirrel Hill community: