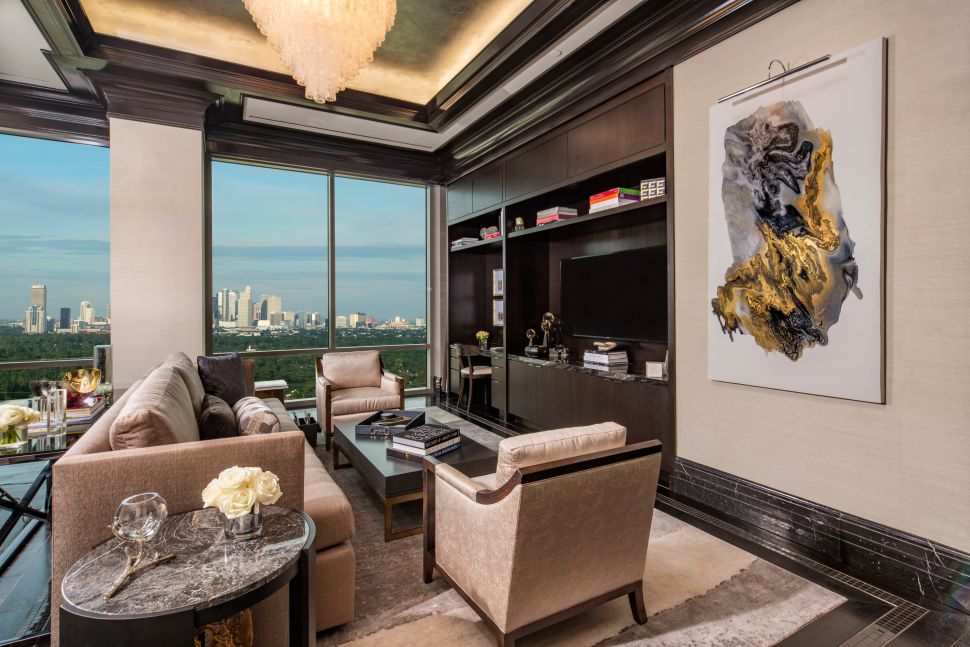 In 2017, billionaire businessman and reality TV star Tilman Fertitta broke NBA records when he bought the Houston Rockets for $2.2 billion. The Texas-sized news grew even bigger when Fertitta vowed not only to keep the team in its hometown of Houston, but also to give the city a world-class hotel. So far, Fertitta has made good on both promises. Unveiled in March of this year, his Post Oak Hotel rises a sleek 38 stories above 10 cheery, oak-studded acres in the center of Uptown Houston, offering the exact sort of five-star luxuries you'd expect from the mogul owner of the seventh most valuable NBA team.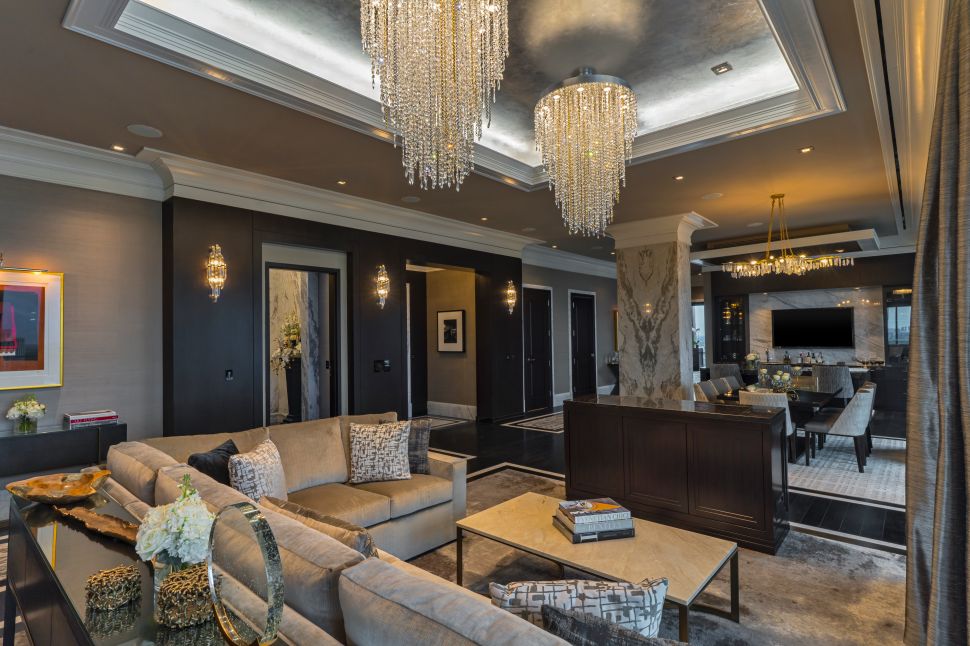 At $12,000 per night, the Post Oak Hotel's pièce de résistance is its 5,000-square-foot Presidential Suite.
A dedicated elevator shuttles guests from the parking garage to the Presidential Suite to the Post Oak's rooftop heliport, eventually stopping on the 25th floor and opening to 5,000 square feet of veined Calacatta marble that climbs the 10-foot ceilings and walls of the otherwise Mahogany-framed two-bedroom space. The suite is nestled in an ultra-discreet corner of the hotel equipped with its own private fitness center, media screening room, living room, dining room, home office, 10 widescreen televisions, a 350-square-foot terrace and a pantry attended by 24-hour butler service. 
Eleven chandeliers illuminate a museum's worth of modern art.
The epitome of textured ambience, the suite is adorned with 11 sparkling crystal, agate and gold-leaf chandeliers whose light bounces between Christofle and Hermès decorative accents before settling on the plush velvet upholstery, hand-knotted silk rugs and fine Italian linens. A multimillion-dollar collection of modern art fills the space (you'll also spot works by Robert Motherwell, Oscar Saborio, Frank Stella, Alex Katz, Donald Sultan, Joseph Glasco and Howard Hodgkin throughout the hotel). Patron that he is, this month Fertitta welcomed Ashley Longshore to Post Oak, steering nearly all of Houston's A-List to bid upon the artist's pop-inspired paintings. 
Subscribe to Observer's Travel Newsletter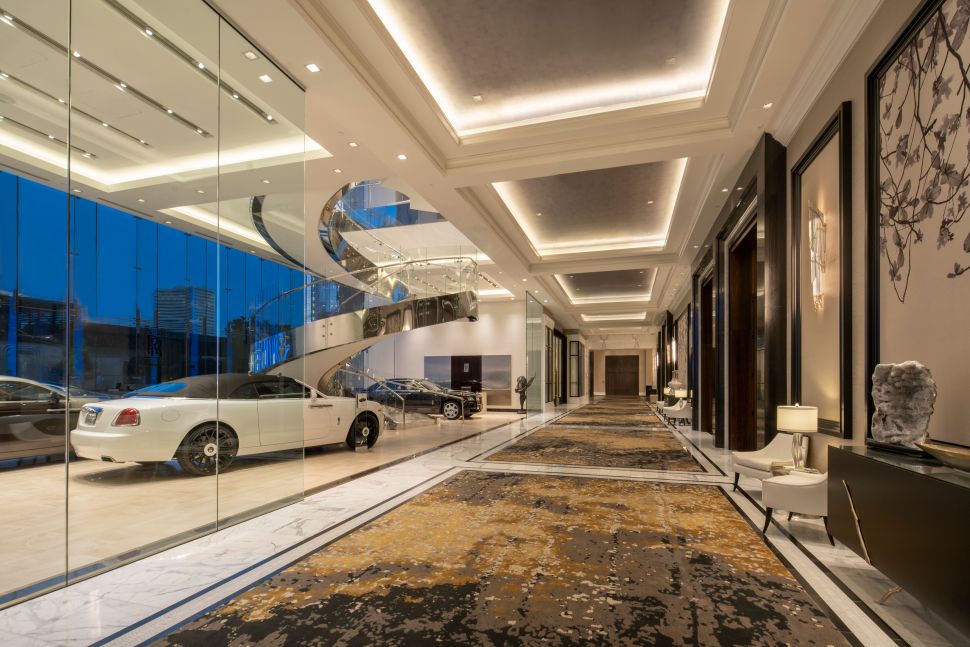 You can charge a Rolls-Royce to your room.
In addition to 250 guest rooms, 20 executive residences and the largest ballroom in Houston, Fertitta's $350 million property is also home to Post Oak Motor Cars. From the ground level, a gleaming spiral staircase connects to the second story of the two-floor Rolls-Royce showroom and Bentley and Bugatti dealership. It's all an extension of Rolls-Royce Houston, the largest Rolls-Royce dealership on the Gulf Coast. And yes, you can charge a car to your room.
And your dog can order room service.
A very pet-friendly hotel, the Post Oak offers three somewhat lavish room-service options for dogs: chopped and roasted filet mignon, eggs scrambled with salmon and banana "a la bark," which is presumably dessert. Proper humans can dine at any of the three main restaurants, where seafood, steak and traditional Southern fare is prepared. A craft beer bar serves pizza and pub snacks, a full-service cocktail lounge mixes libations and a 30,000-bottle wine cellar holds more than $3 million worth of vintages dating back to the 1800s.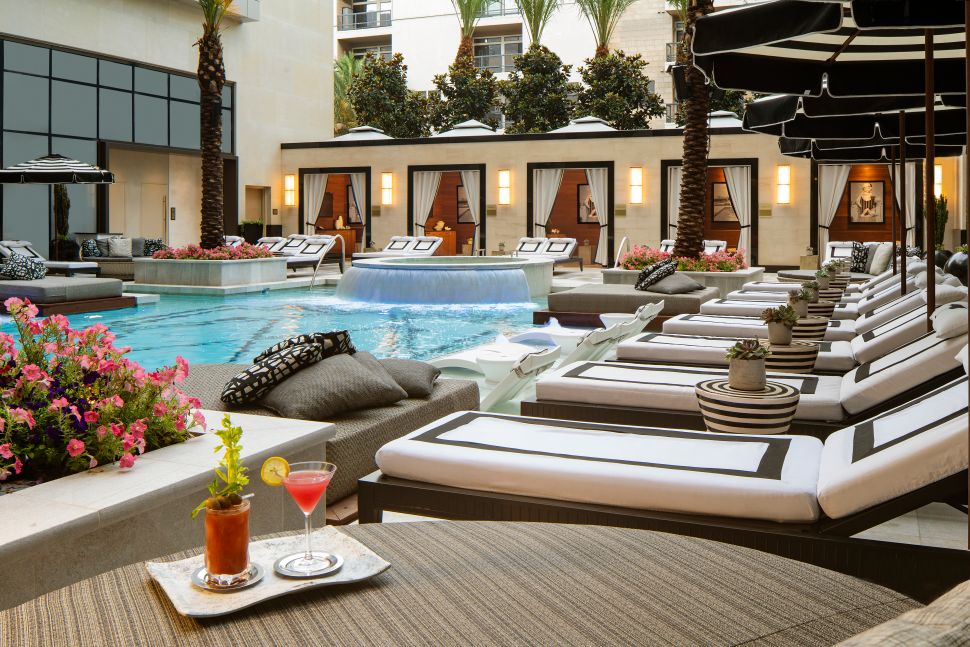 The Post Oak is one of just two hotels in Texas awarded the Five-Diamond rating.
In September, a mere six months after opening, Fertitta's fulfilled his "best of" dreams when the Post Oak Hotel joined the Ritz-Carlton in Dallas as one of just two hotels in Texas with a AAA Five-Diamond Rating. Only 89 hotels hold this distinction in the United States, including the One&Only Palmilla, The Beverly Hills Hotel, The Park Hyatt New York, and several stays from the Four Seasons, St. Regis and Ritz. It's an impressive yet unsurprising achievement for a man who eschews the notion of ever being in "budget mode."