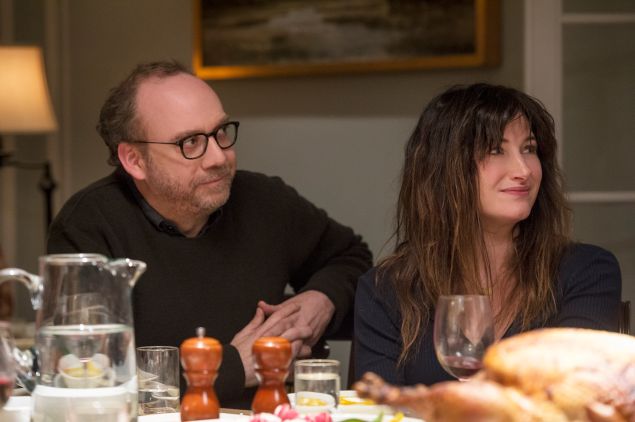 It should not be this way. We should not have to wait a decade for a new Tamara Jenkins movie. We should be treated to her urbane, profoundly intimate, and deeply funny worldview more often than we encounter, say, the census or a global recession. 
Woody Allen has made twelve films since Jenkins' last movie; her searingly funny The Savages, came out in 2007. That alone is grave injustice for all film lovers, especially those who appreciate stories about over-educated New Yorkers writing books and wrestling with their neurosis, a milieu Jenkins mines for comedy perhaps even better than Allen did in his prime.
Fittingly, Jenkins' latest is about the passage of time, and the fertility industry that thrives on the idea that if we spend enough money on drugs and treatments we can somehow deny it. Which is to say, Private Life is as an "IVF comedy"—and if you or someone you know has ever gone through that soul and bank account draining process, I know that descriptor will sound as oxymoronic as "jumbo shrimp." But finding comedy when people are at their most vulnerable is precisely the vein from which Jenkins (whose 1998 film The Slums of Beverly Hills has become something of a cult classic) strikes cinematic gold.
Subscribe to Observer's Entertainment Newsletter
For Richard and Rachel (the inspired pairing of Paul Giamatti and Kathryn Hahn), their Alphabet City, rent-controlled bohemia wears a bit uneasy now that they are careening towards their 50s—kind of like that leather jacket Richard still insists on sporting.
After spending their prime years devoted to creative endeavors—she's a novelist trapped in the women's fiction ghetto and he's a one-time experimental theater director turned artisan pickle maker—they have taken a scorched earth policy to becoming parents. In addition to borrowing money to pay for the increasingly complex in vitro fertilization procedures, they are looking into adoption and meeting with perspective birth mothers who are as likely to ghost them as Tinder matches.
The best jokes come from the specificity of their experience. Just before inseminating her, her IVF doctor (the always good Denis O'Hare) asks Rachel, "Do you like prog rock?" When she has blood drawn between treatments on Halloween, the nurse is wearing devil horns. As things get particularly dicey, Richard bellows, "Why do I feel like I am in a Wendy Wasserstein play?"
---

PRIVATE LIFE ★★★1/2
(3.5/4 stars)
Directed by: Tamara Jenkins
Written by: Tamara Jenkins
Starring: Kathryn Hahn, Paul Giamatti, Kayli Carter, Molly Shannon, John Carroll Lynch, Desmin Borges and Denis O'Hare
Running time: 132 mins.

---
They get a bit of a Hail Mary in the form of Sadie (Kayli Carter, a New York stage actor currently starring in the Netflix series Godless), their step-niece, an aspiring writer who can't seem to finish up her time as a Bard undergraduate with an actual degree. Together they devise a plan to have Richard artificially inseminate one of Sadie's eggs that Rachel will carry to term. ("What does that make me, the bellhop?" says Rachel.) The scheme does not go over well with Sadie's judgmental mother, played by a brilliantly cast Molly Shannon.
The film gets a lot of mileage out of the quotidian parts of New York City life, from the Wild Nova at Russ and Daughters to opposite side of the street parking. As a result, it's a little long and leisurely. However, fueled by Rachel and Richard's baby mania, it never drags. Given the topic, the film is often cringeworthy, and it can be an especially challenging (though perhaps cathartic) watch if you've experienced IVF firsthand.
Which brings us to the biggest problem with Private Life. This is a movie that should be holding you in its sweaty palm for its whole two hours, not letting you off the hook by allowing you to pause it to fold laundry or answer email. But as a Netflix release, with a very, very limited number of cinemas holding showings (only a single theater in L.A.), those of us who didn't catch it at a film festival will most certainly be watching it at home and not on the big screen. That's not only a disservice to Tamara Jenkins and her wonderful characters, but also to pretty much everyone who loves movies.