Qatar Airways is gearing up for a big takeoff this fall.
The Middle Eastern airline is the exclusive global launch customer of the new Airbus A350-1000 plane, which took its first flights on the Doha-London route in February. Now the aircraft is expanding its reach, beginning journeys from New York on October 28. It's the first time the plane will fly to and from the United States.
The new airbus is 23 feet longer than the A350-900 (for which Qatar Airways was also the launch customer), and its features include full-mood LED light settings to minimize jet lag and eight adjustable cabin temperature zones to offer more precise control over the air throughout the plane. It also provides even more seats in its QSuite Business Class cabin—Qatar Airways became the first and only airline to offer a double bed in Business Class when it took its first flight with QSuite to London in June 2017 (it quickly took on other international routes).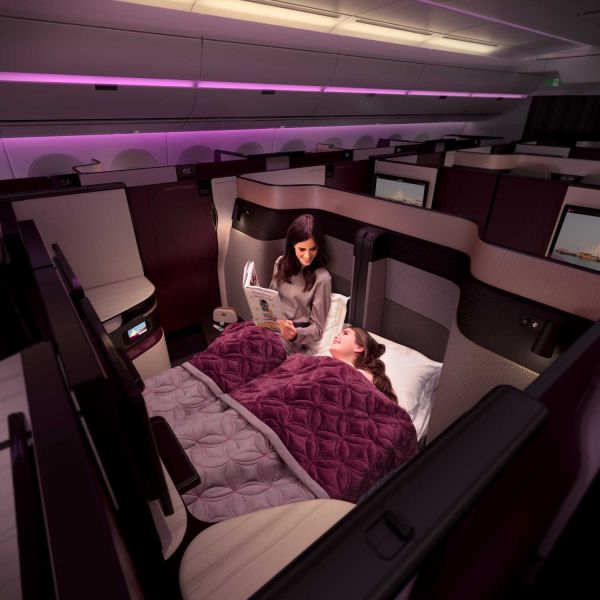 The larger plane also allows for a two-class Business cabin, composed of 46 seats in a 1-2-1 configuration. All of the seats have a "suite" feature, with closing doors, but the middle seats convert into double beds and have open-suite features (if you're that rare person who doesn't mind human contact on a flight).
For those traveling on business trips and family getaways, the setup is ideal. The center four seats have adjustable panels and moveable television monitors (with more than 4,000 entertainment options), so flyers can transform the space into an open area for co-working or just decompressing over cocktails. And when you've had enough of your suite mates, you can turn it right back into a private suite.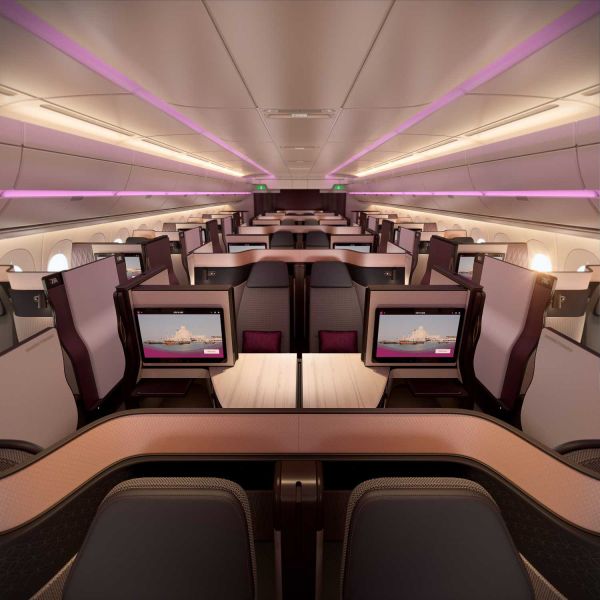 As with all of Qatar Airways' QSuite cabins, the 79-inch-long, 21.5-inch-wide beds lie flat at 180 degrees, and their fabrics are burgundy and gray with rose gold details (a true #luxury signifier). Passengers can turn on the Do Not Disturb sign for total en-route peace, and the suites are equipped with BRIC amenity kits with Castello Monte Vibiano skincare products, as well as sleepwear from The White Company for overnight flights.
As for the price of all this in-air luxury? It's expected to be around the same cost as the current round-trip QSuite flights from New York to Doha, which is in the $9,000 to $11,000 range—but if you're flying during a particularly busy time, individual flights can cost as much as $7,000 each way.
Perhaps it's time to start saving.