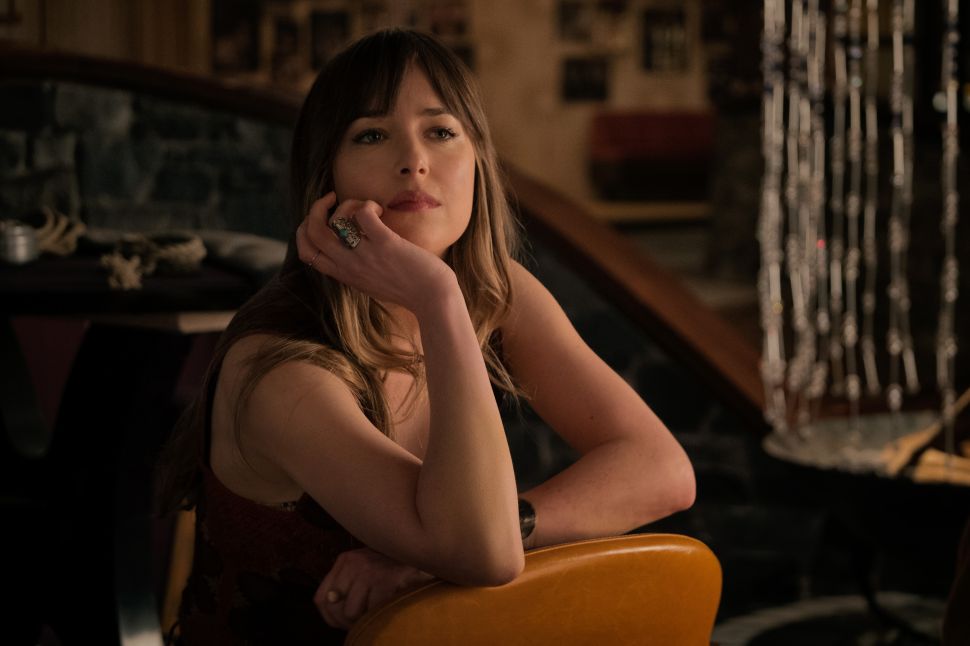 Half modern western, half thriller, an unspeakable waste of time called Bad Times at the El Royale is depraved, self-indulgent trash that is a narrative mess and, at nearly two-and-a-half hours in length, seems to go on forever. An over-written, convoluted mistake from out-of-control writer-director Drew Goddard, who made the vile horror satire The Cabin in the Woods, it's another reminder that in today's Hollywood, the inmates are not only running the asylum. They're financing it—and marketing it, too.
Subscribe to Observer's Entertainment Newsletter
Here's as much as I could make out of the meandering plot. A gang of crooks from Central Casting hide a bag full of money under the floor of a beat-up hotel in the middle of nowhere in a godforsaken part of Nevada. Ten years later, in the 1970s, seven strangers check in under false names and pretend to be somebody they aren't.
---

BAD TIMES AT THE EL ROYALE ★
(1/4 stars)
Directed by: Drew Goddard
Written by: Drew Goddard
Starring: Jon Hamm, Jeff Bridges, Cynthia Erivo, Dakota Johnson, Chris Hemsworth, Lewis Pullman
Running time: 141 mins.

---
Jon Hamm is Laramie Seymour Sullivan, a flashy vacuum cleaner salesman from Biloxi, Mississippi with a Southern accent as phony as his name. Jeff Bridges is a hard-drinking priest named Father Flynn. Cynthia Erivo plays Darlene Sweet, a singer on her way to Reno.
Dakota Johnson, trying to rise above her misguided roles in the Fifty Shades franchise, plays a sex kitten named Emily Summerspring who arrives with handcuffs, an assault rifle and a kidnap victim in tow, and signs the register "Fuck You." The girl she seems to be holding hostage is really her younger sister, who she is really trying to rescue from the clutches of a cult leader named Billy Lee (Chris Hemsworth).
Herding them all together and watching them through two-way mirrors is a creep called Miles (Lewis Pullman), the shy, mild-mannered desk clerk/bartender who is really a vicious serial killer. The hotel, somewhere on the outskirts of Lake Tahoe with one-half of the garishly appointed rooms in Nevada and the other half in California, has been abandoned since it lost its gambling license. Nothing good can come of a place with purple velvet walls and heart-shaped beds with fuchsia sheets, and the bad times that are about to begin are pre-ordained.
Through myriad flashbacks and interminably overstuffed dialogue, it's clear that everyone has a secret.  After the vacuum cleaner salesman is caught making urgent phone calls to J. Edgar Hoover, Jon Hamm is the first to die, which leaves a gap in the film from which it never recovers. The priest is really a thug who is searching for the hidden money, although he can't remember if it's in Nevada or California. The singer bashes in the head of the priest who tries to get into her getaway car with the wires cut out by the dead FBI man, but climbs in anyway, saying "Well, I guess we're in a bit of a pickle." By this time the audience at the screening I attended was laughing so hard I couldn't hear what came next.
Then the cult leader shows up and struts around killing people while stripped to the crotch, allowing Australian hunk Hemsworth multiple chances to display his camera-ready torso. Whoever he doesn't kill, the desk clerk finishes off while shooting up with heroin. The dialogue is sub-mental, the able cast is drawn and quartered like naive lambs to the slaughter. I always wonder how this junk gets made, but this time I am baffled by why so many good people allowed themselves to get suckered into such a cinematic dog.
I kept hoping it would somehow all make sense, but no such luck. Before Bad Times at the El Royale ends in a predictable splatter of Quentin Tarantino-inspired bloodshed and violence, there are only two people in the cast still alive—but if you're foolish enough to sit through this fiasco to find out who they are, you will hate yourself in the morning.