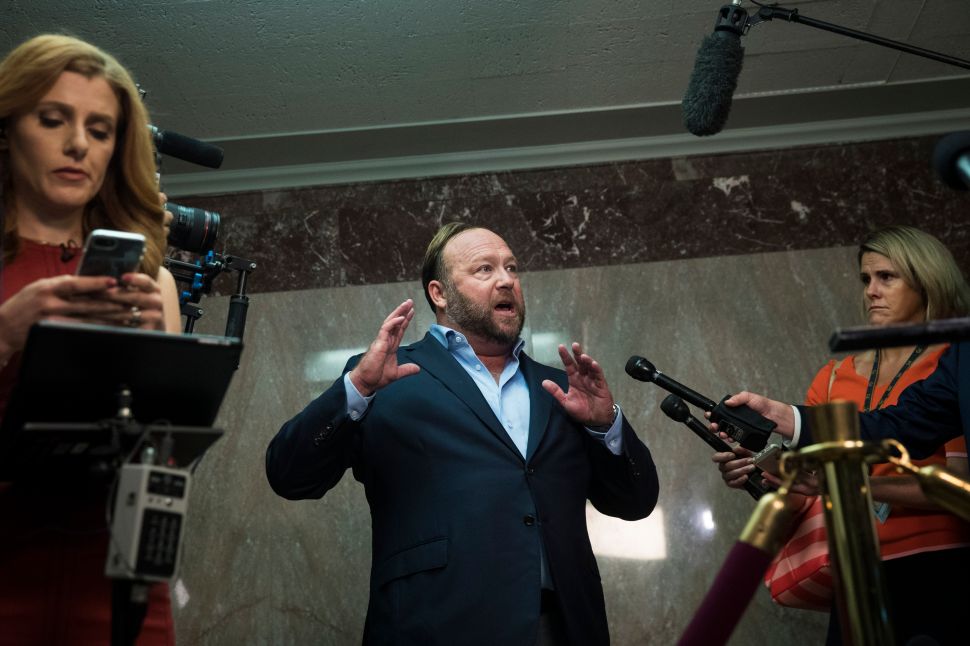 After suspicious packages were found at the homes of liberal political players and CNN's New York headquarters on Wednesday morning, a cabal of conservative pundits went into overdrive to push conspiracy theories that the threats were hoaxes.
"I'm not buying it. All all," tweeted far-right "investigative journalist" Laura Loomer to her 232k followers shortly after CNN's offices were evacuated. "Less than 2 weeks before the midterm election?"
In a since-deleted tweet, Newsmax host John Cardillo also promoted the narrative that the packages were part of a political agenda to influence the midterm elections, writing that their timing was "too coincidental."
Subscribe to Observer's Politics Newsletter
Kurt Schlichter, a conservative columnist at Townhall, called the threats "a hoax" numerous times on Twitter.
The suspicious packages arrived after a pipe bomb was found at the Westchester home of billionaire Democratic donor George Soros on Monday.
"It is not surprising to see the near-instant development of a 'false flag' narrative emerge from the Right following the news of these suspicious packages, as we see happen in these spaces after almost every major tragedy or world event that reflects poorly on conservatives," Jared Holt, an analyst at Right Wing Watch, told Observer. "These crowds frequently accuse George Soros, Hillary Clinton, Barack Obama and CNN figures of working in tandem to undermine the world, and those claims have been amplified by Republicans in the upper echelons of government power and conservative media prowess."
"Hoax" rhetoric is already being pumped into conservative organizations allied with the White House. Frank Gaffney, the founder and president of the Center for Security Policy, tweeted that it was possible the person who sent the bombs was "trying to deflect attention from the Left's mob."
Gaffney is often accredited with laying the rhetorical foundation for the Trump administration's hardline immigration platform— a poll from his organization was cited on the president's campaign website during the 2016 election.
Far-right conspiracy theorists aren't the only ones fueling a news cycle of disinformation. CNN reported on Wednesday that another suspicious package was also delivered to the White House, prompting the Secret Service to issue a statement disputing this account.
"Reports of a third intercepted package addressed to the WH are incorrect," wrote the law enforcement agency on Twitter.