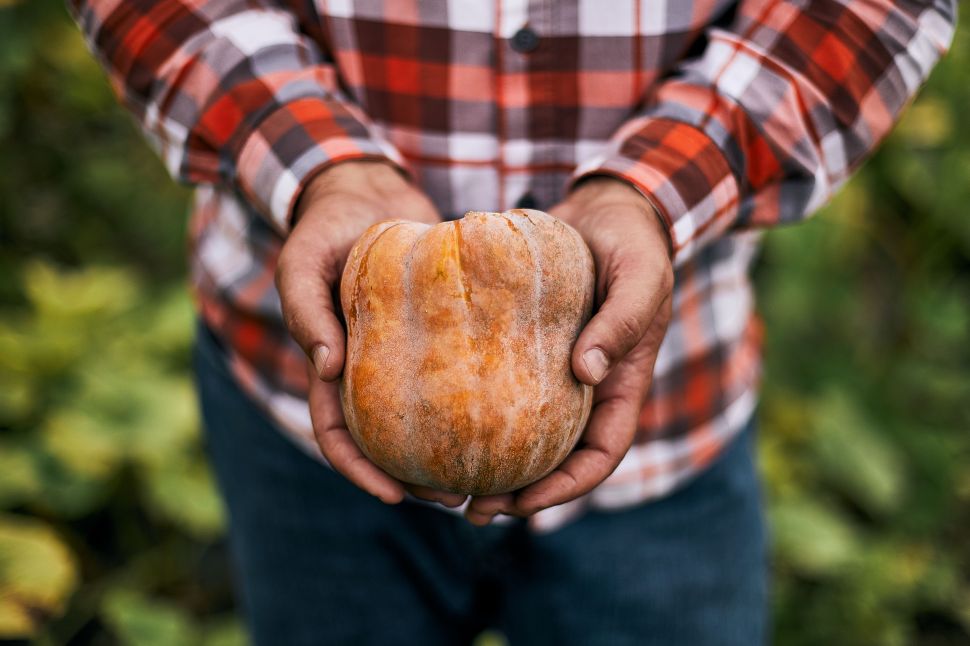 Not long ago, I found myself in possession of a new vegetable: not just new to me, but novel. A newfangled breed. It was a winter squash called Robin's Koginut, and it was about the size of a shot put, with a faintly cuboid shape and pleasing curves that called to mind an Apple product. When I split it apart, its flesh was dense and brilliantly orange. Roasted, it turned soft, sweet, and slightly citrusy, as if it had somehow been seasoned along the way with orange zest. The squash was the brainchild of Row 7, a new seed-selling concern co-founded by the renowned chef Dan Barber, a vegetable breeder named Michael Mazourek, and Matthew Goldfarb, a seedsman. And if there's such a thing as an "it" vegetable, Sweetgreen, the upscale salad chain, is betting that Robin's Koginut Squash is it.
Row 7's vegetables rely on a simple selling point: Mazourek has bred them to maximize flavor and nutrition, rather than considerations like yield and uniformity that have dominated such efforts for decades. Among the Koginut's special features, for instance, is an in-built "ripeness indicator," with the squash turning from green to gold on the vine when it's ready to be picked, which helps ensure peak flavor consistency. Row 7 launched to the public this past February with a slate of seven never-before-seen varietals: three winter squash of varying textures and flavors, plus the Badger Flame beet (Cheeto-orange and very sweet), the Habanada pepper (all the flavor of a habanero, without the heat), the Upstate Abundance potato (uncommonly buttery), and the intensely fragrant but not-so-evocatively named 7082 cucumber. Now, it was time to grow them at scale.
As with most projects spearheaded by Dan Barber—the chef and co-owner of Blue Hill restaurant, who has achieved legend status in restaurant circles for marrying haute cuisine with a thoughtful approach to ecology and conservation—word of Row 7 traveled through the food world fast, and had landed in the California offices of Sweetgreen even before the company's official launch. The two made a natural pair. Row 7 was in the business of making vegetables craveworthy; Sweetgreen, which sources most of the ingredients used in its 90 stores directly from farms, has made a rip-roaring success of catering to eaters already sold on the merits of trading cheeseburgers for kale.
Subscribe to Observer's Daily Newsletter
Despite the fact that the Koginut squash had been grown only at a handful of farms in the northeast, the salad chain went out on a limb and committed to an order of 100,000 seeds in time to plant them at six farms around the country last spring. "What we're doing with Koginut squash is more risk than we usually take, and way more risk than any restaurant at our scale takes," said Sweetgreen co-founder Jonathan Neman.
Beginning November 1, Sweetgreen customers around the country will be able to taste the result: the Koginut Squash by Dan Barber bowl, which combines the roasted squash with organic spinach, wild rice, pears, lemony fennel, fresh basil and goat's cheese. Here, instead of steelhead or roasted chicken, the Koginut will be the star of the show. Even before the bowl hits stores, the company has already doubled down on Row 7 by planting a crop of their Badger Flame beets—which will offer a sweeter, crunchier alternative to the raw beets Sweetgreen uses throughout their menu, and are slated to appear in stores in January.
Sweetgreen isn't the only restaurant chain taking innovation to the ingredient level. Dig Inn, another better-for-you fast casual chain with 23 locations in New York and Boston, has partnered for the past two years with a local non-profit called Seedshed that works to promote agrobiodiversity. Last year, the two paired up on a field trial for a forgotten breed of escarole; this year, they have cultivated miniature heads of lettuce, bred for flavor and heat resistance, that consumers will find only on Dig Inn's menu.
Tender Greens, which is based in southern California but has recently put down roots in the Northeast, will soon unveil a partnership with the Crop Trust, an international organization with a mission similar to Seedshed's. Tender Greens' chefs have begun testing recipes with fonio—a high-protein grain that is native to Africa and reminiscent of quinoa—which will appear on the menu in the first quarter of next year. Tepary beans, which are exceptionally well-suited to warming climates, are up next. Tender Greens co-founder Erik Oberholtzer says he believes that working with these new and unusual ingredients will be a differentiator for the restaurant, not only in a culinary sense, but in terms of the "higher purpose" that it communicates to guests.
All three collaborations speak to the extent to which the farm-to-table ethic has trickled down from fine dining to everyday fare; a decade or two ago, back when counter service chains were synonymous with dollar menus and encouraging customers to Supersize their order for 25 cents more, the idea that casual restaurants would be competing on the special nuances of their vegetables and whole grains would have been unthinkable.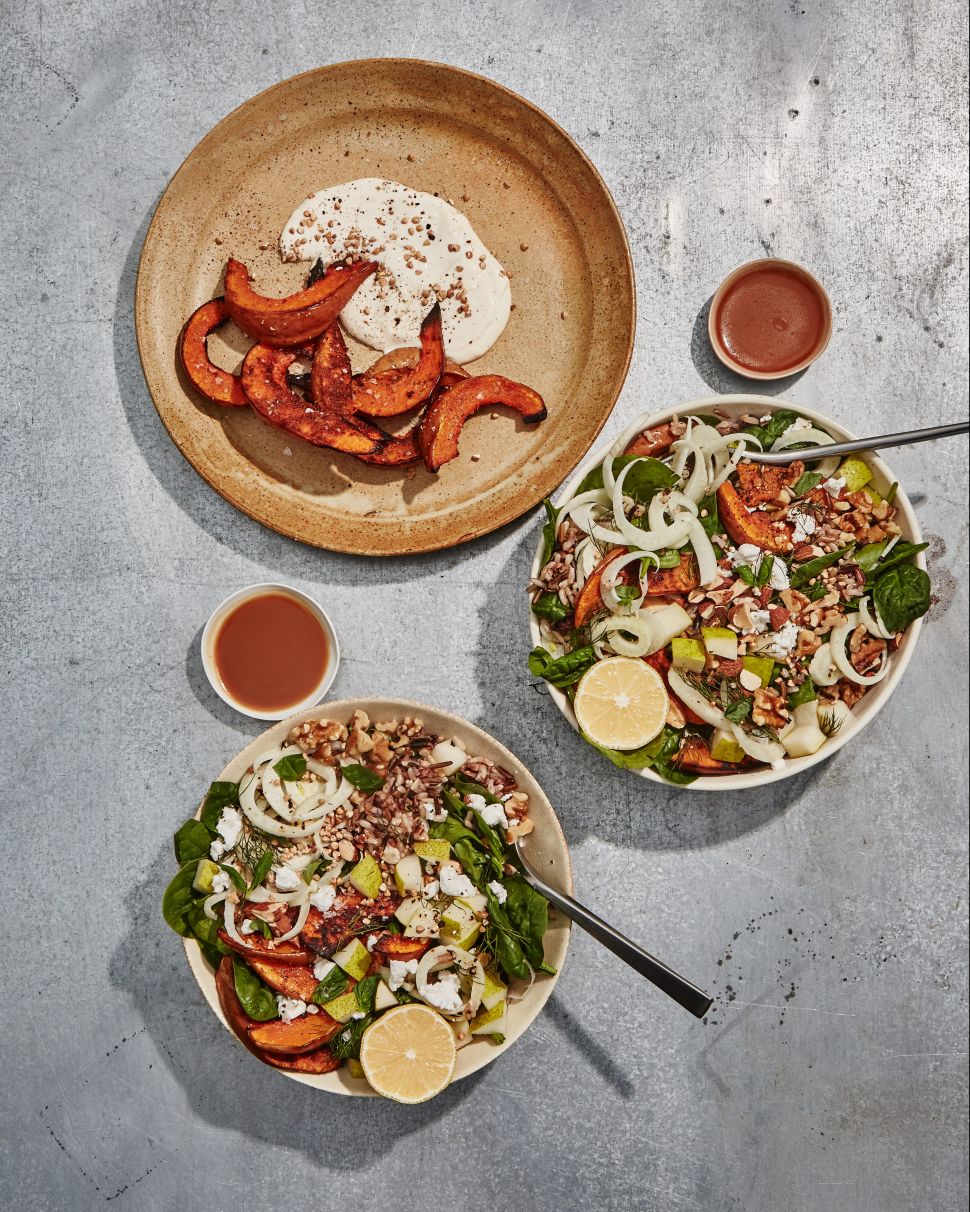 Such relentless innovation indicates, too, just what it takes to maintain an edge in today's ultra-competitive restaurant industry. The number of dining establishments in America has been growing at about twice the rate of the population, while overall traffic to restaurants is stagnant or shrinking. The battle for customers has never been fiercer. Alliances like the one between Sweetgreen and Row 7 constitute a particularly canny marketing strategy, not only in terms of furnishing a gotta-have-it vegetable, but linking together two of the food world's most powerful brands. Sweetgreen certainly understands the value: Barber's name is part of the new Koginut bowl, after all, and the brand's efforts to market it have included a broadsheet-sized circular featuring Row 7 in stores, a slickly produced origin story video, and a dinner last month hosted by Sweetgreen for friends and influencers at the lavish private events space of Blue Hill at Stone Barns, Barber's flagship restaurant in Pocantico Hills, New York. To max out the potential, the Koginut will also appear in a side dish, conceived by Barber, called "Roasted Squash Fries," which come with smoked goat cheese, toasted buckwheat and black lime. And customers will be able to pick up their own Koginut to cook at home.
If the fashion industry is any indication, we can expect to see more of these partnerships pop up in the food world. Clothing retail has been taking high-low collaborations to the bank since Target launched a collection by Isaac Mizrahi in 2003; it was a spectacular success, and that strategy has spread across the industry from H&M to Uniqlo and well beyond. "It's all about new audiences," explains Becca Parrish, the marketing guru behind food-world publicity firm BeccaPR. "When it works and doesn't feel gimmicky is when there really is natural brand alignment, and the story resonates. When the audiences are from the same tribe."
Done well, alliances like these allow a mass-market brand to build cache, and an esoteric one to widen its reach. A Sweetgreen bowl anointed by Dan Barber offers a hint of Blue Hill for those who can't afford the $258 tasting menu; each salad, meanwhile, brings Barber's fledgling seed company a little closer to the mainstream.
"The whole point of launching Row 7 was to take the idea that we've been working on for a decade,  get it out of the white tablecloth cathedral of Blue Hill, and make it a part of everyday food," Barber told me. "Sweetgreen is an example of that happening even sooner than we dreamed."