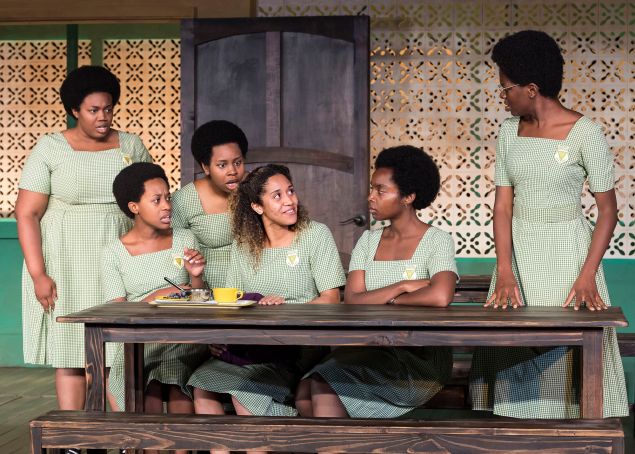 The students in Jocelyn Bioh's School Girls; Or, the African Mean Girls Play are hoping—with varying degrees of confidence—to be chosen to represent Ghana in the Miss Global Universe beauty pageant. At the risk of co-signing to the racist and misogynist standards of such toxic contests (SWM reviewing here), I say: Let's give these girls an award. Congeniality? They put up with so much undermining crap from queen bee Paulina (MaameYaa Boafo)—who criticizes their weight, clothes and hair—and still smile. Talent? This eight-member ensemble is a well-oiled machine. Formal Wear? The Aburi Girls Boarding School uniform looks right smart. Too bad the game's rigged.
Even the least woke viewer would be unsurprised by the fact that beauty competitions have historically favored white women from mostly European countries. But the young women in School Girls—set in rural, mountainous Ghana in 1986—believe that through hard work and pluck, they can rise above their humble origins. That goal and peer pressure maintain the tight circle around Paulina that includes plus-size, self-possessed Nana (Abena Mensah-Bonsu), studious Ama (Latoya Edwards) and the playful, wisecracking duo Mercy (Mirirai Sithole) and Gifty (Paige Gilbert).
Keeping her friends on a tight leash and basking in their compulsory compliments, Paulina assumes that the tiara is hers to lose—until Ericka Boafo (Joanna A. Jones) saunters into Aburi. Pretty, light-skinned and American, Ericka threatens to drain Paulina's mojo and steal her spotlight. When talent scout Eloise Amponsah (Zenzi Williams)—Miss Ghana 1966—visits the school to find the perfect girl, Paulina is locked in a life-or-death popularity struggle for Eloise's approval. To win, she'll do anything: steal Ericka's school file, blackmail her friends, even smear skin-bleaching cream on her face.
Subscribe to Observer's Arts Newsletter
The last plot element tips School Girls from pecking-order teen comedy (of which there's tons) into stomach-churning drama. The play is set more than thirty years ago, but the skin-lightening industry is very much with us today. Last year, worldwide sales of melanin-suppressing pills, as well as creams and scrubs topped $4 billion. The product Paulina turns to in despair is barbaric; it burns and blisters her skin, causing her cheek to bleed. Bioh, a shrewd comic writer of obvious gifts, doesn't shrink from the uglier side of her subject. And she maintains enough empathy to redeem even the most narcissistic and spiteful of antiheroines.
As Paulina, Boafo is wickedly funny and surprisingly vulnerable, a preening alpha girl who, privately rehearsing answers to questions from imaginary contest judges, shows the pathetic cracks in her armor. With a thousand-watt smile and a death-stare that can slice through concrete, Boafo is both ingenue and villain—a rare balance. Her pitiless drive to win is both an aberration and rational adaptation to her surroundings. Jones' Ericka proves a natural enemy: a shy newcomer who quickly acclimates to the admiration she draws from other girls (she's been to a Bobby Brown concert!). As the voice of reason and authority, Headmistress Francis (Myra Lucretia Taylor) can mother and protect her girls just so far. (In one of her subtler touches, Bioh shows how former schoolmates Eloise and Francis slip back into their youthful social roles of mean girl and resigned follower.)
I saw and adored School Girls last fall, and good on MCC Theater for bringing it back (with three new cast members, all excellent). Rebecca Taichman (Indecent) recreates her very musical, funny and tight-paced 70-minute production, which includes vivid costumes by Dede Ayite, a propulsive sound design by Palmer Hefferan and one of the most appealing ensembles on stage now.
Inspired by a controversial 2011 Miss Ghana contestant, and her mother's schoolgirl memories from Aburi, Bioh has wrought a compact but resonant study of internalized racism and networks of female resistance. She's also written a sleek, cutting comedy with fine roles for young actresses (an a cappella rendition of Whitney Houston's "The Greatest Love of All" is painfully, deliciously awkward). While the final scene packs a sickening wallop in what it has to say about colorism on a global scale, no preaching is necessary. I'm aware that awards divide and demean, so let's skip the crowns and roses, and hand out straight As.